15amp Power Point Installation – Everything You Need To Know!
Posted on April 16, 2022
A 15amp power point allows appliances that demand a heavier electrical load to be safely operated. They are often installed outside or in areas of the home that require them, such as in garages. An electrician will be the individual who installs the power points as they are trained and legally required to do so. Here at The Local Electrician, our Emergency Electrician team will perform power outlet installations, including for 15amp outlets. 
A 15amp power point installation involves an electrician either replacing an existing 10amp outlet or installing a whole new connection point. The power point can cost from $110 to $130 while the installation process will further the cost. 15 amp outlets are needed when a larger electrical demand is required, such as in a home workshop. 
What is a 15amp Power Point?
General power outlets are 10amp while a 15amp power point is designed to fit 15 amp appliances safely. 15 amp outlets are able to fit 15 amp appliances and also 10amp plugs but a 10 amp outlet cannot fit a 15 amp plug. 15 amp circuits are dedicated single outlets that run off single phase circuits but can handle heavier electrical loads. 
When do I Need a 15amp Power Outlet?
15amp power points are great for places that have appliances that need this type of power. Most times this is for places with a plug in split system aircon or hot water system or for a home workshop where an appliance needs the 15amp socket to safely draw out power. 3 phase power is often upgraded from single phase power when a home has many different electrical systems that draw out a large amount of power. Most times however single phase power and installing one or a few 15amp power sockets will be more efficient for some people. 
If you are curious to know why you should upgrade to 3 phase power or compare between single phase and 3 phase power our blogs are here to help!
How are 15amp Power Outlets Installed?
The general process to install 15 amp and other power outlets are:
The power is turned off to ensure that work can be done safely when operating with the wires. This is either to the one dedicated circuit where the new power outlet is being installed or the whole home's power will be temporarily disconnected if multiple are being installed. 

Electrical cables are fed to the location where the 15amp socket will be installed via a hole in the wall. A metal clamp holds the wires together and enough pokes out so they can be properly hooked up to the outlet. 

The cables' insulation is stripped carefully to expose the wires underneath and all attached to the new receptacle in their respected parts.

The receptacle is attached to the box and hole in the wall and then the power

wall plate

is installed.

A test will be carried out after the power has been restored to see if the installation of the 15amp socket was successful. 
Who Installs the 15amp Power Points?
Only a licensed and fully qualified electrician will be able to work on installing 15amp power points and all power outlets in general. There is limited work untrained electricians can do themselves and installing power outlets is illegal and highly unadvised. Ensure to hire a licensed and certified electrician who is trained to install power outlets and work safely with cabling.
What is the Cost to Install a 15amp Power Point?
The average cost to install a power point in Australia ranges from $80 to $130 an hour and the average cost to purchase a single outlet ranges from $70 to $130. Each electrician charades different rates for their labour and the type of job will influence this. The number of outlets being installed, where they will be installed and the type of socket change the costs. Ensure to gather different quotes for various electricians to see their pricing of installing the 15amp power point. 
Professional 15amp Power Point Installation Services
The Local Electrician is here to perform 15amp power point services for all Sydney locals. Our team is able to at any time of the day install, repair and replace 15amp power outlets. We ensure that the whole process of working with 15amp power sockets is carried out safely and completed with professional techniques. Our team can also work with other types of powerpoints, such as double and USB, and will perform services on them using expert methods and tools. 
For the best 15amp power point repair, installation and general services – trust The Local Electrician!
Lifetime Warranty on Workmanship and Labor
Our Services
Our skilled electricians are qualified to carry out any electrical repair or installation within Sydney. We strive to deliver absolute customer satisfaction by offering electrical services that are affordable, safe and long lasting.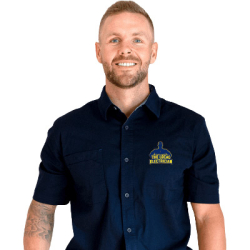 Latest posts by Hamish Baker
(see all)