5 Common Reasons For A Safety Trip Switch Going Off
Posted on December 5, 2019
As technology progresses, so do the amount of personal appliances that we have within our houses. For example, if you closely look around your home, you will notice that you have a lot more home appliances now than what you used to have a 5 years ago. From The Local Electrician's professional experience, we are going to take a punt that you also haven't made any changes to your fuse box to ensure that it can handle this increased capacity. As a result of this increased capacity, the trip switch will go off and may cause a blown fuse. But what really causes this.
Trip switches are typically caused by faulty household appliances that are leaking extra electrical current. This is what trips a safety switch as it has picked up this extra electrical flow. To detect which one of your appliances is causing the trip switch, disconnect all your appliances, reset your safety switch and reset each appliance one by one.
What Trips My Safety Switch?
Before we go into the causes, it is important to keep in mind that a trip switch is a safety measure that is protecting you and your family. So, when your trip switch goes off, you will need to immediately determine what has caused it to. If there is a serious electrical hazard or a damaged safety switch due to a blown fuse, you should contact a local emergency electrician within your area.
1. Faulty Electrical Appliances
Damaged, old or faulty electrical appliances can be leaking extra electrical currents. To deal with this excess flow, the trip switch goes off. In case you suspect that this may be the problem, the first thing that you should do is to unplug all your appliances and then reset the switch. As soon as you do this, you should reconnect each appliance one at a time to try to find out the one that is causing the problems. From our daily encounters, the most common culprits for trip switches include: toasters, kettles, dishwashers, washing machines and the biggest of them all – fridges. A tip is to turn on a radio to a loud station, and then periodically work through your appliances to determine which one is faulty
Please be aware, that some of the more modern safety switches only trip to a medium position and need to be turned all the way to 'off' for them to be reset.
2. Damaged Wiring
It is natural that electrical wiring as well as its insulation will eventually become worn out and damaged over time. Again, the main purpose for the trip switch to go off is to protect you.
In this case, we strongly advise you to call an emergency electrician since these issues can potentially cause serious harm to you and your family if left unattended.
3. Poor Weather
If your area was recently affected by lightning and heavy rain, this may be the reason as to why your trip switch has been triggered. In the case of a storm, you will need to wait until it passes and then reset it. If there is heavy rain, in some instances, you may need to wait for the power points and terminals to be dry as it would be extremely dangerous to reset the fuse box in wet conditions.
4. Nuisance Tripping
As we have already mentioned, we have a lot more electrical appliances at home than what we used to have. The build-up of these home appliances will eventually cause repeated safety switch trips and overload the circuit. This can even create a fuse to blow and potential short-circuiting.
When you have too many electrical appliances running, you will most likely be nearing your limit. And it only takes one of those appliances to offload a little extra current to make your trip switch go off. One of the things that you should consider doing is disconnecting and possibly removing some of the appliances that you don't need. This should prevent further trip switches from going off. If you have already reset the safety switch and it flips again. Then remove the last appliance that you have recently used by disconnecting it from the powerpoint as it may be the cause.
However, in case this doesn't stop it, you should call an emergency electrician so they can take a look and discover where the problem is. You may potentially need a Electrical Switchboard and fuse box upgrade to resolve this problem
5. Defective Switches
Another reason that can lead to a trip switch  going off is a defective safety switch. This occurs when the worn out or broken switch doesn't go off as it should to protect you because of a serious electrical fault. It is important that you regularly check your switches to ensure that they are working well. If you believe that this is the case for your fuse box, then this will immediately need to be replaced by an emergency electrician.
How Often Should I Test My Safety Switch
You should test your safety switch at minimum of once every 3-6 months.
How Do I Locate My Safety Switch & Switchboard?
To locate and reset your safety switch, first unplug all appliances and simply go to your main switchboard and look for the electrical component that says 'main switch'. If you already have had a trip switch, simply flick your switch from "off" to "on". You can plug your appliances one by one to see which one is faulty.
If you are living in an apartment complex, it is highly likely that you switchboard will be locked. If you are leasing and do not have keys to your switchboard, your real estate agent will be able to provide you with one. Alternatively, you can reach out to your neighbours and ask for permission to borrow their keys.
How Do I Test my Safety Switch?
Follow this step-by-step checklist, the next time you wish to test your safety switches
Ensure everyone in your home knows you are testing your safety switches
Go to your switchboard
Identify your safety switches and press the "t or test button"
This will automatically trip the switch to the off position and you will hear a crunching sound
Check to see if all your appliances are turned off
If all appliances are turned off, reset your safety switch by flicking the button to on position  and see if it stays there
If during the test your switch did not turn off the power or make a crunching sound this is a sign to replace your switch and you will need to contact an electrician
Consider installing circuit breaker or RCD switches on each circuit to prevent future trip switches.
Sydney Safety Switch Electricians
If you are within Sydney and have repeated trip switch or have a damaged safety switch due to a blown fuse… Then contact The Local Electrician today. We are a team of 24 hr emergency electricians that have been serving every Sydney suburb for over 25 years with switchboard upgrades and other trip switch issues!
We are also a team of fully vetted and accredited level 2 electricians which enables us to directly access Ausgrid and Endeavour Australia's power lines. A Level 2 electrician is required when you receive an electrical defect notice due to your electricity not meeting the minimum safety standards for serious electrical issues. A blown fuse is not one of these.
Contact us today on 0439 823 190 or alternatively you can email us for immediate trip switch assistance. We guarantee on-time service, otherwise we will work for free. We also offer a free safety inspection on all jobs!
Our Services
Our skilled electricians are qualified to carry out any electrical repair or installation within Sydney. We strive to deliver absolute customer satisfaction by offering electrical services that are affordable, safe and long lasting.
Lifetime Warranty on Workmanship and Labor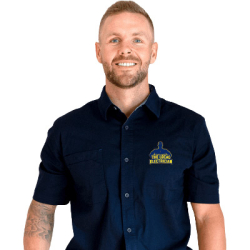 Latest posts by Hamish Baker
(see all)