6 Reasons You Should Hire A Licensed Electrician
Posted on June 17, 2022
It is important to hire a licensed electrician when electrical jobs need completing. These professionals are trained to skillfully and safely repair, install and operate electrical systems and equipment. Performing electrical work without being trained in the electrical trade is illegal and also highly dangerous. Here at The Local Electrician, we offer fully qualified electricians for Sydney locals when needing a licensed electrician to perform work. 
Here are the main reasons why you need to hire a licensed electrician to perform electrical work:
Legal requirement
Quality of work
Proper materials
Benefit from electrician's skills and experience
The job will be performed safely 
Insurances cover potential damages
What are the Reasons to Hire a Licensed Electrician?
Licensed electricians are trained to work with electrical systems and have the experience to perform the job safely. With this and so many more reasons, it is vital to hire a licensed electrician to carry out electrical work. To know more about why it is needed to use a professional electrician to complete electrical jobs read below:
Legal requirement
There are few electrical tasks untrained electricians can perform legally but if untrained electricians carry out the tasks they cannot do it is illegal and also dangerous. When a qualified electrician works on the electrical task it aligns with safety standards and legal requirements. It is also more reliable when licensed electricians perform electrical work rather than untrained electricians. 
We encourage reading our blog 'what electrical work can I legally do myself' to know the exact jobs untrained electricians can and cannot perform. 
Quality of work
Professional electricians will ensure that the work they perform is of top quality, completed efficiently and complies with safety standards. The high standards of the job ensure that the electrical repair, installation and electrical work were completed properly. When untrained electricians perform electrical jobs then the quality of the work is low as they do not know how to properly work with everything. Electricians that are licensed know how to correctly use the best tools and techniques for the best quality of work to be done. 
Proper materials
Hiring a licensed electrician means that they know what proper materials and tools to use within electrical jobs. This includes the correct wiring type and size, the right connection points and any other materials that align with the legal standards. Not knowing what tools and equipment to use within electrical work can result in the job being completed incorrectly and then the chance for issues developing increases. 
Benefit from electrician's skills and experience
Electricians are trained to work on electrical jobs and have the experience of completing these tasks multiple times meaning they know the best methods for performing them. Hiring reliable electricians with experience means they are more efficient at performing the repairs or installations. It also means that they know more about how to safely perform the task while ensuring that it is done correctly. 
The job will be performed safely 
One of the main benefits of having an electrician carry out electrical jobs is that it will be done safely. Untrained electricians are more likely to cause damage and errors with the electrical work if they do it themselves. From incorrectly installing wires to damaging other systems, untrained electricians working on electrical jobs is dangerous for themselves and others. Electricians understand the best equipment and methods to use in order for the job to be done safely. 
Insurances cover potential damages
Licensed electricians have insurance on them to ensure that if there are any damages that people and the property are insured. Insurance on homes and businesses also state that licensed electricians need to work on the job because if an untrained person performs work and repairs are needed then the insurance is broken and the cost falls completely on the building owner.
How Do I Look For a Licensed Electrician to Hire?
When needing to hire a licensed electrician these are the qualities to look out for:
They have the needed training, licensing and insurances that show they are professionals and legally able to carry out the electrical work 

Check the reviews of the electrician to receive an overview of how other people found them to be, better reviews mean that they are more reliable

Find out if they offer the right services for you to ensure they can correctly and efficiently perform the job
We encourage reading our blog 'how do I choose a good electrician' for further advice on the topic.
Hire a Licensed Electrician Here at The Local Electrician!
The Local Electrician is here with certified electricians for Sydney locals when you need to trust and hire a licensed electrician. Our Emergency Electrician team is here 24 hours a day to reliably complete any electrical task in any location. We also offer trusted Level 2 Electrician services where we are able to legally and effectively carry out more advanced electrical jobs in properties. 
We offer a wide range of services for locals to ensure we are here at any time to provide a licensed electrician to complete any task. We are here for all of Sydney, including Greater Western Sydney and Eastern Suburbs, when a licensed electrician is required to work.
When needing to hire a licensed electrician – rely on The Local Electrician any time! 
Lifetime Warranty on Workmanship and Labor
Our Services
Our skilled electricians are qualified to carry out any electrical repair or installation within Sydney. We strive to deliver absolute customer satisfaction by offering electrical services that are affordable, safe and long lasting.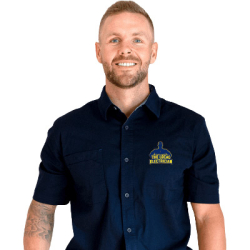 Latest posts by Hamish Baker
(see all)