7 Important Electrical Checks When Buying A New Home
Posted on June 11, 2022
It is important to perform electrical checks when purchasing a new home to ensure that the electrical side of the place is in good condition. Ignoring an electrical inspection can mean in the future when moved in that expensive electrical repairs are needed that were not already known. An electrician should be contacted to carry out an electrical safety inspection for them to determine if the electrical systems are in working order. Here at The Local Electrician our Emergency Electrician team are here to perform electrical checks for Sydney locals when buying a new home. 
7 important electrical checks that are good for when buying a new home are:
Ensure that the outlets and switches are in good condition
Look for any incorrect, outdated or damaged wiring
Inspect the electrical switchboard, including the circuit breakers and safety switches
Make sure the wet areas have safe electrical outlets and that the system placements are right
Have the major electrical systems and appliances inspected, including the electric hot water system, solar panels and pool systems
Check that the smoke alarms are working properly
Review the electricity meter and that it reads right
What are 7 Electrical Checks to do When Buying a New Home?
Below are our best electrical checks that should be done when buying a new home:
Outlets and Switches
The electrical outlets and all the switches should be checked for any damage and that they work safely. If there are any visible cracks or issues with the wall plate then the wall plates need to be replaced. Checking to see if appliances can be safely plugged into the outlet while the switches can flip correctly are important. Also, the wiring should be checked to ensure that they are not broken and will work safely. Neglecting to check the outlets and switches can mean costly repairs and dangerous situations form in the future. 
Wiring and Cabling
Looking over the quality of the wiring and cabling systems is needed to see that they align with safety standards and if they need replacing. If the wiring of the home is outdated then the chance of damage and electrical overloading increases. Discussing with an electrician to replace the cabling of the home should be done as this will be important in keeping everyone safe. Also looking out for any frayed, damaged or exposed wiring that needs to be replaced will be required as well. 
Electrical Switchboard 
The electrical switchboard is an important part of the electrical system of the home so an electrical check is necessary. The age of the switchboard needs to be checked to see if it can safely keep up with the electrical needs of the home. If there are fuse boxes over circuit breakers for example means that the system is older and should be replaced if needed. The switchboard's condition, as well as the circuit breaker and safety switches, need to be inspected where any noticeable damages will indicate they need to be replaced. 
Wet Area Electricals
Wet areas of the home need to have electrical outlets in the correct position to prevent dangerous hazards. The kitchen and the bathroom are two common wet areas and all the outlets need to have Ground Fault Circuit Interrupters installed. Make sure that these are installed in the wet areas and if they are not that an electricians replaces the existing outlets with them as they are needed in ensuring people are protected. Additionally, light switches need to be as far away from the water areas, such as sinks, as well. 
Electrical Appliances and Systems
There are many electrical appliances and systems of a home and they all should be checked before purchasing a new home. The main systems to inspect are the electric hot water system, pool electrical systems, ceiling fans, light systems, CCTV systems, electric ovens, solar panels, entertainment systems and any other main electrical unit. If there are issues with the appliances, wiring or other parts then an electrician will be able to resolve them before major problems occur. 
Smoke Alarms
The smoke alarms are an important safety device and electricians should check them when moving into a new place. Smoke detectors that are battery operated should be tested to see if the batteries need changing. Hard wired smoke alarms will have the wiring inspected to ensure they operate correctly. An overall smoke alarm check will occur with many tests to guarantee that they are working properly. 
Electricity Meter
The electricity meter is what reads the electrical usage of the home then this data will be sent out for companies to correctly charge the customer. When the electricity meter has faults then the chance of it reading incorrectly increases which means higher energy bills. The electricity meter might also need to be repaired, replaced or moved which an electrician will do. It is important to have the electricity meter inspected to make certain that it will read the electricity usage correctly.
Trusted Electrical Checks for New Home Buyers
Electrical checks here at The Local Electrician are great for those moving into a new home and need to ensure the electrical systems are working correctly and safely. Our fully qualified electricians will check all electrical systems and equipment in the new place. Inspections and tests will be carried out to determine if the systems are in good condition or should be replaced or repaired.
We can perform the electrical checks in all parts of Sydney, including the Inner West and South Sydney. We also offer professional Level 2 Electrician services to locals for us to perform work that is more complicated and involves level 2 asp licensing.
For professional and trusted electrical checks to be done before buying a new home – rely on The Local Electrician!
Lifetime Warranty on Workmanship and Labor
Our Services
Our skilled electricians are qualified to carry out any electrical repair or installation within Sydney. We strive to deliver absolute customer satisfaction by offering electrical services that are affordable, safe and long lasting.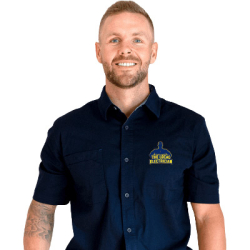 Latest posts by Hamish Baker
(see all)