7 Types Of Electrical Outlet Upgrades!
Posted on December 17, 2021
There are many different types of electrical outlet upgrades that are highly recommended. Some improve electrical safety while others allow more appliances to be connected to them. It is important that a licensed electrician performs the electrical outlet upgrade to ensure no electrical problems occur. Here at The Local Electrician, our qualified electricians will perform electrical outlet upgrades for any Sydney local.
7 types of electrical outlet upgrades are:
USB Outlets
Internet Connectors
Ground Fault Circuit Interrupters (GFCI) Outlets
Arc Fault Circuit Interrupters (AFCI) Outlets
Tamper-Resistant Receptacles (TRR) Outlets
Recessed Wall Outlets
TV Points
What are 7 Types of Electrical Outlet Upgrades?
Electrical outlet upgrades are a good idea to add value, safety and practically to the home. There are many dangers with old powerpoints, such as the chance of electrical shock, being burnt out and electrical fires, which is why upgrading them is important. With there being electrical work involved in the upgrade an electrical contractor will need to be contacted to install the powerpoint.
The main 7 types of electrical outlet upgrades are:
USB Outlets
USB outlets are an amazing upgrade to the existing electrical powerpoints. These power outlets have USB ports on them allowing more appliances to be connected to the one outlet. Devices can be connected to the wall outlet and they will also charge faster with this method. USB powerpoints are great for bedrooms, living rooms, studies and other areas that need devices to charge and appliances to be connected to the outlet. 
Internet Connectors
Internet connectors, otherwise known as ethernet cable points, are there to connect devices with the internet. By having the appliance connect directly to the internet via a cable the connection is more stable and stronger. These outlets still have prong outlets there but also the internet connector port. Televisions, video game consoles and computers are the more common devices connected to the internet ethernet ports so they can receive a greater connection to the internet. 
Ground Fault Circuit Interrupters (GFCI) Outlets
GFCI outlets add greater protection to appliances as they monitor the electrical flow through to an appliance. The ground component of the outlet, also called electrical earthing, is there to divert a sudden change in electrical current to a safe place. Instead of the electrical spike damaging appliances they will be stopped in their path. These outlets with ground protection should be installed everywhere, at least in the laundry, bathroom and kitchen. 
Arc Fault Circuit Interrupters (AFCI) Outlets
These outlets are similar to GFCI outlets where they will monitor the electrical flow coming through and out them. When a disruption occurs in the circuit the AFCI will cut off the power and prevent the outlet from becoming hot and also electrical fires. 
Tamper-Resistant Receptacles (TRR) Outlets
There are many different ways to childproof electrical outlets and TRR outlets are one option to take. These outlets will prevent any item from entering it unless it is a power plug. This is to ensure children do not stick items in the outlet and prevent them from being shocked. It is important that these outlets are installed in areas where children will be present most of the time, such as in their bedrooms or the lounge room. 
Recessed Wall Outlets
At times power outlets and when power plugs are plugged into them can be in the way for certain items. Such as cupboards or cabinets that cannot be flush against the wall because the power outlet and plug are preventing this. Recessed wall outlets have the powerpoint recessed into the wall which allows the plug to not protrude off the wall. This is great for entertainment sections or furniture that needs to be flushed against the wall. 
TV Points
Televisions need many cables so specific TV point outlets can be installed to ensure everything is tidy. They are discreetly installed and allow many cables to connect to the antennas easily. Instead of having outlets show and cables visible, installing these outlets are great for television locations.
How Much Does it Cost to Upgrade an Electrical Outlet?
The average price for electrical outlet upgrades goes from $130 to $300. This includes the labour of upgrading and replacing the outlet as the electrician will have their own charge rates. How difficult the upgrades are, how many and the type of installations will influence the final price of the electrical outlet upgrades.
Professional Electrical Outlet Upgrades
The Local Electrician is the best place to rely on when needing electrical outlet upgrades around the home. Our fully qualified electricians will upgrade one to multiple outlets around the home and of any type. We make sure that we replace the existing ones safely and that the new outlets are installed correctly. Professional and expert techniques will be used during the electrical outlet upgrade and our team will complete the job in the shortest amount of time.
For reliable electrical outlet upgrades – contact The Local Electrician today!
Lifetime Warranty on Workmanship and Labor
Our Services
Our skilled electricians are qualified to carry out any electrical repair or installation within Sydney. We strive to deliver absolute customer satisfaction by offering electrical services that are affordable, safe and long lasting.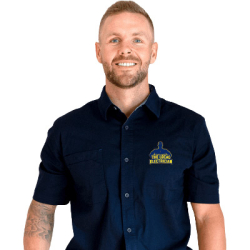 Latest posts by Hamish Baker
(see all)