AC vs DC Ceiling Fans – What's Better?
Posted on May 15, 2021
AC and DC ceiling fans are types of ceiling fans each with its own positives and negatives. From how much power they consume to the initial cost of the appliance, an AC or DC fan will suit different people. Here at The Local Electrician, we offer the best ceiling fan repair and installation service where our team will install any AC or DC ceiling fan. 
AC ceiling fans work by having electrical current travel in reverse directions while DC ceiling fans' current goes one direction. An alternating current ceiling fan will be connected to a power source directly and are cheaper to purchase. Direct current ceiling fans will be more energy efficient, quieter and slimmer but will cost more when purchasing them.
What are Alternating and Direct Current Ceiling Fans?
Alternating current (AC) and direct current (DC) are ways that electricity flows inside circuits, appliances and systems. Direct current fans will use a power source often from a transformer to power itself. This power will be converted to energy to a one-way or direct current and the power used is often decreased. alternating current fans will not convert power but use the electricity directly from the wiring. The speed which is using this power is regulated by controlling the frequency of the current.
For more useful information on alternating current and direct current, our blog provides further details and examples.
What are the Pros and Cons of both AC and DC Ceiling Fans?
Pros

Cons

AC Ceiling Fans

Cheaper to initially purchase and most cost under $200 because they are easier to make

Maintaining the AC ceiling fan is easier and will often not need a sudden ceiling fan repair

There are more AC ceiling fan models that have a controller or wall panel

There are usually more models to choose from, including size and style, as they are easier to create

AC fans are strongly reliant on power sources and their frequency and amplitude, this means maintaining a certain speed is more difficult

With the struggle to maintain a specific speed most AC ceiling fans only have three speed options

The motor size is often smaller and needs certain electrical components to correctly function. This means the moto cannot be made thinner leading to the design of the fan often not be unique

DC Ceiling Fans

They consume up to 70% less energy when compared to AC ceiling fans making them extremely energy efficient

Because of their energy efficiency, they will save more money on the monthly energy bill 

There are far greater speed options with DC fans over AC fans allowing better air movement control

The DC fan motor is less bulky meaning the overall fan is slimmer and closer to the ceiling

DC ceiling fans are lightweight due to their less bulky motor and can fit into more interiors easily

They are extremely quiet when compared to AC fans, often only the noise of the blade rotating is heard

DC ceiling fans with their speed flexibility allows them the be used in winter to help warm air circulate the room. This means they are great for both the summer and winter months

The initial price of the DC ceiling fan is more expensive when compared to AC fan models. Most DC fans will cost more than $200 to initially purchase

DC fans will mostly come with remote controllers and might not have the option for wall controls
How are AC and DC Ceiling Fans Installed?
The general procedure with an AC and DC ceiling fan installation performed by a licensed electrician is:
The power is turned off to the building or the specific electrical circuit the ceiling fan is being installed on 

The bracket is secured onto the ceiling using the given mounting screws

Assembling the fan, including the blades, motor and other parts are performed on the floor then hung on the bracket

All wires are correctly connected and a general test will be carried out to ensure that the whole fan is operating properly 
For more detailed steps on how to install a ceiling fan our blog offers more information.
Trusted Ceiling Fan Installers and Repairers
The Local Electrician is the best AC and DC ceiling fans installer and repairer within Sydney. With over 25 years of experience in the field, we understand everything about correctly operating with ceiling fans. We will work with both AC and DC ceiling fans to install or repair any model in any space. Each qualified electrician will operate safely during the ceiling fan service and make certain the task is efficiently performed.
For the best AC and DC ceiling fans service in Sydney – contact The Local Electrician on 0439 823 190!
Lifetime Warranty on Workmanship and Labor
Our Services
Our skilled electricians are qualified to carry out any electrical repair or installation within Sydney. We strive to deliver absolute customer satisfaction by offering electrical services that are affordable, safe and long lasting.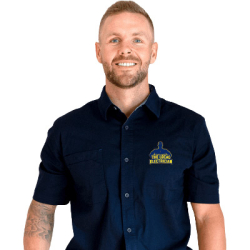 Latest posts by Hamish Baker
(see all)