Are Double Adapters Safe?
Posted on October 30, 2020
Having double adapters installed in the home can mean that the risk of electrical fires and shock can still occur. They offer more outlets and can be easily purchased but double adapters are extremely risky. Here at The Local Electrician, we are here with our Emergency Electrician team to help people with double adapter concerns. Our electricians can also suggest alternatives on how to increase the number of outlets if needed.
Installing and connecting doubles adapters to power outlets is a major electrical risk. Double adaptors can be highly dangerous as they do not have overload protection and can also break leads. The more adapters connected increases the chances of electrical surges, fires and shocks.
What is a Double Adapter?
Double adapters are a type of electrical device which offers more outlet spaces. They connect from the outlet in the wall and transfer the electrical power to itself. This allows for more than one appliance to be connected to the one outlet due to the added outlet holes. 
These adapters can be purchased from local hardware and general stores and are made in different styles. Some adapters have more than two extra outlets present while others are angled or flat. Double adapters are a great idea but most are extremely dangerous and can cause serious complications.
Dangers with Double Adapters
There are multiple dangers connected with double adapters and using them as extensions:
As the adapters have no overload protection built within it this can mean that they can overload more easily. With multiple appliances being plugged into the outlet this means that there is more power involved. More power being drawn out with the number of appliances means that the adapter can become hot quickly. This lack of protection from overloading mixed with the overheating can lead to an electrical fire.  

With the design of most double adapters having a slope this can increase the chance of leads being dislodged. This means that the live pins are exposed more from the slope. Exposing the live pins and touching them can lead to electric shock or a blown circuit.

The more double adapters installed, especially on top of each other, will increase the chance of an overload. People will often think adding these adapters is a smart idea but it can lead to devastating results. The chance of a fire or overloaded circuit will increase with every double adapter installed with each other. 

The chance that pulling out the double adapter could mean touching the live pins. This small incident can lead to a massive electrical shock, especially if the adapter was being used a lot. 
The main concern is that there is no protection from an overloaded circuit, an electrical spike or the adapter from becoming hot. These devices are built as an extension but cheaply made these can often start house fires or have people receive serious shocks.
Are Double Adapters Illegal?
Depending on where in Australia, double adapters are either banned in certain places or highly not encouraged. In Victoria, business and building sites cannot use these adapters. In Queensland and New South Wales, the use of double adapters is strongly not encouraged due to their risk of fires and shock. Most areas in Australia will highly not recommend the use of double adapters and ban them in larger building complexes.
What to Replace Double Adapters With
There are other options to take when needing more outlets or power which are advised over double adapters. A quality power board should be installed over the added adapters to ensure that the chance of a short circuit is not present. Upgrading the power board can mean that more outlets can be included. Such as a power board with four outlets over the usual two, it will be safer having these over the adapters. 
If needed, additional powerpoints can also be installed in certain places where more devices are used. Instead of having multiple adapters, more powerpoints can be installed. Such as the kitchen, study or loungeroom where more devices are present, this is a much safer option than adding more adapters. 
USB Powerpoints Over Adapters
Another option is to install USB powerpoints which will decrease the number of chargers needed. The USB port removes a charger or fixture from using space on the outlet. This means that additional appliances can be plugged into the one powerpoint along with the USB devices.
For more information on the benefits of USB powerpoints, we strongly recommend checking out our blog with detailed information.
24 Hour Electricians for Sydney
The Local Electrician is here to help Sydney when it comes to double adapters and their use. Our fully qualified team can arrive at any time to work with these adapters and how to work on ways around them. Each electrician knows the best alternatives with adapters and can provide advice on how to replace them. Our emergency services are also open to all other kinds of electrical concerns and issues for us to professionally address.
We are efficient at installing new powerpoints and outlets into any new space. With our team of trusted electricians, we are here to install powerpoints with multiple outlets or with USB ports. Each electrician will make sure to perform tests to guarantee that the powerpoint works well and is also safe.
For ways around using double adapters – contact The Local Electrician on 0439 823 190 for us to provide our services!
Lifetime Warranty on Workmanship and Labor
Our Services
Our skilled electricians are qualified to carry out any electrical repair or installation within Sydney. We strive to deliver absolute customer satisfaction by offering electrical services that are affordable, safe and long lasting.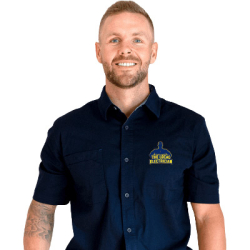 Latest posts by Hamish Baker
(see all)