Can I Install An EV Charger At Home?
Posted on January 29, 2022
An EV charger can be installed at home but an electrician must perform the electric vehicle charger installation. An ev charging station will need to be installed and all the needed cabling will be connected. It might be required to install a dedicated electrical circuit for the new car charging station as well. Here at The Local Electrician, our Emergency Electrician team is here to perform professional electric car charger installation services. 
To install an EV charger at home a licensed electrician will undergo the installation process. Installing the home charging unit, residual current device, circuit breaker and cables. The average cost of an electric vehicle charger installation service is around $1000 to $6000.
Who Performs an EV Charger Installation?
Untrained electricians cannot install their own EV charger but must rely on a qualified electrician. This is because the electric vehicle charging network and system is complex and when an untrained electrician tries to install it, it can be dangerous and often the job is done incorrectly. An EV home charger will always need an electrician to install the unit, cabling and also repair the system when needed.
What is Required to Install an EV Charger at Home?
There is a large amount of planning that needs to be done before an electric vehicle charger installation can occur:
Single Phase or Three Phase
The right cables and amount of power needed for the EV charger are important to consider when planning. A regular electric vehicle charger will be able to run on single phase power if the charging current is 16A and above for it to effectively charge on 11-22kW of power. A three phase charger or power system will be considered for more powerful chargers along with more powerful cables. Talking to an electrician about how you will charge your car, your current power supply system and if more power is needed will be important. 
To know more about if 3 phase power upgrade is needed for electric vehicles our blog is here to help.
RCDs
Residual current devices, or RCD switches, balance the electrical current within neutral and live wires to and from appliances and protect people from electric shocks. EV owners will need to ensure that there is a dedicated RCD switch for the electric vehicle charging station to protect themselves and others.
Circuit Breakers
Along with RCD switches, a circuit breaker will be required for electric charging stations as these protect the electrical systems from electrical overload. If there is too much electricity flowing within the electric vehicle charging station then the circuit breaker will cut off the power supply. An electrician will be needed to install the circuit breaker and other safety equipment of the EV charger. 
To know more about the differences between RCDs and circuit breakers our blog is here with the best information. 
Location
Determining the location of where the EV charger includes where it will be installed, the height of it and how close it is to wifi. The charging station needs to be located on flat services that are also vertical. It needs to support the weight of the charger and needs to be a maximum height of 1.5m inside and outside while the minimum for outside is 0.45m and 0.6m for inside.
Type of EV Charger
Within homes Level 1 and Level 2 EV chargers will be considered while Level 3 are mainly reserved for commercial and industrial use. Level 1 chargers are cheaper but charge the car slower compared to Level 2 chargers though Level 2 are more expensive. Talking to your electrician about what charger is best for your needs is the best way to determine which charger type should be installed.
What is the Cost to Install an EV Charger at Home?
The cost to install an EV charger will be determined by the type of electric vehicle charger, how much work is involved, the difficulty of the job, the location and also the electrician's labour rate. The average cost for EV chargers to be installed is around $1000 to $6000 with the cost of the EV charging unit's material and the labour costs.
For a guide on electric car charging read our blog with further advice on charging times, costs and more!
Reliable Electricians Installing EV Chargers
The Local Electrician is the most reliable at installing EV chargers inside any place in Sydney. Each fully qualified electrician knows the best and most effective techniques to install the electric vehicle chargers successfully. We can work with any EV charger and are guaranteed to complete the service fast and efficiently.
Our 24 hour services extend to all parts of Sydney, including North Shore and Sutherland Shire, where we can operate with EV charging stations. We also offer professional Level 2 Electrician services for us to carry out more advanced jobs in properties.
For the best electric vehicle charger installation services – always rely on The Local Electrician!
Lifetime Warranty on Workmanship and Labor
Our Services
Our skilled electricians are qualified to carry out any electrical repair or installation within Sydney. We strive to deliver absolute customer satisfaction by offering electrical services that are affordable, safe and long lasting.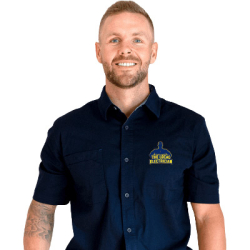 Latest posts by Hamish Baker
(see all)