Common Electrical Emergencies & What To Do
Posted on June 18, 2021
It is important to know how to safely respond to common electrical emergencies when they occur. Most can be easily resolved through simple fixes or by contacting a reliable Emergency Electrician. These common electrical emergencies are also easily preventable by performing simple tasks. Here at The Local Electrician we offer trusted licensed electricians that are able to respond to these electrical issues at any time of the day. 
The most common electrical emergencies are:
Damaged light switches
Loose power outlets and power points
Short circuit issues
Light bulbs burning out and not working
Outlets and power points warm to touch
Fallen power lines and power poles
What are Common Electrical Emergencies
Damaged Light Switches
Light switches can break at times and this may not appear too dangerous or need repairs immediately. Loose connections or fixture issues are the main common reasons why the switch breaks. When the light switch is dangling or broken the wiring behind it can be damaged as well. These wires can experience a short and a rise in electrical current which can lead to sparks and an electrical fire. 
This is why it is important that the light switches are correctly installed and attached. It is always highly recommended that a fully licensed electrician performs the light switch installation as it involves electrical wiring. Another way to prevent the chance of broken light switches and other electrical emergencies is having regular electrical safety inspections. 
Loose Power Points and Outlets
Similar to damaged light switches, the outlets in the home can be loose, break and the wiring damaged. Using the power points frequently will often lead to the wall mount being loose and the wires can be out of place. When an appliance is plugged into the power point when this occurs then a power surge from the loose connection can result. Using too many appliances by adding double adapters and other outlet extensions can lead to electrical overloading dangers. 
The best way to prevent this is to ensure that the wall plate is flush against the wall and not damaged. When using the outlet making sure appliances and plugs are not forcefully removed and inserted is important. To prevent electrical shocks it is vital that outlets are inspected regularly for any visible or hidden damages as well. 
Short Circuit Issues
When appliances draw out too much electricity then the chance that a short circuit occurs is common. This can be from older wiring systems or appliances simply using too much electrical power that the electricity system can handle. Short circuits are dangerous as they can cause wires to melt, electrical shock and electrical fire if they are not repaired quickly. 
It is important that a fire extinguisher is used if there is an electrical fire to put out the flame. Preventing short circuits is often by fixing the appliance or using another model that does not use as much electricity. Moving the appliance to another outlet that is part of a circuit that can handle a larger volume of electrical power is encouraged as well. 
Light Bulb Burn Outs and Problems
Lights will blow out at times but if the issue is common there are certain reasons this can be happening. The main lights, such as in the kitchen or lounge room, are used more than lamps which will cause them to burn out more quickly. If lights are commonly dimming or burning out then the issue can be with poor or loose connections. 
The light may also have a higher wattage than what the socket's wattage is therefore is drawing out too much power. A poor light installation may have been the reason the light is burning out as it is incorrectly fitted. 
An electrician should inspect the lights as there are wires and other electrical systems involved. From the light itself to the wiring behind it, the electrician will be able to determine what the underlying issue is for the constant light burnout. 
Warm Power Points and Outlets
If the faceplates of power points and outlets are warm to touch then there is an issue. A loose connection or wattage error may be the cause for the outlet wall plate becoming hot. It is important that an electrician works on finding the reason the faceplate is hot and repairs the issue. Installing a surge protector can also assist with helping surges not occur and prevent the wires from overheating. 
Fallen Power Poles and Lines
Power poles and lines can fall, hand or experience other issues where a Level 2 Electrician will need to fix the concern. As the wires are live and dangerous it is important to not stand near the fallen pole or wires. The best way to prevent this type of concern is to identify and repair problems early. To know more about what to do when you see fallen power lines and poles our blog provides further details.
Trusted Emergency Electricians Sydney
The Local Electrician offers the best team of emergency electricians to work with all common electrical emergencies. Our 24 hour electricians are fully qualified and ensure to have the electrical issue resolved as soon as possible. It is also guaranteed that our 24 hour emergency electricians arrive on time and perform the electrical work safely.
Our expert electricians will operate on all of the home's electrical systems that experience any sort of electrical problem. From resolving power outages, repairing the circuit breaker box, fixing faulty wiring to installing new lights. Working across Sydney wide, including the Sydney CBD, Inner West and North Shore, common electrical emergencies will be dealt with safely.
Any type of rare and common electrical emergencies will be resolved efficiently by The Local Electrician!
Lifetime Warranty on Workmanship and Labor
Our Services
Our skilled electricians are qualified to carry out any electrical repair or installation within Sydney. We strive to deliver absolute customer satisfaction by offering electrical services that are affordable, safe and long lasting.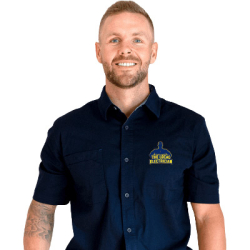 Latest posts by Hamish Baker
(see all)