Common Power Pole Problems
Posted on December 18, 2020
There are many common private power pole problems which can occur due to specific electrical issues. Ranging from leaning power poles to crashing power lines, dealing with this concern is highly dangerous. Here at The Local Electrician, our Level 2 Electrician team is expert at working with private power poles, especially those which have experienced an issue. Our electrical services with private power poles include repairs where the private poles and power lines will be operated on safely.
The common private power pole problems are:
Leaning or fallen power poles 
Wires which are slacking or hanging low
Power Lines that are clashing 
Poor grounding of the power pole
Pole fittings are loose
Crossarms which are deteriorating or deteriorated
What are the Main Power Pole Problems?
Power poles are a form of power supply located on streets where private poles are situated on private property. The connection point on the public power pole transfers onto the private property to the point of attachments. These power poles can experience issues relating to the overhead power lines to the actual electricity pole. The common problems relating to power pole power lines are:
Leaning and Falling Pole – these are a result of poor installations, extreme weather conditions or if something has made contact with the pole. Timber poles which rot are from poor management and if fungi or insects eat at the pole. A galvanised steel pole might lean or fall from corrosion and rust at the base. The weakened pole might begin to lean and at times will lead it to fall. 

Slack Wires – the wires and cables of the powerline could slack meaning they begin to fall down. When the wires hang too low this is from incorrect power pole installations. Low hanging wires are extremely dangerous especially if they hang near buildings or metal roofs. Contact with these wires can cause shocks and any vegetation touching them might also start fires.

Clashing Power Lines – if power lines are not connected properly then they might not stay in place. When this happens they can become looser and become tangled or clash. Molten fragments and sparks can develop when they clash which will increase more in high winds. 

Incorrect Grounding – grounding systems protect electrical equipment and people from being damaged by electrical surges. Power poles and power lines are mostly grounded by copper-clad steel wires which are connected to metal rods in the ground. If the power poles were not grounded properly and a person or object makes contact with these cables then devastating electrical hazards can occur. 

Loose Pole Fittings – any part of the power pole which has been incorrectly fitted or installed can lead to these parts being loose. These fittings and attachments which are frayed, loose or deteriorated can increase the chance of electrical fires and shock. 
Deteriorated Crossarms – these parts are mounted on the pole to connect the power lines and other parts of the pole. When these do not follow standard or are installed incorrectly then they can be damaged and become loose more easily. The power lines then have a higher chance to fall or short which can cause serious complications.
Who is Responsible for the Power Line From the Pole to the House?
When the private power pole is installed in a private property then it is the property's owner who is responsible for it. The point of supply is when the private power pole connects to the electrical mains on the street. 
The wires, cables and poles in private property and its maintenance, installation and repair tasks will need to be organised by the property owner. If a person has received a private power pole defect notice then the property owner will also have to take responsibility and organise a level 2 electrician to help.
What Happens if you Hit a Power Pole?
If an electrical power pole has been hit by a car then this situation will need to be taken seriously. The road accident involving a power pole, especially if it has fallen, can lead to devastating results. Below is a guide on what to do when a road accident has occurred with a power pole:
Stay in the car and make sure to keep the windows and doors closed

Call emergency services immediately where they will help keep the area safe. The power pole will be removed safely, traffic will be handled and the accident will be under control.

If a phone is not available to call for help, wait for a person to spot the accident and call for help. It is extremely important to not leave the car as it is safer inside than outside the car.
How do I Report a Leaning Power Pole?
If a power pole is leaning or has fallen over then Ausgrid will need to be contacted to handle the situation. It is important to not go near the power pole as potential electric shocks and other issues can occur. The professional electrical contractor on the job will understand exactly how to work near power lines. 
A leaning power pole will be fixed by the qualified electrician where the pole will be straightened and positioning in the ground correctly. If the pole is too weak, old or damaged then a replacement might be the only option to take. An untrained person should never try to fix the leaning power pole as it is extremely dangerous. Additional damages can also be made if professional techniques are not applied as well.
Reliable Power Pole Services
Our level 2 electricians here at The Local Electrician are here to help with private power pole problems. Each certified electrician has the training and licensing to operate in any property and resolve issues with power poles. The private power pole problems will be resolved efficiently, professionally and safely no matter how difficult the job is.
We will work across all of Sydney repairing private power pole problems, including the Inner West and Sutherland Shire. The Local Electrician also offers reliable Emergency Electrician services to perform urgent electrical jobs effectively.
Our level 2 electricians are here for private power pole electrical work – call The Local Electrician any time on 0439 823 190!
Lifetime Warranty on Workmanship and Labor
Our Services
Our skilled electricians are qualified to carry out any electrical repair or installation within Sydney. We strive to deliver absolute customer satisfaction by offering electrical services that are affordable, safe and long lasting.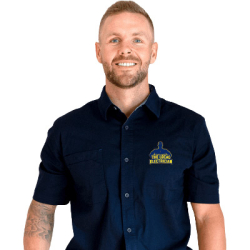 Latest posts by Hamish Baker
(see all)