Connecting Your Shed To Power – What You Need To Know!
Posted on July 23, 2022
Connecting the shed to power requires proper planning and knowing how the shed will be used. Power might be needed only to light up the place or be needed to power many systems and equipment. Communicating with an electrician is important when needing to have the shed with power to see what is needed to be installed. Here at The Local Electrician, our Sydney electricians are here to help connect power to the shed.
When it comes to connecting the shed to power there are certain elements to consider. What needs power in the shed needs to be known, such as lighting, equipment or machinery. How the shed will receive power is important, for instance, overhead or underground cabling or through a generator. Also knowing which electrician to hire to connect the shed to power is needed.
What Needs Power in a Shed?
There are many different areas of a shed that needs power each one being considered. The main type of electrical systems that are used in the shed and power needs to be connected are:
Lighting

– lights will need to be installed in the shed with the main ones being ambient and task lighting. Ambient lighting is to light up the shed while task lighting will be helpful to have a light source directly in one place, such as a desk. The wiring should be done to ensure the lights can function correctly with the correct number of light switches.

Equipment – powerpoints need to be in the correct spots to ensure that equipment can be plugged in. installing USB powerpoints might be wanted while it is important that all outlets are protected with safety systems.

Machinery – there might be specific machinery that needs to be installed in the shed and requires its own circuit. Knowing how many machinery or systems need their own electrical circuit and safety systems is important when connecting the shed to power.

Switchboard

– a switchboard for the shed will be required where a subboard will be installed along with a subcircuit. These will be added to the existing switchboard and then extended to the shed where the subboard will be installed.
What are the Different Ways to Connect the Shed to Power?
Here are some of the main methods for connecting the shed to power:
Battery – if there only needs to be lights in the shed then rechargeable lights may be considered. Models can come with stands, some can be hung and some have magnets that allow them to stay on a metal surface. The rechargeable lights are also designed to last on average four hours before needing to be recharged.

Extension cord – an extension cord should not be the main supply to power the shed but if you need to temporarily power one system and the nearest outlet is not too far away then the extension cord might be easier. Make sure the extension cord will not be a safety hazard, such as people tripping over it, and only use it for a few hours to prevent electrical overloading. 

Overhead wiring – to provide a stable and safe power source to the shed, where the shed will have many electrical systems running, overhead power is needed. Talking with an electrician to see how the shed can be safely given power using overhead wiring is needed.

Underground cabling – similar to overhead cabling, underground cabling offers a safer power source due to the cables being hidden underground. It will also be more reliable and the wires will not be interfered with as if they were present going from the house to the shed. 

Generator

– a generator might be the best option to power the shed, especially if it is portable as it will be easy to use.

Solar power – having the shed powered by solar panels is also an energy efficient and in the long term cheaper option.
Who Helps With Connecting the Shed to Power?
It is important that a licensed electrician performs the work involved with connecting power to the shed. This is because an electrician is legally required to work with switchboards, installing cabling systems and installing powerpoints. A Level 2 Electrician will be needed if the shed will be given overhead or underground cabling systems. Knowing a good electrician to help connect the shed to power is important to ensure the shed is given power safely and properly. 
Trusted Electricians Helping You Connect the Shed to Power
The Local Electrician is here to help connect the shed to power for any Sydney local. We offer fully qualified electricians who are trained to connect properties and places with power. Our team is skilled at safely installing cabling and other electrical systems and we are always efficient when working and completing the job on time. 
When needing a qualified electrician to connect the shed to power – rely on The Local Electrician!
Lifetime Warranty on Workmanship and Labor
Our Services
Our skilled electricians are qualified to carry out any electrical repair or installation within Sydney. We strive to deliver absolute customer satisfaction by offering electrical services that are affordable, safe and long lasting.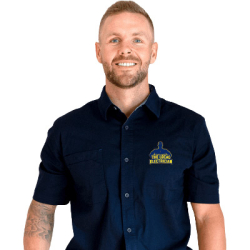 Latest posts by Hamish Baker
(see all)