Damaged UV Wiring & Cable Repair Service
Posted on June 12, 2020
When a defect notice states that wires have been damaged from ultraviolet radiation (UV) a level 2 electrician is needed to be called out. The situation of the overhead wires being exposed to UV and then becoming exposed is dangerous. With many hazards involved, The Local Electrician is here with our Level 2 Electrician services to ensure professionals deal with the matter. Our qualified electricians will be able to help electrical defect notices, especially those relayed to damaged UV wiring.
Cabling damaged from UV needs to be addressed by level 2 electricians, particularly if a defect notice is given out. This issue can cause major health risks and needs to be resolved within 30 days. The cabling damaged from UV has the copper wire exposed which can lead to electrocution, electrical shortages and electrical fires.
Electrical Defect Notices with Damaged UV Wiring
Electrical defect notices are given out mostly by Ausgrid and Endeavour Energy when there are issues with someone's electrical systems. These require a level 2 electrician to be contracted as soon as possible to correctly solve the issues on the notice. Additionally, the tasks must be completed soon because the property's electricity will be cut off after 30 days.
With regards to UV damaged cables and defect notices, they are given out due to their immediate risk. The cables connected to the main switchboard or meter and the private power pole of a property can experience a lot of exposure to UV. With cables having too much exposure to UV it can severely damage them. The UV rays will negatively affect the wires' insulation and sheathing if they are not designed to handle it. As a result, the cabling's insulation will crack, therefore will lead to the wire underneath to expose.
There are serious health and electrical risks when a wire's insulation has been removed because the open wire is revealed. Short circuit failures, electrocution, electrical fires and alike can occur when the open wire is present, especially if UV is still affecting it. It is, therefore, really important to call for a licensed level 2 electrical contractor to solve the issue quickly. If the dilemma of a damaged UV wire is prolonged it can lead to complications, injuries and fatal accidents.
For more information on what electrical defect notices are, why they are given out and who is responsible to deal with them, we recommend reading more about it here.
How are Cables Designed to Withstand UV
As Australia has higher UV levels, cables are designed to be specifically installed to withstand the country's larger UV amounts. The UV resistance applied to the wires is important to ensure that the wires can last for a longer time. That is why cables are made with PVC due to being one of the most resistant polymers out there. These are considered to be really great at resisting the UV from contacting with the wires.
PVC with UV present with form a brown residue which is visible to strengthen the wire. However, the cable will be more prone in the first two years of UV exposure to become brittle and cracked. To revert this, there are two methods to take to ensure that the wire's insulation remains strong to withhold the UV:
Carbon Black – the YV rays are absorbed to ensure that the polymer structure does not take further damage. To protect the cable, it should be made of 2% carbon black, however, 0.5% is still beneficial. Being regarded as the best UV stabilisation method for PVC these are important for protecting the wires from UV rays.
Titanium Dioxide – this type of white pigment is adjustable, meaning it can be included with many different materials. Not as strong as carbon black, 1.5% of this material will help the PVC cable from being ruined by UV rays.
Overall, black PVC cables are best suited for the Australian environment due to their design and material makeup. They can withstand UV rays greatly which will protect the cables from being damaged and exposing the wire.
Level 2 Electricians with UV Wiring and Cable Repairs
A level 2 electrician is an electrician who has trained more in the trade and contains a higher qualification than regular electricians. With more experience and expertise, a Level 2 asp electrician can undergo repairs on damaged cables from UV. The Level two electrician will ensure to use safety measures at all times especially because of the exposed wire present. This wire exposed due to the insulation wearing away from the UV can lead to serious electrical and health risks if handled with unprofessionally.
Inspecting the whole situation, the wire will be treated immediately and with safety procedures by the Asp level 2 electrician. Additionally, the electrician will be aware that the situation is apart of a defect notice which is why they will act efficiently to ensure the power will not be cut off from the property.
If wanting more information on why a level 2 electrician is different, visit our blog describing the jobs, licensing and differences of level 2 electricians.
Accredited and Reliable Level 2 Electricians
The Local Electrician guarantees that our level 2 electricians are the most professional at handling damaged UV wiring in Sydney. With over 25 years of experience behind us, we understand all there is with regards to cables and UV issues. Furthermore, each electrician is fully licensed and always makes sure to be on-time for all jobs no matter the location.
Additionally, we offer Emergency Electrician services to Sydney which we can help with damaged UV wiring and other electrical tasks at any time. Likewise, our damaged UV wiring and cable repair service are open to all of Sydney, such as the Northern Beaches, Inner West and Greater Western Sydney.
Available 24/7 to work with UV damaged cables – call us on 0439 823 19…or email us at info@thelocalelectrician.com.au. We guarantee that our services helping to repair corroded cables from UV are the most cost-effective, reliable and professional in all of Sydney.
Lifetime Warranty on Workmanship and Labor
Our Services
Our skilled electricians are qualified to carry out any electrical repair or installation within Sydney. We strive to deliver absolute customer satisfaction by offering electrical services that are affordable, safe and long lasting.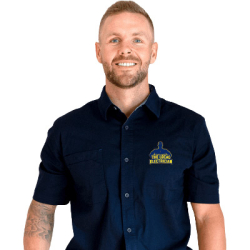 Latest posts by Hamish Baker
(see all)