Data And Phone Electricians – Everything You Need To Know
Posted on July 10, 2020
A data phone electrician in an electrician who works with data and phone networks, repairing and installing them. These electricians can work on both residential and commercial phone lines and data networks, working in teams if needed. Our electricians here at The Local Electrician can work anywhere in Sydney to help with data and phone networks. Each electrician is experienced and also certified in the trade and understands everything about data and phone systems.
When it comes with networks, a data phone electrician will know how to connect, install and repair them. Working with data involves connecting appliances to the network in both residential and commercial settings. Also, tasks with the phone line are to have the phones connected properly, installed, repaired and more. 
Phone Line Electricians
Working with phone lines will see the electrician able to perform many jobs. The phone is extremely important for many people and having a good connection is critical. Landlines are one of the more common ways which people, more important businesses, connect to people. The certified electrician will be able to perform phone line tasks such as:
Installing new cables and systems, or simply phone line installations
Rewiring existing phone lines
Adding in more phone sockets for the building
The phone line trunk is extended
Installing fax machines if needed
Phone Line Installations
Installing phone lines can be completed on all brands and types of phone connections in any building. Organising the wires and establishing a plan is also needed so the phone line installation is a smooth process. Additionally, depending on the building will mean different phones need to be connected to the network. The electrician will work effectively and perform tests to ensure that the phones connected properly.
Phone Line Repairs
When phone lines experience issues and other complications, the electrician will identify first what is causing the problems. Utilising the best tools and techniques the electrician will make sure to work efficiently so the phone lines working again. Tests will also occur to ensure that all is working correctly and that a clear connection is available again. Working with phone lines always has the risk of electrical hazards, especially with wiring, so the electrician will prioritise safety.
Data Line Electricians
Data, or the network and internet, is highly important for most people of today's world. An electrician with knowledge in data can connect devices and perform a large range of tasks. The accredited electrician can perform a large range of jobs on data lines, including:
Performing ADSL line installations, repairs and maintenance and also on ADSL filters
Working with MDF cables
Operate on broadband and wireless data cables
Install and upgrade data points
Home Network
When dealing with residential networks, the electrician can connect the needed systems together to the network. Additionally, detecting any issues, replacing old cables or repairing current ones are other tasks which the professional electrician can do.
Office Network
The electrician working within offices or other commercial buildings can suggest the most effective network for the building. As data cabling is often prefered over other means of connecting to the network, the electrician can also install cables. Repairing the system, connecting appliances, performing maintenance on the data are all done through the data electrician.
Data Cabling Installation
Data cabling is a group of wires which connects appliances and systems together from one source. The network is faster and these wires are able to be connected and installed to many different places. Such as gaming consoles, IP cameras, network computers and IP TVs, there are many benefits which come with data cabling.
For more information on what data cabling installation is, read our blog providing overviews of the topic.
Wired and Wireless Networks
When deciding on to install a wired or wireless network there are many different components of the two. Wired networks are much stronger when it compares to wireless, and also is more reliable in its connection. Moreover, wired networks cost less to install and run, while also offering quicker connections. Wireless systems, though, are flexible in their installation ranges allowing them to be installed in almost any location. However, they can be weakened depending on wall thickness, weather and other external factors.
Cable Management
Having the cables managed within a building will make sure that the area looks clean and tidy. Additionally, a greater benefit is that identifying each cable is easier which will make it clearer when dealing with repairs. Tripping hazards are decreased and the whole environment of the building will be safer and more organised. If completed correctly, the cables will be grouped together in the same system and also labelled individually. Likewise, the cables will be hidden from view but also be installed neatly in an organised manner.
Certified Data and Phone Electricians
The Local Electrician promises that we are more than capable of providing a data phone electrician to help anyone in Sydney. Our experience of over 25 years comes through our installation and repair work with data and phone networks. We understand all there is about each system, how to correctly install them, how to perform repairs and more. Each electrician is fully qualified, while also licensed to work on data and phone networks in all commercial and residential buildings.
Moreover, we offer Emergency Electrician workers which can be called out any time to work with data and phone connections. Our data phone electrician team are available for all of Sydney, including South Western Sydney, Inner West and South Sydney. Each electrician follows the guidelines and standards when it comes to data and phone networks. Likewise, we will never be late, operate efficiently and ensure that all networks are connected, installed or repaired correctly.
For qualified data and phone electricians – contact The Local Electrician at info@thelocalelectrician.com.au. Also, we offer Level 2 Electrician services to ensure that all of Sydney has trusted Level 2 electrical help available. Our goal for each job is to provide high-quality assistance, work safely and make sure everything connects perfectly.
Lifetime Warranty on Workmanship and Labor
Our Services
Our skilled electricians are qualified to carry out any electrical repair or installation within Sydney. We strive to deliver absolute customer satisfaction by offering electrical services that are affordable, safe and long lasting.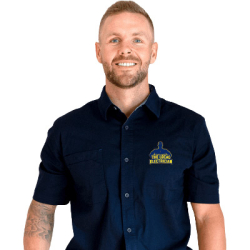 Latest posts by Hamish Baker
(see all)