Data Cabling Installation – Everything You Need To Know!
Posted on July 3, 2020
With data cabling and installing it, a qualified electrician must be the one to carry out the job. Data cabling comes with many positives which the system should be considered installing into businesses and homes. Here at The Local Electrician, our electricians are certified and able to install data cables into any building. We have over 25 years of experience working in Sydney, while also able to efficiently perform data cabling installation anywhere.
Data cabling has wires connecting from different locations into one source to strengthen the network. The cabling can be applied to many different electrical systems, such as IP cameras, network computers and other appliances. Licensed electricians understand data cabling, therefore, install the system to ensure that everything connects properly with no faults.
Different Uses of Data Cabling
The system which connects devices together can be used for multiple purposes, some examples include:
Network Computers – when computers share the same network they will be able to easily share printers, files and other peripheral systems.
IP TV – these smart TV's can be connected to the network which allows apps and other features to be accessible.
Solar Panels – networks which are connected to solar panels provides monitoring and tracking for the amount of energy used.
IP Camera – when cameras are directly connected to the network monitoring and other features can have the feed transferred easily.
Gaming Consoles – allowing the gaming experience to be better, consoles connected directly to the network allows for faster online activity.
IP Phones – using the internet instead of the telephone internet can be an option with these types of phones.
There are many more uses with data cabling, all with their own positives and benefits which come with them. Data cabling is important at connecting device together and more directly with the network for more efficient work. Additionally, data cabling can connect other appliances together and overall allow for the function and service of devices to be more effective.
Data Cabling and its Benefits
Data cabling comes with an enormous amount of benefits which encourage its use in all residential and commercial buildings. The wires are organised and more flexible with this system, while also making everything faster. This is because the appliances/ devices are connected to the network, which data and alike are transferred on higher speeds. For businesses or people who want devices to be quicker with the network data cabling will strengthen speeds and efficiency.
With the chance for the network being disrupted and other complications being lowered, in businesses there will be more productivity. Moreover, if an issue occurs with data it can be a lot easier to locate the problem. Therefore, less time or money will need to be spent locating the issue making it more time and cost-effective. With cables being hidden, the look of the space as well will be more cleaner/ aesthetic.
Furthermore, multiple ports and cables connecting to various statins will also be removed, allowing for more space. Likewise, fewer wires will also mean that safety will increase, tripping and the chance of electrical fires or shock decreases. The benefits which come with data cabling allow it to be an effective way to have faster appliances and devices. Also, it will be more organised, as well as can be much more cost and time effective than other methods.
Standards and Regulations with Data Cabling Installation
Only an expert electrician is permitted to install data cabling systems within a building. This is to ensure that the proper wires are installed or else the system may be working harder than it should be if incorrect wires were to be installed. Furthermore, an untrained person can cause safety hazards/ more complications than a licensed technician would.
Additionally, it is legally required that professionals handle the installation or else the unauthorised person can be in trouble. The qualified person who would install the system must follow the Telecommunications Cabling Provider Roles 2014 to ensure that everything is installed correctly. Moreover, they would need to understand the brand/ type of data cabling which would be installed, therefore, following manufacturers instructions.
Accredited Data Cabling Electricians
These regulations placed are to ensure that untrained people will not incorrectly install data cabling, which could lead to serious health risks. As there is electricity involved, this is also critical to prevent electrical shocks and fires from occurring. Likewise, the devices and appliances need to be connected to the network and other points properly to make sure that everything is efficient.
Before the installation occurs, planning must be done to see which devices will be connected to the system and where. Furthermore, skipping steps or hiring the wrong person will not ave money but cause safety and more financial issues. Also, testing the system is important when it is first installed and periodically to ensure that all is working correctly.
Professional Data Cabling Installation Experts
When requiring an electrician to complete any job, such as data cabling, The Local Electrician is the one to contact. Our team are experienced and licensed tradesmen who know all about data cabling. We ensure that each installation is properly planned out then executed utilising proper and advanced techniques. No job is rushed and our electrician team are guaranteed to be there on time to operate safely.
Moreover, we offer Emergency Electrician services across Sydney which means we can be called out any time for working with electrical concerns. This includes data cabling where our 24 hour emergency electricians can repair or do other related jobs. Likewise, our Level 2 Electrician workers are also offered to Sydney to perform more advanced work which regular electricians cannot complete. Our data cabling electrical services, as well as other services, are available to all of Sydney, including the Northern Beaches, Inner West and Greater Western Sydney.
We are contactable on info@thelocalelectrician.com.au which we highly encourage our services with handling data cabling. The Local Electrician with our 25 years of experience is the best for handling and completing all tasks with data cables. Installing them is no exception which our experienced electricians will make sure they are installed properly and safely.
Lifetime Warranty on Workmanship and Labor
Our Services
Our skilled electricians are qualified to carry out any electrical repair or installation within Sydney. We strive to deliver absolute customer satisfaction by offering electrical services that are affordable, safe and long lasting.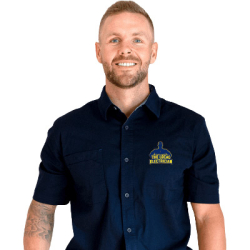 Latest posts by Hamish Baker
(see all)