Different Types Of Ceiling Fans – An Electrician's Pick
Posted on April 30, 2021
There are many different types of ceiling fans that can be installed into rooms and have different purposes. Remote controlled, low profile to highly energy efficient, there are many ceiling fans with many specific features. A ceiling fan installer will be able to install the fan into any space and will be qualified to work with the electrical components. The Local Electrician offers our reliable Emergency Electrician team to carry our professional ceiling fan installations services and also repairs. 
The different types of ceiling fans are:
Standard Ceiling Fans
Low Profile Ceiling Fans
Energy Efficient Ceiling Fans
Dual Motor Ceiling Fans 
Remote-Controlled Ceiling Fans
Damp and Wet Ceiling Fans
Commercial and Industrial Ceiling Fans
What are the Different Types of Ceiling Fans?
1. Standard Ceiling Fans
These are the basic types of ceiling fans that are installed in most buildings. There are many different types of standard ceiling fans with unique styles and designs. Most come in finishes such as brushed nickel, natural, antique bronze and pewter. There will most likely be four to five blades and some models of ceiling fans have lights connected. These types of ceiling fans are also the easiest to install and blend in with the home's decor.
2. Low Profile Ceiling Fans
For ceilings that are low then a low profile ceiling fan should be installed. These low profile ceiling fans are installed directly onto the mounting bracket and do not have an extension rod. This helps with floor clearance and not having the fan be too low and interfere with people. These fans are still powerful and come in many different styles but without the presence of a down rod.
3. Energy Efficient Ceiling Fans
When choosing and installing a ceiling fan it is recommended to use an energy efficient model. These come in standard and low profile but are designed to use less energy, save money and run powerfully. Energy efficient ceiling fans will save a lot of money, especially in the long term despite being initially more expensive.
4. Dual Motor Ceiling Fans
These ceiling fans contain one central motor but there are two separate fan heads with two horizontal rods. They will be able to be set at different speeds and offer a unique decorative design compared to standard fans. The adjustability is why they are commonly used in public spaces, and also for their efficiency with changing the air direction. Covering a wide area, these fans are also great for outdoor settings but have to be damp or wet proof.
5. Remote-Controlled Ceiling Fans
Most types of ceiling fans, from standard to dual motor, have the option of having a remote control with them. This means that along with the wall switch, a portable remote control can control the ceiling fan. Remote-controlled ceiling fans are great for those who have limited ability to move or when the ceiling is too high to reach the fan. When there is no option to install a wall switch then a remote control should be considered. 
6. Damp and Wet Ceiling Fans
If a ceiling fan is going to be installed outside or where a place might be damp then they should be resistant to these. The installation site for these fans are often in covered patios, decks or porches, sunrooms and garages prone to being wet. Make sure to read the manufacturer's instruction to ensure that the fan is weather resistant and will stand being wet.
7. Commercial and Industrial Ceiling Fans
These fans are extremely long and large to fit areas and rooms larger in size, such as commercial and industrial spaces. These offer a high air delivery and can have curved or straight blades depending on ceiling height. Commercial ceiling fans may also be linked with regular ceiling fans in their size but are used in commercial settings. 
How Much Does it Cost to Install a Ceiling Fan?
On average for a fully qualified electrician to install a ceiling fan, it will cost around $100 – $200. If there is additional work required to be completed by the ceiling fan installer, such as repair or replace the existing wiring and add new ones, the price will increase. The cost of the ceiling fan and the labour rates of the ceiling fan installer will add to the overall cost of the ceiling fan. Most models of ceiling fans cost range from $150 to $800.
Read our guide for information on how to install a ceiling fan.
Trusted Ceiling Fan Services
Sydney locals when needing a professional ceiling fan installer can always trust The Local Electrician. Our electricians complete the job swiftly and will install all different types of ceiling fan, and we do it safely. We operate in all Sydney suburbs, including North Shore and Sutherland Shire, and make sure to have the ceiling fans installed reliably.
We also offer trusted Level 2 Electrician workers where they will carry out more advanced work in any location.
When needing an experienced and on time ceiling fan installer at any time of the day – trust The Local Electrician! 
Lifetime Warranty on Workmanship and Labor
Our Services
Our skilled electricians are qualified to carry out any electrical repair or installation within Sydney. We strive to deliver absolute customer satisfaction by offering electrical services that are affordable, safe and long lasting.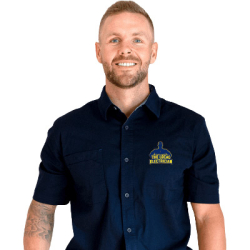 Latest posts by Hamish Baker
(see all)