Does My Tesla Need 3 Phase Switchboard Upgrade?
Posted on December 31, 2021
3 phase upgrades for Tesla and electric vehicles means upgrading the switchboard from single to 3 phase power for Tesla and EV home charging stations. 3 phase power will be able to handle a greater electrical demand meaning it can handle charging the Tesla and for other electrical appliances to be in use, while also the car will charge quicker. Even though it is not needed, upgrading the switchboard to 3 phase ensures the Tesla can be charged faster and more reliably. Here at The Local Electrician, our Level 2 Electrician team will be able to upgrade the switchboard to 3 phase and install home car chargers. 
Upgrading the single phase switchboard to 3 phase switchboard for Tesla and electric vehicle chargers is beneficial. It will mean that the car charges faster while it is safer to charge the car and use other appliances that need a large amount of electricity at the same time. 3 phase upgrades for Tesla and electric vehicles should be performed by a licensed electrician, often a level 2 electrician.
What is 3 Phase Power?
Three phase power is where more power can be brought into a building. Most residential homes use one phase power and will be able to operate reliably. Commercial buildings and larger areas use three phases but residential homes can still upgrade to 3 phases. Single phase draws 240V while 3 phase draws 240V and 415V to a building and allows homes a larger amount and stronger power source.
Why is 3 Phase Power Beneficial?
3 phase upgrades for Tesla and electric vehicles is beneficial in that the home is given a more reliable and powerful power supply. As a result the home can use larger appliances at the same time without the chance of electrical surges occurring more frequently. More power means more appliances can use power and a less chance of the large draw of power causing stress to the system. 
For example, the air conditioner can run while the electric hot water system and also the Tesla charger. When homes are being renovated or more appliances are being installed deciding if 3 phase power is recommended should be considered.
Do I Need 3 Phase Power for My Tesla Charger?
It is not needed for a home to have 3 phase power for it to reliably run electric car chargers. 3 phase upgrades for Tesla and electric vehicles is beneficial though because the car will be able to charge faster and more efficiently. This is because the car overall charges faster because it can safely draw out more power. 
While the car charges, other appliances and systems can be safely used without the fear of overloading the electrical power supply system. Since 3 phase power charges the car faster it will decrease the energy cost, especially if this is mixed with an energy efficient car charger.
Upgrading the power supply to 3 phase simply because an electric vehicle charging station will be installed and for that reason alone it will often not be needed. However, if upgrading to 3 phase will benefit the charger and other systems of the home then t is recommended as it will be more powerful, safe, reliable and efficient.
How Long Does it Take to Charge My Tesla Car with 3 Phase Power?
The power source and the type of charger influences how fast it will take to charge the electric vehicle. Electricians will be able to provide a guide on how long it will take to charge the car and can suggest what charger and if upgrading to 3 phase power will be beneficial, more reliable and more efficient. A general guide on the charging times are described below:
Output power

Power

Range or kilometres added per hour (km/h)

Power (kW)

Phase + Amps

Model 3

Model S

Model X

16.5

3 phase 24A

75

90

80

11

3 phase 16A

75

60

54

7.4

Single phase 32A

50

38

34

3.7

Single phase 16A

25

19

17

2.3

Single phase 10A

15

13

11
For more information about the different types, levels and power plugs of electric vehicle chargers, read our blog 'Are All Electric Vehicle Chargers The Same?'!
Reliable Level 2 Electricians and 3 Phase Upgrades for Tesla and Electric Vehicles
The Local Electrician offers 3 phase upgrades for Tesla and electric vehicles to be carried out by our level 2 electricians. Each fully qualified level 2 asp electrician will upgrade the current switchboard professionally and ensure all the connections are properly done. We also are able to reliably install the home electric vehicle charger and make sure it functions perfectly. Each 3 phase upgrade for Tesla and electric vehicles service is completed on time, swiftly and safely.
For professional 3 phase upgrades for Tesla and electric vehicles services – contact The Local Electrician!
Lifetime Warranty on Workmanship and Labor
Our Services
Our skilled electricians are qualified to carry out any electrical repair or installation within Sydney. We strive to deliver absolute customer satisfaction by offering electrical services that are affordable, safe and long lasting.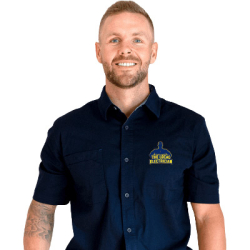 Latest posts by Hamish Baker
(see all)