Electrical Inspection Checklist
Posted on February 11, 2022
An electrical inspection checklist is what an electrician will use during an electrical safety inspection. They will inspect all electrical systems and appliances for potential electrical hazards or concerns. The electrical wires and systems are also tested to ensure they align with residential and commercial electrical safety standards. Here at The Local Electrician, our Emergency Electrician team will inspect your property's electrical systems and ensure that they are in working order while following professional electrical safety checklists. 
A good electrical inspection checklist to follow is:
Look at the electrical meter for any defects
Check the circuit breaker and other electrical safety systems to see if they are working
Look over the electrical wires to see if they are fraying or damaged
Make certain the ground fault circuit interrupters and other earthing systems are working correctly
What is Within an Electrical Inspection Checklist
The following are the safety checks and inspections involved when an electrician inspects a property's electrical systems:
System or Appliance

What is Inspected

Appliance and flexible cords

The electrical cords will be looked over to determine if they are frayed or damaged. Damage to the cable could also be in the form of cuts or abrasion where the wires underneath are

exposed

. Checking to see if cords are away from traffic areas and also not under carpets, windows and doors are important. 

External components or casing

Any external components or casing of electrical systems, such as insulation, will be looked over to ensure they are not damaged. 

Power and extension cords

Looking at the extension and power cords so that they are away from liquids or other dangers, that they are not tangled or crowded and that they are in general good health is needed.

Power outlets

and boards

All the power outlets and boards will be inspected, such as looking for signs of potential

overloading

which includes discoloured

wall plates

or smoke. 

Double adapters

If there are any double adapters present then they will be looked at to ensure they have not caused issues with the power outlet and for them to be taken out and replaced by power boards. 

Heating concerns

Some appliances, such as bar radiators and para-flood lamps, will be inspected to make certain they are not used for heating purposes.

Electrical equipment near wet areas

Any electrical equipment near wet areas, such as power outlets, will be looked at to see if water has damaged them or if they are safe to use around these areas.

Electrical equipment near dangerous materials

Areas that are flammable, corrosive or explosive are looked at for any electrical equipment in there, and the ones that are, are suited for that zone. 

Ground fault circuit interrupters and

grounding systems

Ground fault circuit interrupters and other earthing systems will be inspected to guarantee that they will successfully divert dangerous levels of electrical current away from harming people or appliances. 

Circuit breaker

,

safety switches

,

RCD switches

,

surge protectors

and other electrical safety devices

All the safety devices that protect people and appliances from electrical shock and damage are working properly and are tested for this.

Electrical meter

The electricity meter will be looked over to ensure it takes the correct electrical reading, if it needs repairs or relocation and a general safety check is performed. 
Who Uses an Electrical Inspection Checklist?
The main people who will use an electrical inspection checklist are electricians when performing the service. Property managers and property owners will also utilise the electrical inspection checklist when they want to inspect the general condition of the place's electrical system. Performing an inspection is also important to ensure that electrical safety and electrical fire prevention occur. 
To know about why you should undergo an electrical inspection, check out our blog for further details.
Expert Electrical Inspections for Sydney Locals
The Local Electrician is here to carry out professional electrical inspections in and around any property. Our fully qualified electricians utilise the best electrical inspection checklist to look over every electrical system and appliance. We look for potential dangers, current defects and check to guarantee that repairs are needed or the system is working perfectly.
Our team is here to perform the trusted safety electrical inspections for all of Sydney, including Northern Beaches and Hills District. We also offer reliable Level 2 Electrician services where our team will perform more advanced work in all suburbs.
For the best electrical inspections and trusted electricians – rely on The Local Electrician!
Lifetime Warranty on Workmanship and Labor
Our Services
Our skilled electricians are qualified to carry out any electrical repair or installation within Sydney. We strive to deliver absolute customer satisfaction by offering electrical services that are affordable, safe and long lasting.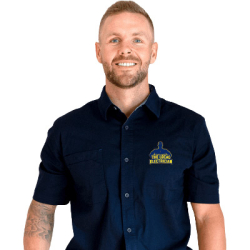 Latest posts by Hamish Baker
(see all)