Electrical Maintenance – Everything You Need To Know!
Posted on April 22, 2022
Electrical maintenance is important to keep all the systems of the building working safely and properly. A qualified electrician will perform the electrical inspection service where they will look over each system, appliance and wiring network. Preventative maintenance involves tasks that resolve or prevent electrical issues and will prevent major issues in the future. Here at The Local Electrician, our Emergency Electrician team will carry out electrical maintenance for all Sydney locals. 
Electrical maintenance is where a licensed plumber inspects, monitors, tests, troubleshoots, repairs and replaces electrical systems. Maintenance allows electrical systems, appliances and equipment to be checked and repaired to prevent major issues. Homes and businesses should have electrical maintenance carried out every 6 months for minor maintenance and 12 months for major maintenance.
What Systems are Involved in Electrical Maintenance?
Within the electrical maintenance service the different systems that are inspected and tasks performed are:
Light testing, including LEDs, fluorescents, security, lamps, downlights and emergency. The wiring system and general conditions of the lights will be looked over and if they need replacing it will be discussed.

Inspecting every electrical switch, powerpoint and outlet to ensure that they are safely working and will not cause

electrical overloading

or other dangerous situations. 

Electrical safety systems, including circuit breakers, safety switches and RCD switches are looked over. If they are tripping constantly this will be investigated and a general condition check will occur. 

The electricity meter, including smart meters, is checked for damages and signs they need repairs and also if they are recording the information correctly.

Appliances and systems, such as

ceiling fans

, electric hot water systems and electric ovens, are all looked over for their condition and if they are safely working.

Electrical wiring and cabling systems, including

data cabling

, entertainment systems and general electrical cabling are inspected for insulation problems, tears and the overall condition of them. 

Smoke alarms

are tested to see if they are working correctly and if the batteries and wires are functioning right. 
Along with other electrical systems and equipment, the maintenance service is an important part of electrical safety regulation. To know about the different types of electrical testing we highly encourage reading our blog for further information. 
How Often Do I Need Electrical Maintenance?
Homes and businesses will benefit from having an electrician carry out electrical maintenance every:
6 Months
The maintenance task that occurs every 6 months ensures that the whole electrical system is looked over. Any problems, such as wire insulation problems, broken systems or hot water system defects, will be spotted and repaired. When connections, wires and systems are inspected then any wear and tear can be fixed or if needed will be replaced. 
12 Months
An annual electrical maintenance service involves a more in-depth look over each electrical system. All wiring, cabling, systems and appliances will be inspected for current or potential damages. Checking to see if these appliances align with safety regulations and making sure everything safely operates is important. Diagnosing issues, cleaning systems, ensuring all mechanisms are working and performing visual and system tests are carried out.
When is Electrical Maintenance Required?
At times electrical maintenance and inspections are required more frequently if there is an issue occurring with the electrical components of the home:
When the fuses blow or the

circuit breaker trips

more frequently to see what is causing this to occur

If the lights flicker, such as when other appliances are in use and the light flicker

When power outages are occurring regularly and it is not due to the area

If the home is older or for a general inspection of older electrical appliances and cords
What are the Benefits of Electrical Maintenance?
Below are the main benefits of having electrical maintenance are:
The energy costs will be reduced because the electrical systems and items will be working correctly. Since they are in good condition they will not draw out more electricity which means that the electricity bill is lowered.

Electrical appliances and systems are protected from being damaged as issues are dealt with before it is too late. 

The safety of the building is improved due to the systems and cabling being checked for dangers. If there are any issues they are addressed before major electrical safety hazards develop.
Expert Electrical Maintenance Services for Sydney
The Local Electrician is here with fully qualified electricians to perform electrical maintenance work for Sydney locals. Our team knows all the steps involved to properly inspect and work on each electrical system. The whole task is performed safely, skillfully and efficiently while using professional tools and techniques. Each maintenance task is important so we can determine if the systems are working perfectly or if repairs are needed to prevent electrical dangers and problems. 
For trusted electrical maintenance services – rely on The Local Electrician!
Lifetime Warranty on Workmanship and Labor
Our Services
Our skilled electricians are qualified to carry out any electrical repair or installation within Sydney. We strive to deliver absolute customer satisfaction by offering electrical services that are affordable, safe and long lasting.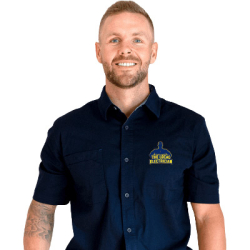 Latest posts by Hamish Baker
(see all)