Electrical Safety Requirements For Landlords
Posted on January 14, 2022
There are certain electrical safety requirements for landlords that they must follow. These are to ensure that before, during and after a person lives in the rental property they are safe from electrical systems. The landlord is responsible for certain tasks, such as providing electrical safety checks and ensure people are safe from electrical danger during their residential tenancy. Here at The Local Electrician, our Emergency Electrician team will perform tasks landlords need to guarantee their rental properties are electrically safe. 
Electrical safety requirements for landlords include:
Ensure all electrical wiring work, electrical installations and electrical repairs are carried out by a licensed electrician
Guarantee that before new tenants move in electrical appliances are safe and working well
An electrical safety inspection followed by an electrical condition report should occur at least every two years
What are the Electrical Safety Requirements for Landlords?
Landlords must ensure that their tenants are safe during their residency which includes electrical safety. Property owners have obligations to perform specific tasks that ensure before, during and after a tenant will be safe from electrical hazards. The main electrical safety requirements for landlords include:
Before a tenant moves into the rental property that all electrical appliances and systems are working correctly and safely

While the tenants are living on the property the electricals will need to operate properly

Make sure that the electrical appliance and systems are inspected and are guaranteed to work properly

Ensure that

electrical wiring

,

power points

,

safety switches

,

smoke alarms

and other units are functioning correctly

Make certain only a licensed electrical contractor is hired to perform electrical work

All records of

electrical repairs

, installations and maintenance work should be kept

Any unsafe electricals are removed and thrown away 

Appliances are as per the manufacturer's instructions, are safe to use and tested by trained electricians
Electrical Inspections
A major requirement of landlords is that an electrical safety inspection will need to occur every two years. A letter will need to be given to the tenant to notify them that an electrician will be around to inspect the electricals of the property. If you require more complicated repairs (e.g private power poles, consumer mains, 3 phase power) then a level 2 electrician will need to carry out the inspection. The main inspections that are performed during the regular electrical inspections are:
Record of Electrician Safety Inspection
Once the inspection has been completed the result must be kept and presented as to the guidelines of AS/NZS Standard 3019 "Electrical Installations – Periodic Verification". The other information which needs to be collected and kept are:
Licence number or registration number of the electrician who worked on the inspection

Name of the company that the electrician belongs to

The date and time of the inspection and when it was started and completed

All the repairs that needed to be done, as well as what was done to address those issues
Trusted Electricians for Landlords
The Local Electrician is here when landlords need a reliable electrician to perform inspections and repairs. We understand the electrical safety requirements for landlords and will know what tasks to perform. Our experienced team will inspect all systems and appliances and when needed repair, install and replace systems around the property. We can work in all types of residential and commercial buildings and on all electrical systems regardless of location or size.
Our electrical services offered to landlords and tenants are here for all of Sydney, including North Shore and Greater Western Sydney. We also offer professional Level 2 Electrician services where our team will perform more advanced electrical work inside any area.
For the best emergency electricians for any electrical need – The Local Electrician is here at all times!
Lifetime Warranty on Workmanship and Labor
Our Services
Our skilled electricians are qualified to carry out any electrical repair or installation within Sydney. We strive to deliver absolute customer satisfaction by offering electrical services that are affordable, safe and long lasting.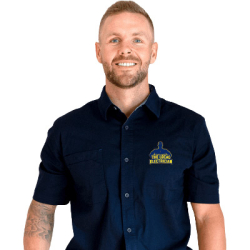 Latest posts by Hamish Baker
(see all)