Electrical Safety Tips For Seniors
Posted on January 15, 2021
It is important that seniors practise electrical safety to make sure no electrical hazards or risks develop. Small tasks, check ups and inspections will help keep the home safer to live in for older residents. Here at The Local Electrician, our Emergency Electrician team is here to perform electrical safety inspections and work for seniors. 
The best electrical tips for seniors to know are:
Inspect appliances, switches, cords, outlets and any other electrical equipment  for any defects or damages
Look and listen for any potential electrical issues, such as buzzing noises or flickering lights
Make sure to not have cords under carpets and rugs to prevent tripping or electrical fires 
Limit the number of extension cords and double adapters used
Install grounding systems to help prevent electrical shocks
Install surge protectors, RCD switches and safety switches for additional electrical protection
Schedule regular electrical inspections for a qualified electrician to make sure the place is safe
How Should Seniors Be Electrical Safety Smart?
Seniors should be in environments where they can safely live and work without electrical issues around the home. By performing small tasks that secure the safety of individuals from electrical faults, their overall wellbeing can be increased. From performing regular inspections to changing specific electrical systems, small steps can be made to protect senior citizens. 
Inspect Electrical Equipment
The electrical wiring should be checked on all appliances, fixtures and devices to look for exposed cables. If these appliances also have any noticeable defects on them then these should be addressed as soon as possible. Light switches should be looked at for any sparks, buzzing noises or issues relating to them. 
Powerpoints and outlets are also important to look at and detect potential electrical hazards. These small visual inspections of electrical appliances and systems can help with finding an error before it develops into serious consequences. 
Observe Any Electrical Warning Signs
When using electrical equipment, if specific events occur then they can indicate that there are issues. This can include noticing the lights dimmer more commonly or when the light switch is turned on. Hearing any buzzing or sizzling noises near powerpoints is another common observation people should be making. If these signs are found early then a licensed electrician can resolve the defect before major issues form. 
Read our blog 'light switches and electrical hazards' to know more on what to look out for with light switches. 
Keep Cords Away from Carpets and Rugs
To prevent electrical fires or people tripping, having cords under rugs and carpets is unadvised. This can include having the lamp cord under the rug to extension cords running under the carpet. There is a high risk that a person can trip if they cannot see the wire under the surface. 
Electrical fires can also start if the wires become too hot, sparks fly or if the wire has exposed cables. Even though it may not sound harmful, moving the cords away from carpets and rugs will help keep the home safer.
Limit Extension Cords and Double Adapters
The number of extension cords and double adapters used around the home should be decreased. This is because if there are too many then too much electricity is being drawn out and the chance of electrical overloading increases. Installing more powerpoints can help decrease the need for adding more double adapters and extension cords. 
Our article 'electrical overloading – everything you need to know' has more information on why using multiple extension cords can be dangerous. 
Install Grounding Systems
Grounding systems should be installed especially in areas where water is present, such as the bathroom or kitchen. Earthing systems will help with reducing the chance a person will be electrocuted from an electrical shock. 
If an appliance is faulty, goes near water or any other hazards occurs, the grounding system will transfer the voltage to ground instead of in the system. The power is quickly shut off if a sudden spike in voltage occurs and will be extremely important for people's safety. 
If wanting to know more on earthing systems, our blog 'earthing testing and installation' offers detailed insights with the service. 
Install Surge Protectors, RCDs and Safety Switches
Surge protectors, RCD switches and safety switches all have the same role in stopping electrical spikes from causing hazards. Each will be installed depending on the building type and age of the electrical system but all have similar functions. They will work with one electrical circuit to constantly monitor for sudden voltage spikes. When this issue happens they will immediately shut off power to that specific circuit and protect people from electrical shock. 
Schedule Regular Electrical Safety Inspections
When an electrician performs inspections on electrical systems they look to see how safe they are. Any defects or problems are found and can be addressed before potentially dangerous situations occur. If an electrician performs this task regularly then it is extremely beneficial and safe. Cabling systems, appliances and the lights are some of the many systems inspected during the service. 
For more information on the best times to have electricians inspect the property, our article 'how often should I get an electrical inspection' provides more details.
Professional Electrical Safety Services
When a senior needs an electrical safety service The Local Electrician is here to help. Our team can perform inspections on all electrical systems throughout the building to make sure each system is safe. We will also carry out any electrical repairs if needed to make the property safer. Our electricians are here to provide additional help in how a home can be safer for seniors as well.
The team of 24 hour electricians will operate throughout all of Sydney, including the Inner West and Hills District. We offer Level 2 Electrician services for us to carry out more advanced work and make sure it is safely completed.
For professional electrical safety services in Sydney – call The Local Electrician any time on 0439 823 190!
Lifetime Warranty on Workmanship and Labor
Our Services
Our skilled electricians are qualified to carry out any electrical repair or installation within Sydney. We strive to deliver absolute customer satisfaction by offering electrical services that are affordable, safe and long lasting.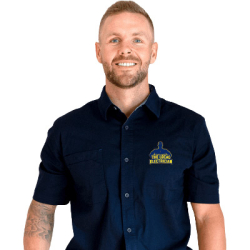 Latest posts by Hamish Baker
(see all)