Electrical Test & Tag – Everything You Need To Know
Posted on August 20, 2021
Electrical test and tag is a process of electrical safety inspection and specifically for portable electrical devices. Electrical appliance test and tag ensure that electrical equipment operates safely, any faulty electrical components are repaired and the portable appliances follow Australian Standards. Here at The Local Electrician, we offer professional test and tag Sydney services where our Emergency Electrician team will perform inspections and testing on electrical appliances.
Test and tag is where a licensed electrician will perform tests and inspections on electrical appliances. The test and tag service will occur every three months in industries that use many portable devices, such as in construction, mining and demolition. It is encouraged that other workspaces undergo electrical testing and tagging as a duty of care and safety for employees.
What is Test and Tag?
Industries and workplaces that use multiple different electrical equipment will often utilise them more frequently. Using the electrical devices at a faster rate increases the chance of the system experiencing electrical issues or problems. This is where test and tag is important as it involves inspecting each appliance and ensuring people are safe to use them. 
To know about other forms of electrical testing we encourage reading our blog that contains more details. 
What is a Portable Appliance Tester?
A Portable Appliance Tester, often referred to as a PAT Tester or PAT, is the main tool used to carry out a test and tag. The device will be configured to test the type of equipment and read it to see if it passes the test. 
The tool can range from $500 to $3000 and will determine if the electrical equipment is safe to be used or needs to be repaired or replaced. Any major concerns will be found before using the tool through a visual inspection as they often occur before the PAT is used.
Who Performs the Test and Tag Service?
The Australian Standards AUS/NZS 3760 states that a 'competent person' will be able to perform a test and tag service. This means that to work in the test and tag industry a test and tag course is required. The course is often one day long and most states and territories require the course is performed through a Registered Training Organisation. 
Most times an electrician will undergo the course to ensure they can perform the service nationwide but any person can complete the program. Knowing how to test and tag, what to look for and where to perform the service are learnt in the course.
What Equipment is Tested and Tagged?
The devices that are looked over during the test and tag service are those with a flexible cable, has a removable plug and has a low voltage of under 50V. New equipment brought into the site will not need to be tested, only visually inspected and also tagged. There are two main classes that electrical devices are categorised in when professionals carry out testing and tagging services:
Class I – this includes equipment that are earthed, such as irons, kettles and toasters

Class II – this includes any double insulated appliances that have a symbol or words 'double insulated' on them, such as electric drills and hair dryers
Other devices, including extension leads, portable RCDs and cord sets, will also be tested during the important service.
How Often Does a Test and Tag Service Need to Happen?
The main intervals of test and tag services are listed in the AS/NZS 3760 standard and for most places are:
3 months – for construction, building and demolition environments the service will need to occur every 3 months. This is the most frequent testing because of the nature of the workplace as devices are used frequently. 

6 months –  for warehouses, production and factories the test and tag service will occur every 6 months. With the workplace not being as harsh as the previous ones but still devices are used constantly this is why the service occurs at least twice a year.

12 months – for places where cords and appliances are used frequently or can be damaged from users, dust, the weather and general deterioration the test and tag will occur every 12 months.

5 years – for non-hostile environments where cords and equipment will not be abused or damaged, such as a company's server room, the test and tag will happen every 5 years.
What are the Different Test and Tag Colours?
There are different colours for each tag when the test and tag service is completed for people to recognise when the service was performed. For construction and demolition sites they will follow the specific colour code standards. Other workplaces can use their own colour scheme, but most use the standard colour scheme such as in mining and marine industries. Most times the colours represent the different time periods of the year:
Red Tag – December, January and February

Green Tag – March, April and May

Blue Tag – June, July and August

Yellow tag – September, October and November
Reliable Electricians Performing Test and Tag Services
The Local Electrician will be able to perform electrical test and tag services across Sydney with our professional electricians. Each electrician will operate in the workplace to look over each device and ensure that it is inspected correctly. Our team knows how to correctly carry out the test and tag service to make sure appliances are safe to use and follow the required standards.
For trusted test and tag services – rely on The Local Electrician!
Lifetime Warranty on Workmanship and Labor
Our Services
Our skilled electricians are qualified to carry out any electrical repair or installation within Sydney. We strive to deliver absolute customer satisfaction by offering electrical services that are affordable, safe and long lasting.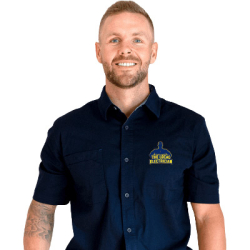 Latest posts by Hamish Baker
(see all)