Electrician Apprenticeship Job Tasks & Description
Posted on May 8, 2021
An electrician apprenticeship is where a person gets real-life experience in the electrical field when training to become one. In order to become a licensed electrician, an electrical apprenticeship is needed to be completed. A person will complete it alongside undergoing a Certificate III in Electrotechnology and learn skills in electrical installations and repairs. The Local Electrician is here with our qualified electrician team to help Sydney locals with any electrical service. 
Most electrician apprenticeship programs run for three to four years and alongside a TAFE or other Registered Training Organisation course. Completing a Certificate III in Electrotechnology and becoming licensed in the electric trade requires the apprenticeship to be completed. The main jobs involved in an electrician apprenticeship are:
Understanding and reading wiring diagrams and blueprints
Performing electrical installations and how to correctly plan the task
Carrying out electrical repairs, knowing what tools and techniques to use 
Working with wiring systems and cables
Undergoing professional electrical safety inspections
Installing and working with electrical switchboards and safety devices
What is an Electrician Apprenticeship?
An electrician apprenticeship has many different components involved so a person training to become an electrician knows how to professionally work. They are completed under the guidance of an already licensed electrician and are an apprentice electrician within their workforce. The electrician or electrician team will allow the trainee to develop their skills and gain real life experience working in the electrical trade.
In order to become qualified and gain a NSW electrical license, an apprenticeship is a part of the requirements to get it. Completing Certificate III in Electrotechnology is where a person will work in classroom-styled learning, such as understand the wiring rules. While apprenticeships offer the real world experience aspect of being an electrician. Most apprenticeships will last for three to four years, apprentices will develop a wide range of skills during this time.
What Jobs are Performed in an Electrician Apprenticeship?
The main jobs learnt during an electrician apprenticeship are:
Electrical Repairs
Electrical repairs are a major part of working as an electrician, especially as an Emergency Electrician. Repairing in the electrical trade can include phone lines, hot water systems to broken surge protectors. An apprentice will work to learn how to safely operate with the electrical equipment during repairs. Knowing what steps to take and tools to utilise will also be developed during the apprenticeship.  
Electrical Installations
Another major part of becoming an electrician is knowing how to correctly install electrical systems and appliances. From simple light installations to installing electrical systems in commercial settings, there will be many electrical installation practices. Installing systems will need to be performed safely and efficiently while tests are commonly performed during the service. Apprentices will understand how to correctly install a variety of electrical units during their training. 
Skills and Tools
Learning about the different types of skills and tools involved in the electrical trade in completed in education settings. Understanding how to use and apply them into the different types of electrical jobs is performed within the apprenticeship. Gaining real life practice with the tools and skills involved in electrical work is an important aspect and benefit from completing an apprenticeship. 
Wiring Diagrams and Work
Knowing how to read wiring diagrams and also blueprints are developed within the electrician apprenticeship. Working with wires and cables, installing and repairing them, are another main component of the apprenticeship. Knowing what wires and cables are made of and their applications in electrical systems are important to know when working as an electrician. 
Electrical Safety Inspection and Tests
Electrical safety inspections are where an electrician looks over electrical equipment and systems to ensure they are functioning safely. Testing these systems for any defects or faults are also carried out by electrical professionals. Apprentices will understand how to correctly test all types of electrical systems and parts. Knowing what to look for during an inspection and what might need repairs or not is developed through the training. 
Working with Electrical Switchboards and Safety Devices
Electrical switchboards are a major system that electricians will often have to work on. This is because this is where a building's electrical panels and safety devices are stored and managed. Understanding how to inspect, test, repair, install and upgrade an electrical switchboard are skills gained during apprenticeships.
What Skills are Developed from the Mechanic Apprenticeship?
Along with knowing how to carry out electrical jobs, certain skills are gained from undergoing an electrician apprenticeship:
Being greater at focusing and paying close attention to details 

Developing skills in problem-solving, especially in terms of major repairs to emergency electrical situations

Becoming more aware of safety issues and overall dangers that come with different electrical jobs

Working and communicating with other electricians develop

Communicating to customers about the electrical work performed 

An increase in effectively planning for electrical jobs
Reliable Sydney Electricians Ready at All Times
The Local Electrician and our team of certified electricians are here for any Sydney resident at any time of the day. Each 24 hour electrician is fully licensed, has completed the electrician apprenticeship and knows how to carry out a variety of tasks. We make sure that we arrive on time to a job and ensure we operate at our best skill regardless of the type of work.
Here at all times of the day with reliable and experienced electricians – contact The Local Electrician on 0439 823 190!
Lifetime Warranty on Workmanship and Labor
Our Services
Our skilled electricians are qualified to carry out any electrical repair or installation within Sydney. We strive to deliver absolute customer satisfaction by offering electrical services that are affordable, safe and long lasting.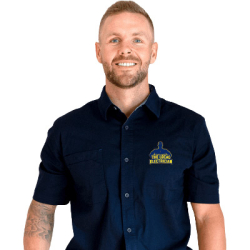 Latest posts by Hamish Baker
(see all)