Electrician Quotes – What You Need To Know!
Posted on July 15, 2022
Having a glimpse of the bigger picture is essential when starting any new project. Everything needs to be in line with the aim and all the processes need to be clear to avoid confusion and any misunderstandings down the line. The same thing goes when an electrician performs an installation, maintenance or repair in a residential or commercial building. 
That is why, if you are reaching out to a local electrician to get a quote for any works or repairs, you have a clear idea of what is going into the job as well as an itemised breakdown of every component. Electrician quotes will provide you with the peace of mind that you have found a reputable electrician who is qualified and competent enough to carry out the repairs both proficiently and reasonably.
What Should I Look For In Electrician Quotes?
Electrician quotes form part of the customer and the electrician's contract. It details the work description, labour cost, materials to be used, and how long the quote will be valid. Electrician quotes also give property owners more details about the capabilities of the emergency electrician workmanship and any discounts that may apply. Here at the, based on our industry experience of more than 25 years, we have detailed the important parts that electrician quotes should include. 
Invoice Number, Date & Job number
Company Details:

This section should include all of the company information. For example Company Details: The Local Electrician, ABN: 35-624-685-347, Lic: 324518C, Phone: 0439823190, Email.

You can search to see if an electrician is licensed through

Service NSW's online search.

Client Details

: Your name, address, phone number should be listed here

Billing Details:

Your billing details should be listed here if different to client details

Itemised Pricing & Final Costs (inc of GST)

– Cost is everything when installing or repairing an electrical appliance or system. A breakdown of the costs in an itemised list is a must for every electrical quote. Itemised pricing provides transparency so that the property owner will be not surprised by hidden costs. This section should also include the hourly rate, any call out fee (if there is one, which is common for after hours work) and any discounts applied. 

Customer Signature:

You will be required to sign a quote, which will indicate your acceptance of the repairs

Payment Method

: A clear method of payment and the correct payment details should be listed and when payment is required

Terms & Conditions:

There should be a clear T&C's section which should be included on the quote. Within this section, insurance, warranty periods and prevailing local standards and regulations should be mentioned 
If you wish to receive a professional quote for any repair, please contact us directly and we will immediately send a technician to your location!
How Much Do Electricians Charge Per Hour in Australia?
Local emergency electricians across the country charge according to rates prescribed by their respective laws. On average, the per-hour charge (not after hours) of a licensed electrician in Sydney is $80 to $130. However, this rate will vary depending on location and after hours work. 
The kind of installation and repair also significantly impacts the rate charged by a call out electrician. For example, if you require a specialised level 2 asp electrician, to repair private power poles, 3 phase upgrades, overhead / underground wiring, consumer mains etc, then their hourly rate will increase due to increased level of risk. We are qualified level 2 electricians here at The Local Electrician and can handle any level two related works.
When is an Electrical Quote Needed?
Homeowners and businesses should always request for an electrical quote as a general rule, even if it is cashy!.As previously stated, this quote allows the property owner to have a glimpse of what is included and what will happen during the installation, maintenance or repair. The below are some projects where property owners are best to ask for an electrical quote:
General residential and commercial maintenance, installation and repairs

Installation and maintenance of alarm system

Re-wiring of the electrical system

Electrical switchboard upgrade

and repair

Air-conditioning installation
Choose the Best Electrician in Sydney Today!
Here at The Local Electrician, we always have our customers' convenience and satisfaction first on the priority list. Locals have grown to prefer our 24 hour electrical service due to our commitment to delivering the highest quality of electrical service. Each Sydney emergency electrician in our team has met the requirements set by NSW Fair Trading. We are also certified Level 2 ASP Electricians under the state's Accredited Service Provider Scheme. This qualification allows us  to work on pieces of equipment directly connected to a live electrical network. These requirements, in combination with our experiences, enable us to provide work that follows the Gas and Electricity (Consumer Safety) Act 2017 and the Gas and Electricity (Consumer Safety) Regulation 2018.
We are not only focused on providing long-lasting solutions. We also make sure that you understand every step of the installations and repairs we do. Being transparent also forms part of top-notch electrical services. Informing our clients of every material and process that goes into every installation and repair assures them that they are getting the best electrical service in Sydney. Some reasons we stand out are as follows:
15% Off first electrical services

On time electrician or we work for free

Lifetime warranty on workmanship and labour 

5 year warranty on all materials 

Same day services
Contact The Local Electrician now to experience why Sydney locals have made us their go-to electrician for any electrical installation and repair they need!
Lifetime Warranty on Workmanship and Labor
Our Services
Our skilled electricians are qualified to carry out any electrical repair or installation within Sydney. We strive to deliver absolute customer satisfaction by offering electrical services that are affordable, safe and long lasting.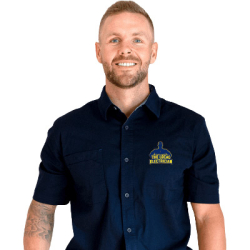 Latest posts by Hamish Baker
(see all)