Electricity Usage When Working From Home
Posted on June 25, 2021
A person's electricity usage when working from home can be a major part of their energy bill. On top of the daily activities that use electricity, working from home will increase the amount of electricity used. To ensure the power bill does not increase too much there are ways a person can decrease their energy usage. Here at The Local Electrician, our Sydney electrician team will resolve any electrical problem inside any home.
On average the electricity usage when working from home is around $2.78 per day. This means that the average energy costs for 6 months is $527 when working at home. Adding the cost of heating and cooling it can rise to an additional $408 with an air conditioner or $905 for using a heater. It is important to try and be energy efficient with electricity usage when working from home to greatly reduce energy costs.
What are the Average Energy Costs for Working at Home?
From home office equipment to using appliances to heat up food, the average electricity usage when working from home over 6 months are are:
Computer – having it operate for 8 hours a day with a monitor or two computers is $146

Laptop – running a laptop with a monitor or using two and having them constantly charged can cost $43

Lights – leaving the lights on in the room where working, such as the study or living room, can be $116

Stereo – keeping the stereo on for the whole day can mean it ends up costing $43

TV – when the TV is on for 4 hours a day it can cost $80

Kettle – boiling the kettle twice a day can lead to it costing $86

Microwave – heating up lunches and food can cost $8

Phone Chargers – charging four phones to full can be $2

Air Conditioning – using the air conditioner for heating and cooling can add an additional $408

Heater – the heater being used can increase the bill by $905
To know how much the general household appliances cost in a year we highly recommend reading our blog for more details. 
How can I Reduce the Electricity Costs when Working from Home?
To reduce electricity usage when working from home there are many different ways to do this. Being overall more energy efficient and aware is the best way to reduce electricity costs while changing certain actions can help.
Temperature
Using the air conditioner and other methods of temperature control often adds to 40% of the overall energy bill. To help reduce money while maintaining a comfortable temperature:
Have the home properly insulated to prevent heat from escaping

Try to reduce the number of air gaps that cause air to escape the home, such as gaps around doors

Close doors and windows in the room where the aircon is in use

Keep the temperature at an energy efficient level, in summer 24 degrees celsius and in winter 18 to 19 degrees celsius
Light
The lights will often account for 10% of the energy bill and the best way to reduce prices are by:
Try to work near natural light or outdoors to limit the need for using lights

Install LED lights as they are the most energy efficient light to choose, reducing costs by 10-20% and last longer

Using lamps and similar lights instead of ceiling lights to not light up the whole room

Make sure to turn off lights when they are not needed
Appliances
Home office equipment and other appliances will mostly take up 15% of the energy bill, to reduce their running costs:
If possible turn appliances to an energy saving mode and when possible turn off the appliance when not in use

Appliances, such as the printer, may not need to be constantly on and installing a smart powerboard it will save having to constantly unplug the appliance

Purchase energy efficient appliances that have a higher

star rating
Kitchen
Working from home means that some kitchen appliances are used more frequently than they usually would. As the kitchen appliances use 15% of the power the best ways to reduce cost are by:
Try to decrease the times the fridge and freezer doors are opened

Fill the kettle to the amount of hot water needed to be boil instead of the whole jug as boiling a lot of water needs a lot of energy

When possible use the microwave and keep the dishwasher usage to a minimal
Switchboard Upgrade
Sometimes a switchboard upgrade can help lower the overall cost of the energy bill. This is because the new switchboard will be able to handle more electricity consumption than the older switchboard. This means that more energy efficient appliances and new power points can also be added to the house as well.
Professional Sydney Electricians Working with Household Appliances
The Local Electrician offers trusted Emergency Electrician workers to operate with all household appliances at any time. Our team can help you assess your electrical usage when working from home. We will be able to install, repair and work on any type of appliance in the home. Our electrical services are all performed with electrical safety as a priority and our fully qualified electricians make sure to arrive on time. Each licensed electrician can also provide tips on how to reduce the overall electricity usage when working from home with examples.
Each electrician will operate across all of Sydney, including the North Shore and Eastern Suburbs, working with any appliance. We are also professional electrical contractors of Level 2 Electrician experts who will perform advanced jobs such as switchboard upgrades.
For the best Sydney electrician team to perform electrical work on any household appliance rely on The Local Electrician!
Lifetime Warranty on Workmanship and Labor
Our Services
Our skilled electricians are qualified to carry out any electrical repair or installation within Sydney. We strive to deliver absolute customer satisfaction by offering electrical services that are affordable, safe and long lasting.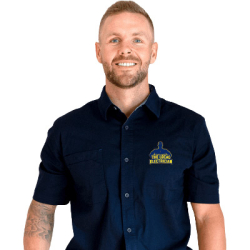 Latest posts by Hamish Baker
(see all)