Emergency Lighting And Exit Repairs Sydney
Posted on April 19, 2021
Emergency lighting and exit signs are extremely important to help with safety in emergency situations. There are many different types of emergency lighting and emergency exit signs that can be installed for these situations. To keep up with Australian Standards it is important that emergency and exit lighting are installed. The Local Electrician offers our light installation and repair services where our certified electricians will install a wide range of emergency lighting. 
Emergency lighting and exit signs are installed to help guide people during an emergency. They will be connected to one dedicated circuit with a separate battery as a backup in the case of a power failure. The most common forms of emergency lighting and signs are:
Lights – lifelight, batten, circular, flood
Exit signs – standard box, blade, waterproof, low temperature, vandal resistance
What are Emergency Lighting and Exit Signs?
Emergency lighting and exit signs are lights and signs that will power on when there has been a power outage. These will have their own dedicated circuit connected to a battery or generator switch. In the case of an emergency and the power is out, these will automatically switch on and guide people. 
How Does Emergency Lighting Work?
Emergency signs and lights are wired to the main building's electrical switchboard and have their own circuit. A battery or generator switch is connected to them to work while the power to the building has gone out. Once the building has lost power the emergency lights and signs switch on automatically in most places. This battery as it is a backup power supply will work for a minimum of 90 minutes.
What are the Different Types of Emergency Lighting?
Emergency signs and lights come in many different shapes and sizes to be used in different places. They are designed in unique ways to best suit the environment they are installed in and be most effective. Below is a guide on the most common types of lights and signs used for guidance in an emergency:
Lights
Lifelight – mounted or recessed onto ceilings

Batten – longer shape used in car parks, outdoor settings, corridors, pathways and stairways

Circular – circular shape used in internal and external settings

Flood – designed for loading bays, car parks and other areas that may be exposed to flooding
Signs
Standard Box – box shape and often the most common and recognisable 

Blade – contains a more aesthetic or architectural design

Waterproof – used in external settings, such as where it would rain more

Low Temperature – designed to work in commercial freezers and alike settings

Vandal Resistance – often used in public areas, such as train stations and bus stops, to prevent vandal
What are the Regulations with Emergency Lighting and Exit Signs?
The regulations with emergency lighting and signs are under the Australian Standard AS2293. These state that the emergency lights and signs need to illuminate for a minimum of 90 minutes after power has been lost. The main types of buildings they are installed in are Class 6 buildings more than 100m2 in size, such as shops, restaurants and offices. They need to be tested by a qualified electrician once every 6 months to ensure they work correctly. 
Emergency Lighting Requirements
Short descriptions of the requirements with emergency lighting and where they need to be located are:
Every fire-isolated, ramp, passageway and stairway

In Class 5, 6, 7 and 8 buildings on every storey where the area is larger than 300m2

Where there is a passageway, hallway, corridor or alike that leads to a path towards an exit

In rooms where they are larger than 100m2 and has no open access to spaces with emergency lighting or rooms with a floor area bigger than 300m2

In paths where they have a length of 6m or more away from the entrances of doorways

On external balconies that lead to fire-isolated stairways, passageways or ramps

Where exits do not lead to an open space or road or to a place that leads to an open road or space

At points that are more than 20m from doorways directly joining to ramps, passageways, stairways, open spaces or roads
Emergency Exit Signs Requirements
Short descriptions of the requirements with emergency signs and where they need to be located are:
Where doors are located and give access to an exit from a storey

At enclosed stairways or paths leading to an exit

At external stairways or paths that go to an exit

Where balconies grant access to exits
Reliable Emergency Lighting and Sign Services
The Local Electrician offers our Emergency Electrician team to install, repair and service emergency lighting and signs. With over 25 years of experience, we are able to install any type of emergency lighting or sign. Our certified electricians will also perform electrical repairs on any broken system and carry out regular electrical safety inspections.
For expert electricians to work with emergency lighting and signs – call The Local Electrician on 0439 823 190!
Lifetime Warranty on Workmanship and Labor
Our Services
Our skilled electricians are qualified to carry out any electrical repair or installation within Sydney. We strive to deliver absolute customer satisfaction by offering electrical services that are affordable, safe and long lasting.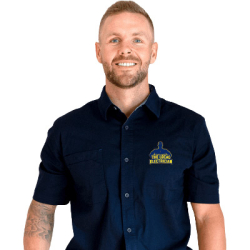 Latest posts by Hamish Baker
(see all)