Energy Star Ratings On Electrical Appliances Explained
Posted on April 5, 2021
The energy star ratings on appliances are useful tools for people when purchasing. They will help with understanding how energy efficient they are and how much energy they will use during a year. Knowing how to read energy star ratings will help with deciding the perfect electrical appliance to purchase. The Local Electrician offers our Sydney electrician team to carry out electrical work with any appliance.
An energy star rating of an appliance contains the star rating and energy consumption. The energy star label indicates how energy efficient the product is, more stars means better efficiency. The energy consumption label describes how much electricity the appliance consumes, lower numbers mean less electricity used. Comparing the energy rating labels of appliances will make it easier when deciding the best product in terms of running costs and energy efficiency.
What is an Energy Rating Label?
Energy star ratings and labels are regulated by the government to guide consumers with purchasing electrical appliances. They make it easy to compare products of the same use and sizes on how energy efficient they are. Purchasing products with higher stars and less electricity consumed will decrease the energy bill costs and help with the environment. 
What Does the Star Rating Mean?
Each product will be given a star rating on how efficiently it uses energy when compared to similar models. The more stars appliances have means the more energy efficient appliances are. Often star ratings will range from one and to six but some products have ratings of up to ten. Star ratings should be compared to appliances that are of similar sizes.
What Does the Energy Consumption Number Mean?
Through the government's regulations, tests are performed on each product to determine how much electricity they use. The energy consumption label describes how much electricity the specific model uses each year. The lower the number means it uses less electricity and will overall be less expensive to run. Energy consumption labels and comparing appliances do not need them to be the same size, unlike star rating comparisons. 
What Products Have the Energy Star Rating?
Within Australia, there are specific products that need to have the energy ratings listed on them, including:
Washing Machines

Air Conditioners

Computer Monitors

Televisions

Clothes Dryers

Fridges and Freezers

Dishwashers
It is important to compare the star ratings of products that are of similar uses, sizes and capacities.  For instance, a 300 litre fridge should be compared with another 300 litre fridge on how efficient the two different models are. If comparing the appliances and they are of different capacities or sizes then this will offer inaccurate information on which one is more efficient.
How Do I Calculate the Running Costs?
Using both the star ratings and the energy consumption information will make it easy to find out how much the appliance will cost in the long term. It is important to know that appliances with higher star and energy consumption ratings often cost a bit more when buying the item. This is because they are built with more advanced technology that will use energy much more efficiently. In the long term, it costs less to purchase higher star rating appliances over cheaper but less star rating products.
To calculate the running costs of appliances use the energy rating label and the energy consumption number. Divide this number by four for a general representation of how much running costs are. Within Australia, most energy rates are within 20c – 30c per kWh which is a quarter of a dollar. For example, an appliance that states it uses 400kWh indicates it will cost $100 a year to run. 
There is also an online calculator that will make it easy to compare different models of similar products. This tool is highly recommended to use as it offers accurate and clear representations of how much products will cost.
Why are Energy Star Ratings and Labels Important?
When it comes to reducing the energy bill costs, energy star ratings are a key factor in this. These labels offer a clear guide to consumers on how much energy and electricity the product will use. This information will help when it comes to:
Comparing other appliances and products on how efficient they use energy

Knowing how beneficial the product comes to being environmentally friendly due to it using less energy

Providing a guideline when shopping for new appliances, ranging from

hot water systems

,

security lighting

to

smoke alarms

An overall understanding of running costs, energy consumption and electricity usage
Reliable Sydney Electrician Here to Help Locals
The Local Electrician offers Sydney electrician workers where we will work with energy star ratings and other services. Our licensed electricians will help guide you through what appliances are best suited for you in terms of running costs, needs and lowering energy bill costs. Our Emergency Electrician services also allow us to carry out repairs to resolve electrical problems, install these appliances and inspect for electrical safety reasons.
For reliable electricians to work with energy star ratings and all other types of electrical jobs – contact The Local Electrician on 0439 823 190!
Lifetime Warranty on Workmanship and Labor
Our Services
Our skilled electricians are qualified to carry out any electrical repair or installation within Sydney. We strive to deliver absolute customer satisfaction by offering electrical services that are affordable, safe and long lasting.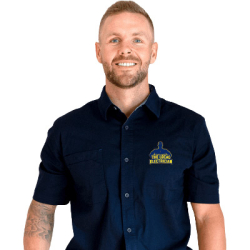 Latest posts by Hamish Baker
(see all)