Ethernet Vs Wifi – Which Is Better
Posted on August 21, 2021
Ethernet and wifi are ways to have homes or businesses connected to the internet. Either a wireless network or wired connection are how wifi and ethernet function and differentiate from each other. Using the ethernet connection or a wireless connection will influence the internet speed and reliability for any devices connected. Here at The Local Electrician, our electricians are here to perform data cabling services across Sydney, including ethernet and wifi. 
With ethernet and wifi, each has its own benefits and disadvantages with connecting devices to the internet. Ethernet directly connects a device to the internet through an ethernet cable while wifi uses a wireless connection. Ethernet network cabling offers faster speeds and is more reliable however the cables can be a nuisance and limit the device to one place. Wifi is more convenient and better for mobile devices but is often slower and not as reliable as ethernet.
Is Ethernet or Wifi Better?
Ethernet and wifi both allow homes and businesses a way to connect devices to the internet. Each is structured and connects to devices differently while having their own positives and negatives. Below is a guide on the advantages and disadvantages of ethernet and wifi for connecting to the internet:
Ethernet
Ethernet connects a device via a network cable to a local area network (LAN) or a wide area network (WAN). The structured cabling provides a connection between the network and device to transmit data and provide connection. The cable encases data cables where the data will travel to and from the device and local network segment. 
The main reasons and positives of using ethernet cables are:
Often schools, campuses, offices, businesses, gamers and other people who need stranger and faster internet will utilise ethernet

Ethernet is more reliable compared to wifi connections and will have a lower chance of the network being disrupted

For activities that need a larger bandwidth, such as transferring large files, streaming music and gaming, ethernet is more reliable

When devices, such as computers, are within one place then the ethernet will strengthen that device while allowing other devices to stay on the wifi

Ethernet has a lower cost, has a good data transfer and has a great data security 
The main disadvantages with ethernet are:
If there are issues with the ethernet it can be difficult to find the problem

Interactive or real-time applications are not suited for ethernet

The presence of the cable can be unappealing to some and cause a nuisance

Moving the device connected to the ethernet is limited 

If there are multiple connections and higher traffic then the ethernet will slow down
Wifi
Wifi connects devices through a radio signal from a wireless router, this router connects to the network through cables. The wifi network is a simple connection and will allow multiple devices to connect easily to it. The router connects to the internet modem and is the main point where devices will connect to it in its signal area. Radio waves will transmit the data to devices from the router, communicating through airwaves. The main types of wifi routers are wireless/ routers, mobile hotspots, 4G home internet and 5G home internet. 
The main benefits that come with installing wifi are:
Wifi has great convenience and ease with accessing the internet as devices can be in different places instead of one specific point like with ethernet

Wiring and cabling is not involved with connecting to the internet, the only wires are with the router

Mobile phones, tablets and laptops are great devices to use wifi and may only have wifi options

Most wifi connections are suitable for the average network usage and where a strong bandwidth is not needed
The main disadvantages with installing wifi are:
When multiple devices are connected to the wifi the chance of interference and the connection strength decreasing rises

Parts of the home can have a weaker connection, often the more walls or further distances with the router

Ethernet is overall more reliable than wifi in providing quality and faster internet connections

For devices that need a strong internet connection, and especially if there are multiple devices working at once, then the connection will not be as strong with wifi
How Much Does Data Cabling Installation Cost?
The installation of data cabling inside of homes on average costs $65 to $95 per hour for labour. How big the home is, the type of data cabling being installed and the sockets needed also influence the price. Sockets can range from $25 to $115 each and cable types and how much is installed can be from $4 to $19 per metre.
Trusted Sydney Data Cabling Services
The Local Electrician is here with our fully qualified electricians to carry out data cabling repairs and installations for Sydney. Our Emergency Electrician team will install or repair data cabling, including wifi and ethernet connections, inside any property. Every job is carried out safely and our data cabling electricians will always operate at their best skill level.
For the best data cabling electricians and services – rely on The Local Electrician!
Lifetime Warranty on Workmanship and Labor
Our Services
Our skilled electricians are qualified to carry out any electrical repair or installation within Sydney. We strive to deliver absolute customer satisfaction by offering electrical services that are affordable, safe and long lasting.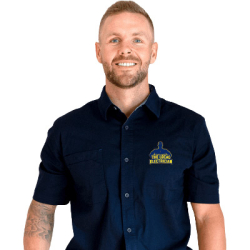 Latest posts by Hamish Baker
(see all)