Football Field Lights Repair & Installation Sydney
Posted on August 26, 2022
Football field lights have specific rules, standards and requirements to ensure there is optimal lighting for the playing fields. Knowing these will ensure that there is enough proper light to illuminate the field and also for everything to comply with standards. It is important that a trusted electrician is hired when it comes to repairing and installing the football field lights. Here at The Local Electrician, our Sydney electricians are here to perform any needed service on football field lights.
Football field lights will need to be properly planned to make sure that the playing field will be correctly illuminated. Planning includes planning permits, considering spill lighting, building permits and the electrical and physical equipment needed. It is also important to know how the playing field will be supplied with power, know all the lighting pole requirements and have a proper maintenance plan ready.
Considerations With Football Field Lights
Below is a guide on all the different considerations with regards to football field lights:
Planning process
A football lighting project will need proper planning to make sure that everything is installed and will run correctly, some of the main tasks include:
Planning permit – this is a permit that is given to the local council that is a statement that highlights that the land will be worked on to construct a development

Spill lighting – there needs to be a consideration into ensuring that the football field lights do not spill onto close by areas as much as possible

Building permits – since there will be the construction of poles and other developments there needs to be permission from the local council that construction can be carried out

Equipment – the purpose of play of the field will need to be considered to ensure that the right equipment can be designed and installed
Planning the power supply
Ensuring that there is planning done on how the football field will receive power is important in making sure that the systems run effectively with few issues in the future, here are some of the main considerations:
Electricity distributor – the electrical distributor will need to be contacted early so that there is enough time to connect the field with power and the method to do so

Power supply requirements – how much power is needed for the football field will need to be discussed to make sure the lights and other systems can run safely and effectively, such as discussing

3 phase power

will need to occur

Electrical supply – knowing what cables are needed, where they need to travel to and how much is needed to supply power to all the poles and systems is important

Switchboard – the

switchboard

should be connected to the systems, often a separate switchboard for the training level area and a switchboard for the competition level area will be needed

Control supply – deciding on how the lights and other systems of the football field will be controlled is necessary, such as manual switches for the football field lights behind a locked area
Maintenance and operation
When it comes to the maintenance and operation of the football field electricals and lights it is important to:
Curfew timers – applying timers to each light will be helpful so the light automatically turns on and off rather than having to manually switch each one off and on

Operation manual – labelling each light and system will be helpful when it comes time to perform maintenance and it also makes it easier to record the usage and general condition of each of the systems

Maintenance – scheduling regular maintenance will be important in making sure the lights and electrical systems remain healthy and if there is a problem an electrician can replace or repair it
Types of lighting, pole height and location
The lighting requirements for a football field will need to be right to make sure the field can be illuminated properly:
Illumination – the lights will need to be of a correct illuminance level so that people do not have to continually adapt to light changes but also enough for people to be able to properly see

Floodlights – most times a 2kW floodlight that has running hours of 3000-5000 hours is ideal for a football field

Pole height – the height of the pole will vary depending on what the playing field is, most times the height will depend on the distance between the centre of the playing field to the base of where the pole is

Pole location – the location of the pole will be different for the sides and the corners. The sides will be a minimum of two poles per side and none behind the goals while the corner poles will often have one at each or at least 5m outside of the playing area
Professional Football Field Light Services
The Local Electrician is here to help Sydney locals repair and install football field lights. Our fully qualified electricians are certified to connect power to football fields and repair the electrical systems and lights as well. We make sure that for each football field electrical job we utilise professional techniques and always complete the job safely and on time. 
Trust The Local Electrician to perform professional football field light services!
Lifetime Warranty on Workmanship and Labor
Our Services
Our skilled electricians are qualified to carry out any electrical repair or installation within Sydney. We strive to deliver absolute customer satisfaction by offering electrical services that are affordable, safe and long lasting.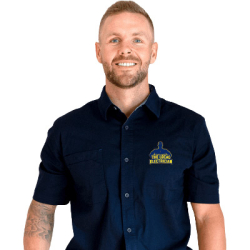 Latest posts by Hamish Baker
(see all)