Hot Water System Repairs – Electrician Or Plumber?
Posted on December 20, 2019
We have all been there. You're halfway through a long warm shower and then all of a sudden the water turns freezing cold! The Local Electrician has proudly served all of Sydney for over 25 years and we have always received calls from locals asking whether they need a plumber or electrician to do hot water repairs and installations. Luckily, we possess technicians that are qualified to carry out complete hot water system repairs which even includes tank replacements. However if you are not within Sydney, use these tips to help you make your decision the next time you face this situation.
An electrician will need to be called when the circuit breaker is tripped and will not stay back on. You should also call an electrician if you suspect your thermostat may be faulty or the power has tripped to the system. Call a plumber if you have any water leakage, no water, a rusted or split water tank or if your water tank has aged more than 10 years. Put simply, if the water tank is split and leaking call a plumber. If it is not split and leaking, call an electrician.
Try These Tips First To Fix Hot Water Systems
The first step in identifying any hot water system repair issue is to determine whether there is an electrical or plumbing problem. We always recommend carrying out these two steps before proceeding to making a phone call to save you time and money!
    Trip Switch: Ensure that the circuit breaker in your switch box has not been tripped. If there is a trip switch, then switch it back and test to see if this resolves the problem.
    Pressure Relief Valve: You should always check your pressure relief valve to test the system. There is a little lever at the top which you can lift to let water run through the overflow pipe. A fully functioning valve will only let less than a cup of water out each day. A common issue is that your tank simply needs to be filled up.
Plumber Hot Water System Repairs
A plumber should be called if the water tank is split and leaking. There are a number of reasons which can cause this. From our professional experience as we also provide tank replacements and repairs for hot water systems. The most common issues that cause hot water system problems are listed below.
The water tank has aged more than 10 years: If your water tank is more than 10 years old you will need a hot water system repair. Brands such as Reem offer a 5 year warranty and the more expensive brand. The longer the warranty often is.
Rusted base: If your water tank is rusted you should call a plumber. The rust will be commonly found at the base of the hot water system. It is also likely that the inner tank has also rusted as a result and the entire system will need to be replaced.
Water Leakage: Water leakages will be immediately noticeable and are the first indication to call a plumber or The Local Electrician
No Water: If there is no water coming through any taps then you will need a hot water system repair
Pressure Relief Overflow: If you lift your pressure relief valve and water runs out from it continuously, you will need to lift the lever to see if this stops the overflow. If not call a plumber.
Split Water Tank: A split water tank is an indication of plumbing issue.
Water Discolouration: If the water is discoloured or tainted then a plumber will be needed.
Electrician Hot Water System Repairs
It is very common that when an electrician is needed to repair a hot water system, the defects are often hidden. As we have previously mentioned, if the water tank is split and leaking, call a plumber. If it is not, then 9 times out of 10 it will be an electrical issue. The Local Electrician are emergency electricians that can handle both plumbing and electrical repairs when it comes to hot water systems. You should call an electrician when:
Fault Circuit Breaker: If you're circuit breaker has been tripped and you have tried switching it back and this doesn't work. Then this is a sure sign of an electrical issue and a blown fuse. You may also need a switchboard upgrade.
Thermostat: If the water that is flowing through your taps is warm but not cold. Then it most likely that your thermostat, booster and off-peak relay switch are faulty and need repairs.
Cylinder Replacements: If you need your cylinder to be replaced and need the wiring disconnected and reconnected, then it is advisable to call an electrician. Although some plumbers are authorised to carry out rewiring, this is well within an electrician's area of expertise.
Sydney Hot Water Repairs and Installation
If you need hot water repairs for your home, then contact The Local Electrician today as we do it all! We have 24 hr emergency electricians operating around the clock to assist with providing Sydney with clean and sustainable electricity all year. We also can carry out tank replacements and repairs for hot water systems. We are also accredited and authorised level 2 electricians which comes in handy when there needs to be an electrical relay. We truly do provide the complete hot water system repair package in order to save all of our clients both time and money! You can contact us on 0439 823 1… or alternatively email us at info@thelocalelectrician.com.au.
Our Services
Our skilled electricians are qualified to carry out any electrical repair or installation within Sydney. We strive to deliver absolute customer satisfaction by offering electrical services that are affordable, safe and long lasting.
Lifetime Warranty on Workmanship and Labor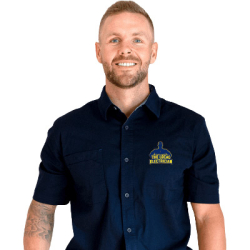 Latest posts by Hamish Baker
(see all)