House Rewiring Explained – Everything You Need To Know
Posted on January 6, 2020
Over the years, a house will slowly age and may cause various safety problems. It's always important to maintain the condition of a property. This way, future damage can be prevented especially when a small problem is already present. Leaving it that way over time may increase the chances of growing worse.
One of the most important responsibilities when it comes to home maintenance is the condition of the property's electricity. A home uses electricity frequently on a day-to-day basis. This is because most appliances in the home need power to function. For example: an electric stove or microwave, the washing machine and dryer, a computer and a phone, fans and air conditioning, and even the lights around the home. If the main power source is faulty, it could trouble the homeowners a lot since most of the home will not be usable.
Another reason is because safety would be at risk. When electricity is involved, it can quickly become life-threatening by causing very serious damage to both the home and the people living in it. Because of this, it's best to keep an eye out for wiring to prevent any possible dangers from occurring.
What is Rewiring?
Rewiring refers to the process of providing new electrical wirings to appliances, buildings or vehicles. This is a way to ensure that the electrics around a home or establishment are safe and compliant with the current regulations.
Although it sounds simple, rewiring is a risky job and should only be done by a licensed expert, typically a professional electrician. The Local Electrician are level 2 electricians which possess the accreditation to carry out rewiring jobs. Level 2 electricians are specially qualified technicians who are can work directly on Ausgrid and Endeavour energy power grids. You should contact a level 2 electrician if you have received an electrical defect notice.
The work involved in rewiring a home will require lifting of flooring and drilling of walls since the electrical cables of a home run through the walls and under the floors. From this, one can already tell that the job will be quite disruptive which is why it is best to call over a professional to handle the work.
On the other hand, if the house is being renovated, rewiring should be completed along with plumbing or installing the heating system. It's best to finish the work before continuing with plastering and the cosmetic design.
Other than rewiring of the various appliances around the home such as telephones, televisions, and power and lighting circuits, this also involves:
installing of new cables
fitting new back boxes on sockets and switches
adding or moving sockets, light fixtures, and switches
adding different technology, usually modernised
This work is completed in two stages. The first stage is when the electrician replaces cables, wiring, circuits and back boxes, while the second stage involves the installation of lighting fittings and faceplates onto sockets and switches. If your wires are posing a serious noticeable electrical risk, contact an emergency electrician immediately.
Signs Your House Should Be Rewired
Typically, rewiring should occur when electrical systems in a home become outdated or badly deteriorated to properly function. However, there are other factors to consider. Other instances may come up that may seem small, but taking action on these issues earlier can rid the risk of unfixable damage.
Once there's a sign that the electrical system is unsafe to continue using or if it stops meeting the current regulations, it should get fixed up as soon as possible.
Making certain alterations and additions also requires rewiring to make sure the system can handle the additional load.
Some of these may be:
Flickering Lights
While it's true that the flickering of lights is due to old age, this doesn't necessarily mean it should be shrugged off.
This can be normal when some appliances in the home demand a lot of power from the electrical system. But this may also indicate that there is a problem with wirings.
It's best to get the wirings checked if the flickering becomes excessive.
Circuit Breakers & Fuses Blowing
A fuse or circuit breaker blows or trips when the demanded electrical load is more than what the system allows. This is a safety function to prevent major damage from happening to the home. So if this occurs regularly, there may be a problem.
This is usually solved after upgrading or replacing the circuit breakers to allow them to handle more appliances, as well as prevent faulty wiring and overloading.
Buzzing Sounds From Outlets
If humming sounds are heard from an outlet, it indicates that there is a serious problem.
Often, it means that the wiring is compromised and an electrical fire can come up. With a case like this, the outlet should be temporarily off limits and an electrician should be contacted immediately to avert the problem.
Discolouration & Burnt Smells
When discolouration occurs around the outlet or there's a burning smell coming from it, it's a sign that there is an electrical emergency.
This could be the wiring behind the walls or under the floor shorting, which is also a major threat to the people in the house.
To prevent anything from happening, it's best to contact an electrician immediately.
Old Age
Knowing the age of the wirings around the house is important since it will help in determining whether it's time to make a replacement. No matter how great the electrical system is, if the wirings are of old age, complications may still occur.
Keeping the wirings up to date will further prevent the risk of major damages. Contact your local emergency electrician to have your wires updated.
The Benefits of Rewiring
The biggest benefit of rewiring a home is to maintain safety.
Although there are other reasons that are reasonable and good enough to start reconsidering whether to rewire the home or not, such as:
Knowing that the home is powered by a safer electrical system.
The risk of an electrical fire from occurring is reduced greatly.
The electrics in the home are compliant with current regulations regarding electrical systems.
The property's value is increased.
New fixtures and fittings can be personally chosen by the homeowners.
New sockets and switches can be placed where it's most convenient for the homeowners.
The home becomes more energy efficient.
Modern technology gets installed to improve the performance of the electrical system.
House Rewiring Costs
To help you get a rough idea of how much house rewiring costs, we have detailed the national averages. However if you want a more comprehensive quote you can contact us for a free consultation.
3 Bedroom Basic Rewiring: $2500-$6000
Main Wall Rewiring (Includes opening walls and removing old wires): $6000-$10,000
1000 square feet: $1500-$4000
3000 square feet: $5000-$11,500
Sydney Electrical Rewiring
If you need your house rewired or are considering rewiring your property. Then contact The Local Electrician today. Our 24 hr emergency electricians and level 2 electricians are qualified to handle any situation. Contact us today on on 0439 823 190 or email us at info@thelocalelectrician.com.au for a free house rewiring consultation or a free electrical safety inspection.
Our Services
Our skilled electricians are qualified to carry out any electrical repair or installation within Sydney. We strive to deliver absolute customer satisfaction by offering electrical services that are affordable, safe and long lasting.
Lifetime Warranty on Workmanship and Labor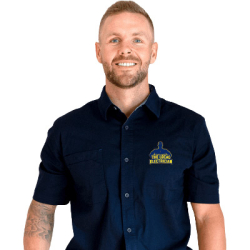 Latest posts by Hamish Baker
(see all)