How Do Different Circuit Breakers Work?
Posted on June 11, 2021
Circuit breakers are a type of safety device designed to protect electrical devices from excessive electrical currents. When an electrical ground fault, electrical overload or short circuit occurs the breaker will stop the flow of current. The electrical circuit that received the spike in electrical power will be prevented from being damaged or causing an electrical fire. Here at The Local Electrician, our Emergency Electrician team will help resolve any problems relating to circuit breakers at any time. 
Circuit breakers work by having a switch that is connected to an electromagnet or a bimetallic strip. The electromagnet is connected to the hot wire of a circuit and an upper terminal. When the electrical current rises to an unsafe level the electromagnet will force a metal lever to switch and stop the electrical supply to that specific circuit. A bimetallic strip will bend a thin strip to cancel the electricity supply instead of using electromagnetic force.
What is a Circuit Breaker?
Circuit breakers are installed in homes and buildings to protect electrical systems and appliances from electrical surges. Circuit breakers are designed to protect each individual electrical circuit throughout the building. When the increase in electrical power occurs within one circuit, the system will shut off the power supply to that circuit.
As the device controls different circuits individually when one circuit trip then the other circuits can remain with power. A circuit breaker can reset after it has switched off the power to a specific circuit and continue to protect the circuit.
What are the Different Types of Circuit Breakers?
The main types of circuit breakers and their cost to purchase are:
Miniature – a miniature circuit breaker costs around $20 to $100 and are often for places with few electrical circuits. 

Moulded case – moulded case circuit breakers are more commonly used as they are able to protect more circuits more effectively. They can cost from $50 to $350 and are more reliable than miniature models. 

Medium Voltage – these are able to operate in places where there are many more circuits that have more powerful systems. There are two types of medium voltage breakers as well, being vacuum and air circuit breakers.
Where is the Circuit Breaker Located?
Most circuit breakers are located within the electrical switchboard that is often on the outside of the house. The switchboard is where other types of electrical safety devices and power distribution systems are located. Most will consist of a dozen switches that all protect the different electrical circuits around the home. These circuits can include the outlets in the bedrooms to the hallway lights, while larger electrical systems, such as the washing machine or air conditioner will likely have their own circuit.
What is the Difference Between a Circuit Breaker and a Fuse Box?
Fuse boxes and circuit breakers are similar in how they protect electrical circuits from being damaged by sudden electrical surges. They each have their own positives and negatives but both will offer needed circuit protection. An electrical fuse box will be cheaper than a circuit breaker, has no moving parts and is considered to be slightly more reliable. The downside with fuses is that once they have blown they will need to be replaced. 
Circuit breakers are more expensive but do not need to be replaced if they have tripped and protected a circuit. They are often safer and easier to handle as well and are easy to resolve once the breaker has tripped. 
To know how to stop or prevent a circuit breaker from tripping our blog offers a detailed guide into the topic. 
What is the Difference Between a Circuit Breaker and an RCD Switch?
An RCD switch is a type of electrical safety device similar to circuit breakers. They differ in that they protect people when electrical power imbalances occur in circuits. To know more about the difference between RCD switches and circuit breakers our blog provides examples of the usage of each device.
How do I Know if the Circuit Breaker has Tripped?
Depending on the type of circuit breaker, the switch on the breaker panel will be in the off position. This means that the breaker has detected a sudden rise in the electrical current and prevented power from flowing in that circuit. Appliances will not be able to be used when the breaker has tripped. The switch on the breaker panel will have to be turned into the on position to work again. 
To know more about what to do when a circuit breaker trips our blog provides safe and useful information.
How much does a Circuit Breaker Cost?
Most circuit breakers are around $50 to $200 for residential use. The price of the breaker will be determined by the model, brand, size and how many switches it has. To have an electrician replace them and switchboard will on average be around $400 to $2500. The amp size of the breaker will influence the price as well, a 15-30 amp breaker is around $120 while a 200 amp breaker can cost $300.
Professional Electricians Working with Circuit Breakers
The Local Electrician promises the best fully qualified electricians to operate with circuit breakers. Our team has over 25 years of experience working with electrical protective devices and can install or repair them. We make sure that they are correctly worked on depending on their model and type and always operate safely.
For trusted electricians to work with circuit breakers – contact The Local Electrician now on 0439 823 190!
Lifetime Warranty on Workmanship and Labor
Our Services
Our skilled electricians are qualified to carry out any electrical repair or installation within Sydney. We strive to deliver absolute customer satisfaction by offering electrical services that are affordable, safe and long lasting.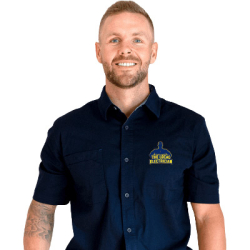 Latest posts by Hamish Baker
(see all)