How Do I Become A Licensed Electrician?
Posted on June 10, 2020
A licensed electrician is an important trade for people to be in due to the number of electrical items and systems used daily. Handling all sorts of electrical matters, electricians have trained and learnt all there is with electrical matters. Here at The Local Electrician, our Level 2 Electrician services are open to all of Sydney whenever someone needs electrical assistance. Likewise, our team are here to provide help with how to become a licensed electrician, offering useful guidance.
There are many reasons why someone would want to become a licensed electrician. Whatever the reason, completing a four-year apprenticeship is needed with regular training. Finding an apprenticeship is important, and learning the skills of the trade can be done through educational institutions.
Why Become an Electrician
Electricians are in high demand in recent times which means that available work is common. Additionally, the number of people using electricity/ electrical related systems have also increased. With this, more people experience issues which means that more people need a professional to help with their concerns. Electricians are also needed to help with installations of electrical systems, in construction and creating electrical systems in new buildings.
This high demand is seen with the number of new electricians forming in Australia has only grown up by 40% in the last ten years. This information from the Australian government means that there are not that many electricians, therefore, more jobs available. As a result, for those looking to go into a trade, electricians are high-demand and a great trade to study.
Processes with Becoming an Electrician
For Australia, becoming an electrician requires participating in a four-year apprenticeship with an employer. This person will need to be fully qualified to allow this and will offer practical training and skills. Along with the apprenticeship, side training classes will be held either weekly or through period blocks. These classes have a licensed electrician/ teacher educating on various aspects of the electrical trade.
Each state will be different on how to become n electrician, but most include an educational platform alongside an apprenticeship. With regards to NSW, a person will need to enrol in a course called a Certificate III in Electrotechnology. These courses run through the overall process, jobs and skills involved with working as an electrician. Furthermore, the apprenticeship will vary from local, certified electricians to major businesses. Applying for an electrician license is next and requires multiple documents and certificates with completing courses, apprenticeships and alike. For more information on what would be required, visit NSW Fair Trading for more information.
With the educational courses, there are plenty which offers practical insights into the job of an electrician. These do include classroom-based learning mixed with hands-on tasks, along with assessments and alike. These are all needed to ensure that an individual is well educated in the electrical trade and will know how to perform all sorts of work in the field.
Apprenticeships and Electricians
The apprenticeship is one of the most important aspects when becoming an electrician. This is because individuals receive front-line education actually working with electrical tasks in the workforce. Additionally, a licensed and experienced electrician is there to help who offers skills and techniques with the electrician trade. This process has a training electrician understand what it is like to work as a qualified electrician, while also gaining advice and experience from well-trained electricians.
To find an electrician apprenticeship, there are multiple ways to enter one. If there is an electrician company or a licenced, qualified electrician already known or in the area this can be the first start. Talking and contact many individuals and electrical companies, who are all certified, seeing of they offer apprenticeships is important. Reading newspapers, searching online and social media are other ways to find an accredited electrical company who offers apprenticeships.
Summary of What an Electrician Does
Electricians are tradesmen which works with electrical wiring and systems in residential, commercial, industrial and other environments. They are qualified to work in any place, inside, outside or underground, which will be determined by the level of their qualification. General work which an electrician will often do includes:
Performing electrical safety inspections
Installing appliances, such as lights, smoke alarms and ceiling fans
Working with electrical motors and switchboards
Operating on private power poles, consumer mains and safety switches
Repairs of all kind, for instance with hot water systems
Along with a wide range of other electrical work, electricians have the responsibility to install, repair and perform general work with electrical systems. A level 2 electrician is someone who has extended their electrician licensing and training to work on more advanced tasks. We encourage reading our blog on 'why a level 2 electrician is different' to understand the advantages of contracting one.
Becoming an electrician is a rewarding feeling due to electricians being one of the most needed tradesmen in the field. The job offers a new, exciting task each and every day with many jobs open and available. There is much to learn and experience with becoming an electrician while helping the local community is a positive factor.
Professional Electricians Here to Help
The Local Electrician has been working within Sydney with our qualified electricians for over two decades. This has seen us performing a wide range of electrical repairs, installations and general work in all types of environments. Likewise, our Level 2 Electricians are here to perform work which regular electricians cannot due to our professional licensing. We promise that all of our electricians are fully qualified, licensed and reliable when it comes with electrical matters.
Our Emergency Electrician services are open 24/7 for work, allowing us to perform any job anywhere at all times. Our electrical services are available to all Sydney suburbs and areas, such as the North Shore and Greater Western Sydney. No matter the job, time or area our reliable electricians will help with any task and all concerns.
For affordable, trusted and professional electricians – contact The Local Electrician on 0439 823 1… or info@thelocalelectrician.com.au. We promise to be there on time for all jobs while also providing exceptional service on all tasks.
Lifetime Warranty on Workmanship and Labor
Our Services
Our skilled electricians are qualified to carry out any electrical repair or installation within Sydney. We strive to deliver absolute customer satisfaction by offering electrical services that are affordable, safe and long lasting.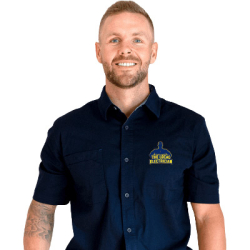 Latest posts by Hamish Baker
(see all)