How Do I Choose A Good Electrician?
Posted on February 13, 2021
To choose the best electrician, a person should look for if they are licensed, the quality of their reviews and what services they can offer. A good electrician is an invaluable asset to have for peace of mind and quality of work. Having the right electrician work on the job ensures that there is mutual trust and that the electrical tradesperson understands what they are doing. A professional, certified and passionate worker should be hired to ensure the job is safely completed. The Local Electrician is here to provide a licensed Sydney electrician to perform a variety of services for any person. 
When choosing an electrician best suited for the job, ensure to check:
License and insurance – a licensed electrician should provide proof that they are certified through Fair Trading NSW. A trusted electrician will also be covered by specific insurances and always offer a Certificate of Compliance for Electrical Work. 
Reviews – looking at their reviews on Google and social media platforms will provide insights into other people's previous experiences with them. 
Services offered – checking to see if the electrician offers multiple services to know if they are skilled in multiple areas. The more jobs which they can perform often indicates they have more experience and completed the needed training.
License and Insurance
The most important step in choosing a good electrician is making sure that they are licensed and covered by the needed insurances. This means that they are a professional worker who will be working correctly and completing tasks safely.
License
It is extremely important that a licensed and reliable electrician is hired to carry out the electrical work. A fully licensed electrician will have gathered their license from Fair Trading NSW. This means that they have undergone all the needed training and experience to become a licensed tradesperson. There are three main types of electrical licenses which a person can hold and should be checked before hiring them:
Electrical Contractors – this licensing allows a person to contract work and also advertise themselves. They will only be allowed to participate in jobs which are listed on their license. This license is also given to individuals or companies and also partnerships. 

Qualified Supervisor – this certificate has a person supervise a job and also allows them to perform the work. These are mainly given to individuals and they cannot contract work. 

Endorsed Contractor – individuals are given this license when they apply for a contractor license. They will have the needed experience and the qualifications to also be allowed to be a supervisor.
If the tradesperson can provide real evidence that their license is real then this means they are trained and experienced. 
Insurance
An electrician who can offer evidence that they have the needed experience is a good sign that they are trustworthy, the insurances should be at least:
Home Building Compensation – A license tradesperson will always have a

Home Building Compensation

to cover any electrical job in building projects over $20,000. This is needed to ensure that homeowners and individuals will be protected if there are any electrical defects or problems involved. 

Public Liability Insurance – A

Public Liability Insurance

will cover electricians and businesses if there is an electrical accident in the process. From equipment being damaged to a person receiving an electrical shock, this insurance is extremely important.
Certificate of Compliance for Electrical Work
A Certificate of Compliance for Electrical Work is required to be given out for every electrical job an electrician enters. This certificate provides proof of the electrical job and all the needed details. From the name of the tradesperson to what tools were involved in the job, this certificate is always given out.
For more information on what a Certificate of Compliance for Electrical Work is and why electricians need to hand them out –  we encourage reading our blog for further details.
Reviews
Looking over an electrician's reviews is a good way to inspect what other people's opinions of them are. When looking at reviews of an electrician, look for:
Star ratings – the higher the ratings means that more people often have had better experiences with the electrician. Ensure that the reviews are not by the same person, fake accounts or fabricated as the higher star rating could be fake as well.  

Key words – if multiple people have listed positive or negative words then this can describe their work ethic. Positive words, such as professional, good job, on time, reliable and friendly, are often good signs. If the reviews state words such as messy, late, faulty work or not recommended, then this is a clear sign that they are not the best to choose. 

Review list – if the electrician's website and social media have no review option then this means that their reviews were most likely bad. The electrician could be removing the list purposely to ensure others cannot find their negative reviews. The electrician might also be faulty and trying to scam individuals that they are real.
Services Offered
Electricians who offer a wide range of electrical services means that they have developed their skills in multiple areas. This indicates that they can reliably adapt to each specific job as they have completed the needed training to properly perform these jobs. The best electrical services to look for are:
Qualified Sydney Electricians For Everyone
The Local Electrician is here to offer the best Sydney electrician team to all residents and workers. Our emergency electrical service is here for us to work 24 hours a day and resolve any electrical problem or job. With over 25 years of experience behind us, our licensed electricians will complete jobs with electrical safety as a focus.
For professional Sydney electrician workers – rely on and contact The Local Electrician now on 0439 823 190!
Lifetime Warranty on Workmanship and Labor
Our Services
Our skilled electricians are qualified to carry out any electrical repair or installation within Sydney. We strive to deliver absolute customer satisfaction by offering electrical services that are affordable, safe and long lasting.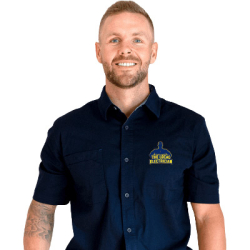 Latest posts by Hamish Baker
(see all)