How Do You Get A Temporary Power Supply Connection?
Posted on January 1, 2022
A temporary power supply connection offers buildings temporary power during renovations and builds. The temporary electricity connection lasts for up to a year and a Level 2 Electrician is the one who installs the system. Here at The Local Electrician, our level 2 asp workers will be able to provide building sites for residential and commercial areas temporary power during the renovation or building phase. 
A temporary power supply connection is given to buildings undergoing construction or renovation. This is to allow the building site to be connected to the network and to have a reliable electricity supply during the build. A permanent connection will need to be organised for after the build and a temporary power supply connection cannot be used for leisure, residential or commercial power supply.
What is a Temporary Power Supply Connection?
When a knockdown, build or renovation is happening a temporary power supply connection is needed to allow the property to have power connected. A level 2 electrical worker will perform the temporary power installation as they have the temporary power connection requirements, skills and license to perform this electrical work. 
The temporary builder's supply is no more than 100A single phase (230V) or 63A for three phase (400V). The whole installation process will need to follow AS/NZS 3000 Wiring Rules and other electrical safety guidelines to ensure everything is done correctly.
How do I get a Temporary Power Supply Connection?
The general steps with receiving a temporary power supply connection are:
Determining what

power company

and type of connection is the first step of the temporary power process. Make sure to ask questions to multiple companies and receive quotes to compare them.

When the electricity network has been chosen, arrange for them to visit the site. This is to allow them to know what is needed for the temporary power connection and how long it is needed.

Receive a final quote that outlines the equipment needed, the design map and approved layout and any potential exclusions and costs.

When the proposal is approved have one more site visit to allow everything to be cleared and for that all scheduling can be made.

Contact a level 2 electrician to perform the temporary power supply connection installation and inspection.

Schedule electrical safety inspections with the level 2 accredited service provider to ensure that the temporary power system is working properly and safely.
What is the Installation Process of a Temporary Power Supply Connection?
A general guide or some tips with a temporary power supply connection installation follows:
A

private power pole

will be needed for the overhead service lines of the electricity distributor to be safely brought into the property. It needs to be positioned so the cables do not cross over the driveway or other property. 

The temporary

electricity meter

will also have to be installed so the electricity network can charge electrical rates.

A temporary power box is also needed and needs to be weatherproof and safe from interference. 
For the actual installation process of the temporary power supply system it will mainly consist of:
Excavating the area where the private power pole and the electricity meter, if needed, will be located.

Installing the power pole then connecting the overhead service lines, either single or three phase, to it.

From the power pole the cables will go towards the temporary power box which is fitted with power points and

safety switches

.

A safety inspection and general performance test will be performed to ensure the temporary power functions properly.
How Much Does a Temporary Power Supply Connection Cost?
The cost of the temporary power connection installation will be influenced by many different factors. How far away the building is from the street cables, will the power pole be permanent, will a temporary switchboard be installed, will the cables go overhead or underground and excavation needs all influence the price. There are also many other factors that influence the final price which is why receiving quotes are important. Most times the cost of the temporary builder's supply will range from $1500 to $2500.
How are Temporary Power Supply Connections Removed?
Once the renovation or build has finished the level 2 electrician will need to work to remove the temporary power supply. Properly connecting the home to the power network will also be performed by the level 2 electrician. The private power pole that was installed for the temporary power might have been decided during planning to remain there as well.
Trusted Level 2 Electricians Installing Temporary Power Supply Connection
The Local Electrician is here with professional level 2 electricians to work on temporary power supply connection services. Our team will install any system needed for the temporary power and ensure it operates correctly. Through regular inspections, our electricians also ensure the temporary power supply connection functions safely during the build.
We offer our temporary power supply connection services to all of Sydney, including Northern Beaches and South Sydney. When needing an Emergency Electrician to resolve issues with power supply systems or any other electrical system we are also here to help at any time.
For professional temporary power supply connection services – rely on The Local Electrician!
Lifetime Warranty on Workmanship and Labor
Our Services
Our skilled electricians are qualified to carry out any electrical repair or installation within Sydney. We strive to deliver absolute customer satisfaction by offering electrical services that are affordable, safe and long lasting.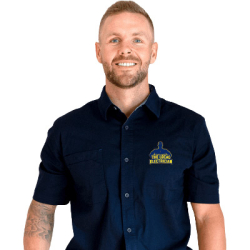 Latest posts by Hamish Baker
(see all)