How Long Do Electric Vehicle Batteries Last?
Posted on July 8, 2022
Electric vehicle batteries last between 8 to 10 years before needing to be replaced. When driving the type of battery and model of the car will influence how long it can drive before needing to be charged. EV chargers will also last between 8 to 12 years depending on how often it is used and the build quality. Here at The Local Electrician, our Sydney electricians are here to work professionally on electric vehicle charging station repairs and installations. 
Most electric vehicle batteries last 8 years on average or up to 160,000km before they need to be replaced. The EV battery requires less maintenance than non-electric car batteries but will still need to be replaced when required. As newer batteries with better technology are being made the average lifespan of the electric vehicle batteries can last from 10 to 20 years.
What is the Average Lifespan of an Electric Vehicle Battery?
The average electric vehicle battery lasts 8 years of 160,000km for most batteries. This is what most car manufacturers guarantee but electric vehicle batteries last at times up to 10 to 20 years. Electric car batteries will run out quicker when exposed to extreme temperatures, how often the car is charged, how much the car is driven, the type and quality of the battery and other factors. 
To ensure that the lifespan of the electric vehicle battery is longer it is important to not charge the car all the time but when needed and to not make it fully drained as much as possible. A charge between 20 to 80 percent is ideal to protect the battery's lifespan. It is also important to know that the more the car is driven, it will mean the battery's lifespan will be shorter compared to those who do not drive that vehicle as frequently. 
How Do I Know If My EV Battery Needs Replacing?
Electric vehicle batteries last longer than non-electric car batteries and require less maintenance. Since there will not be as many other components moving in electric vehicles and there are fewer oils needed, the battery might be more expensive but does not need replacing as frequently. When the battery begins to die out it is designed to lose charge capacity slowly rather than suddenly stop working. Noticing this means that the EV battery will likely need replacing or recharging by a trained professional.
How Long Does an Electric Vehicle Battery Last Before Recharging?
There are many different factors that influence how long electric vehicle batteries last before needing to be recharged:
Battery capacity – how much charge the battery is on, such as at 5 percent or 80 percent, will determine how long it can run before it will need to be recharged. It is important to not always charge the battery to 100 percent but also not have it drained as much as possible to keep the battery in a healthy state. 

Battery size – the larger the battery back means the more range the electric vehicle can drive for between charge cycles. Like with non-electric cars, on the dashboard there will be a display that shows how long the car has before it needs recharging. 

Driving style – the type of driving will influence how often the car needs charging. Aggressive driving with frequent stopping and acceleration will drain the battery quicker than more steady driving. Driving smaller distances will also mean the battery drains slower than going uphill, driving on freeways and using the brakes in heavy traffic frequently. 

Temperature – extreme cold and heat can cause the battery to drain quicker than usual.

Rapid charging – using rapid public charging systems is convenient and useful to have the car quickly charged. Doing this frequently however can mean the battery's life decreases leading to the battery run time lasting less between chargers.
What is the Average Lifespan of an EV Charger?
An EV charger at home is a great way to charge the car conveniently and reliably. There are many different types of EV chargers that can be installed in the home, commonly level 1 and level 2 chargers for residential usage. Electric vehicle charging stations are installed by electricians and on average last between 8 to 12 years. This time can be longer but the more frequently the charger is used, if the charger completes light or heavy cycles and how well the charger is maintained influences how long the system effectively operates. 
Trusted EV Charging Station Services
The Local Electrician is here to work with electric vehicle charging stations across all of Sydney. We offer professional EV charger repairs and installations, as well as offering expert 3 phase upgrades for EV chargers. Our Emergency Electrician team is ready to operate on EV chargers at any time and through our Level 2 Electrician services we can reliably operate with switchboard upgrades.
For professional EV charger repairs, upgrades and installations – always trust The Local Electrician!
Lifetime Warranty on Workmanship and Labor
Our Services
Our skilled electricians are qualified to carry out any electrical repair or installation within Sydney. We strive to deliver absolute customer satisfaction by offering electrical services that are affordable, safe and long lasting.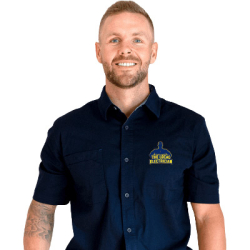 Latest posts by Hamish Baker
(see all)