How Much Does It Cost To Rewire A House?
Posted on March 20, 2020
Having a home rewired is a vital and necessary safety option, especially for older homes. This is because older homes will gradually have an increase of frayed wires due to old age and excessive usage. If not properly maintained, old wiring can easily start a house fire. Old wiring systems are also not sufficient for keeping up with modern technology and different energy requirements. The Local Electrician are trusted Sydney experts when it comes to house rewiring as we work efficiently and affordably. Our emergency electrician workers are able to quickly  rewire a home for the overall safety of your family's property.
| Type Of House | Approximate Cost |
| --- | --- |
| 2 Bedroom House | $1,500-$6,000 |
| 3 Bedroom House | $3,500-$11,000 |
| 4 Bedroom House | $10,000-$14,000 |
*These are approximate figures, based on current Sydney averages. For a more accurate and in depth quote, contact us today!
Why Does My Home Need Rewiring?
Safety is the main reason as to why your property needs to be rewired. As property's age, their wiring systems can easily become weakened and damaged due to continued energy usage and weathering. If not properly inspected and maintained by a professional electrician. Old wiring systems can easily pose a significant fire hazard and electrocution hazard. Moreover, as electrical standards have changed in recent times, the older wires often cannot handle the demand for power. Factors, such as multiple extension cords with extra plugs, can increase the risk of a fire and overload the system. Therefore, having older houses rewired is often the best option, if deemed necessary by an electrician. Your current appliances and growing family can now be supported by the up-to-date wiring and the chance for overloading is significantly decreased. This will also save you more money on your power bill.
How To Know If Rewiring Is Needed?
There are many signs that can occur in the home that are clear indicators that rewiring needs to happen:
Having small electrical shocks from plugin an appliance
Burning smells or smoke originating from power outlets
Blown fuses being common
Lights flickering or dimming frequently
Lights being constantly replaced because they stop working
An electrical panel being over-fused
Switch plates, plugs or cords becoming hot or changing colour
Sparks sometimes appear when plugging appliances in the outlet
If these are a common occurrence within your home the smartest and safest option is to first contact an emergency electrician. If your home has vir cables, cotton cloth wiring or old black rubber cables, then rewiring should be done earlier than later. As they are of old technology and usually really old, replacing them is crucial for the safety of the home. Home rewiring should also occur every 20 years. This is because systems and technologies are constantly changing, therefore, new wiring needs to be included to support this.
Professional & Licensed Rewiring Electricians
When deciding which electrician to hire it is important to know specific qualities and factors. These include:
They are fully licensed, with a Level 2 Electrician of higher qualification
When working they are insured
They can easily give you references
Before working they provide you a quote for the job
They know the area and are well liked/ established by the community
After working they give you a compliance certificate
They follow the 'Wiring Rules' (AS/NZS 3000:2018, Electrical installations – Standards Australia) when working
A compliance certificate is necessary as it shows you that they follow the Australian Standards and know the legal rulings with the trade. Moreover, in the rare case something went wrong they can come back and work to repair for free.
Moreover, when deciding on which quote to take, the more experienced the electrician is, the better the quote is. Often inspecting the property is needed for a firm quote to occur, as well as past jobs can help the electrician to know how much it should cost. There could be other factors which can influence the final quote, like how many outlets there are and the size of the building. Nevertheless, choosing the lowest quote is always never encouraged as the more experienced the electrician, the higher chance that the trade will be done correctly and safely.
What Is Involved In A Property's Rewiring Process
Simply, the process will be the removing of any old and outdated wires in the home then replacing them with current/ newer ones. There can also be upgrades within the whole process, for example having new power-points added or the sockets being replaced.
Depending on where the wires are, a few different methods can be applied to rewire the home. Some methods are used as a last resort as they will often increase the price range of the whole process. There are many ways to run wires behind walls in difficult areas. However, if they cannot be done, then drilling holes through timber or removing some cladding might need to happen. Therefore, the cost will increase as repairs on the walls will need to be done. Sometimes rewiring can occur from outside of the home, but there are still other factors, like the cladding, which can limit the method.
How Long Does Rewiring Take & How Much Does It Cost?
Depending on how much work is involved, the difficulty to access the wires and the size of the home can influence the time. It could be from a few days to two weeks for the home to be completely rewired.
There are a few expenses when rewiring a home, these include:
The wiring costs around $600
Hiring an electrician is averaged at $70 – $130 per hour
Purchasing a new switchboard can range from $700 – $800
Having the switchboard installed and connected can cost extra, increase to $2000 or $3000
The location can alter pricing as well depending on how difficult it is to access
Additionally, as listed above, rewiring can be expensive and the final cost will depend on the number of rooms that need to be rewired. Prices can range anywhere from $1,5000-$14,000 depending on the scope of work. However, the expenses should not be a barrier to not having the home rewired. This is because rewiring adds value to a house, especially when selling, and the place is safe from wiring issues.
Trusted Sydney Home Rewiring Electrical Professionals
The Local Electrician guarantees that our rewiring services are the best in Sydney through our qualified Emergency Electrician team. As they are all experienced Level 2 Electrician workers, they know the best methods to quickly and properly rewire a home. Furthermore, we are more affordable than other services but still provide quality and successful work. Contact us through calling 0439 823 1… or emailing us at info@thelocalelectrician.com.au for us to inspect your home and provide an affordable quote for your home's rewiring process.
Lifetime Warranty on Workmanship and Labor
Our Services
Our skilled electricians are qualified to carry out any electrical repair or installation within Sydney. We strive to deliver absolute customer satisfaction by offering electrical services that are affordable, safe and long lasting.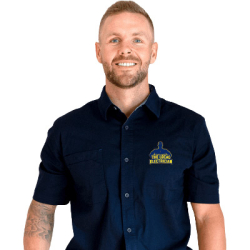 Latest posts by Hamish Baker
(see all)