How Much Does It Cost To Set Up EV Charging At Home?
Posted on September 3, 2022
There are numerous factors involved in the cost to set up EV charging at home. Knowing who will install it, what needs to be installed and if any adjustments need to be made are important for the EV charging. Here at The Local Electrician, we offer reliable electric vehicle installation and repair services to Sydney, where we will install any charger into any home. 
The cost to set up EV charging at home is influenced by the EV charger price, the labour costs and if there will be power upgrades. Most EV chargers range from $750-$3000 while the labour to install them will add to the overall cost. If there need to be switchboard upgrades, additional wiring and adding new circuits then this will also add to the price.
What Does it Cost to Set Up EV Charging at Home?

There are many different factors that add up to the overall cost to set up EV charging at home, below is a guide on the main considerations:
EV Charger
The EV charger itself will add to the overall installation cost and should be considered. The type of charger it is as well as the brand and model will influence how expensive it is. 
What it is

Average Price

Level 1 Charger

A level 1 charger only requires a standard and safe electrical outlet to be powered. They come with the car which means it is free for most people but the option to but a different one is there. They change the car at a decent rate and are suitable for those who do not need to charge their car quickly or drive their EV too frequently. 

Free – $450

Level 2 Charger

A

level 2 charger

is a charging station that connects to its own dedicated circuit. They are much more powerful and charge faster compared to a level 1 EV charger. Due to being more powerful they are more expensive while there are additional costs with connecting the system to a power circuit and installing the system itself. 

$400 – $1700
Some examples of level 2 EV chargers within Australia and their electricity usage and average costs are:
| | | |
| --- | --- | --- |
| Charger | Power | Average Price |
| Home EV Charger | 7.2kW 32Amp | $950 |
| MG ZS EV Electric Car Charger | 7.6kW | $900 |
| EO Mini Universal EV Charger | 7.2kW | $1000 |
| Jetcharge Wallbox Pulsar Plus | 7.2kW/22kW | $1550 |
| Ocular Home Three Phase EV Charger | 22kW | $1150 |
| RFID 360 Wallbox Charger | 22kW | $1700 |
Labour Costs
The labour involved in installing the charger will be included in the cost to set up EV charging at home. Some of the main factors that will change the price include the time, materials and difficulty of the job. The longer an electrician has to work on installing the charging stations and wiring the more the installation will cost. The materials involved will add to the price, such as if new cabling is needed, which needs to be factored in. Comparing differing electricians and their prices to set up EV charging at home will be beneficial. Make sure to not always go with the cheapest EV installation option as this does not always result in proper service work. 
Our blog 'how to choose a good electrician' provides more information on how to find the right electrician for the job. The Local Electrician has over 25 years of experience in the electrical field and is here to perform professional EV charging services for Sydney!
Power Upgrades
When installing a level 2 charger at times a switchboard upgrade will be needed to make sure the car charger can safely operate. 3 phase power will be needed to provide a more steady, reliable and safer amount of power to the home with the addition of the EV charger. It is important to contact a reliable electrician to discuss whether or not the switchboard upgrade is needed for the new EV charger. A Level 2 Electrician will be the tradesperson who upgrades the switchboard and will also work to connect and install the electric car charger.
We encourage reading our blog 'does my EV need a switchboard upgrade' for greater insights into the topic.
Trusted EV Charger Services
The Local Electrician is the best place to trust when you need an electrician to set up EV charging at home. Our fully qualified electricians will install any EV charger making sure that everything is properly connected. We work efficiently on all installation jobs regalrdess of how diffcult the job is or where we install the EV charger.
For professional services with EV charging stations – rely on The Local Electrician!
Lifetime Warranty on Workmanship and Labor
Our Services
Our skilled electricians are qualified to carry out any electrical repair or installation within Sydney. We strive to deliver absolute customer satisfaction by offering electrical services that are affordable, safe and long lasting.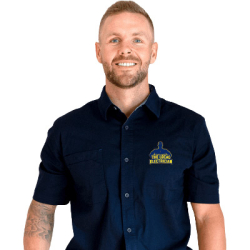 Latest posts by Hamish Baker
(see all)