How Much Electricity Does A Dryer Use?
Posted on July 2, 2021
Clothes dryers electricity cost is often brought up when wanting to reduce the cost of the electricity bill. Clothes dryers are one of the appliances around the home that will use up more electricity than others. Especially when there are more loads of washing, the cost to dry the clothes in the dryer adds up. Here at The Local Electrician, our Sydney electrician team will be able to work on installing and repairing washing dryers at any time. 
The average clothes dryers electricity cost ranges from $0.94 to $1.17 per cycle. When drying the clothes on a clothesline is not available then there are different energy efficient dryers to install instead. Condenser dryers, heat pump dryers and gas powered dryers will lower the cost of using the clothes dryer, as low as 33c to 59c per cycle.
What is the Average Clothes Dryer Electricity Cost?
Electricity rates, location and electricity plan will alter the clothes dryer electricity cost. On average, the cost to utilise a clothes dryer to dry clothes:
| | |
| --- | --- |
| Clothes Dryer Load | Energy Cost for the Cycle |
| 4kg | $0.94 |
| 6kg | $1.17 |
| 8kg | $0.92 |
Why Should I Get an Energy Efficient Clothes Dryer?
The more energy efficient an appliance is means that the energy consumption and running costs are overall lower. Even though efficient models are often more expensive to purchase initially, the long term costs are greatly reduced. Below is a guide on how the more energy efficient the clothes dryer is the fewer overall running costs there are:
| | | | | | |
| --- | --- | --- | --- | --- | --- |
| Clothes Dryer Load | 2 Star | 3 Star | 4 Star | 5 Star | 6 Star |
| 4kg | $1.14 | $0.97 | $0.83 | $0.70 | $0.60 |
| 5kg | $1.43 | $1.22 | $1.03 | $0.88 | $0.75 |
| 6kg | $1.72 | $1.46 | $1.24 | $1.05 | $0.90 |
| 8kg | $2.28 | $1.94 | $1.65 | $1.40 | $1.19 |
| 10kg | $2.86 | $2.43 | $2.07 | $1.76 | $1.49 |
What Clothes Dryers are Energy Efficient?
There are energy efficient models that will utilise standard ways of drying clothes and work effectively. However, there are alternative energy efficient options that will dry clothes in more unique ways and ultimately use energy more efficiently.
Condenser Clothes Dryers
These are similar to traditional dryers but recycle the hot air that was created from water vapour. Reusing this heat means that they are using the machine's own waste to allow less heat escaping and wasted energy lost. The range to run a cycle with condenser clothes dryers is around $0.40 to $0.59. Most condenser clothes dryers also range from $600 up to $1500.
Heat Pump Clothes Dryers
These types of clothes dryers will reuse and keep the heat inside of the machine using a dehumidifier. This means that there is overall less heat that escapes and also helps prevent the laundry from fogging up. The heat pump clothes dryer type is one of the more energy efficient models with most costing 33c per kilowatt used. This means that running the heat pump clothes dryer can cost $52 a year. Purchasing the machine may be expensive though with the average price at $1700. 
Gas Clothes Dryers
Clothes dryers often run off electricity but if gas is connected to the house then a gas powered clothes dryer can be installed. These are often not as commonly used as electric dryers but can cost on average 46c per hour to run. The downside to gas dryers is that they are expensive to cost, often from $1000 to $4000.
How Can I Lower Clothes Dryer Electricity Cost?
The best ways to save money and lower the clothes dryers electricity cost are by:
Off-Peak Periods – the time that the dryer is used can alter how much electricity is used and overall costs. During off-peak or shoulder periods the electricity usage cost will be lower than during peak periods. These times differ for each

electricity distributor company networks

but the overall cost of using the dryer can be lowered by half at times.

Not Overloading or Underloading Dryer – overloading the dryer means that there are many clothes in the machine. When this happens the dryer will not fully dry each item of clothing and often a second round is needed. This means that instead of one cycle two is needed and that means double the pay. Underloading means placing in a few clothes that often do not need immediate drying. When this happens there is often a waste of using the dryer and money is also wasted.

Installing Clotheslines – clotheslines are a great substitute for using a dryer and will ultimately remove the cost of the machine. Installing the clothesline either outside or inside can work and will prevent the constant use of drying clothes through the machine. 
Professional Sydney Electricians Working on All Electrical Emergencies
Here at The Local Electrician, our Sydney electrician team is here to perform any needed electrical work or job related to clothes dryers. Each Emergency Electrician will be able to perform electrical services on any type of electrical system, such as clothes dryer, washing machine and hot water system. Electrical safety is our priority and we make sure that each electrical problem is resolved efficiently.
Each licensed electrician will operate with electrical emergencies in all Sydney areas, including Northern Beaches and Hills District. We are also highly recommended electrical contractors supplying professional Level 2 Electrician workers working on advanced tasks. 
For the best emergency electricians to work with clothes dryers and other electrical appliances – trust The Local Electrician.
Lifetime Warranty on Workmanship and Labor
Our Services
Our skilled electricians are qualified to carry out any electrical repair or installation within Sydney. We strive to deliver absolute customer satisfaction by offering electrical services that are affordable, safe and long lasting.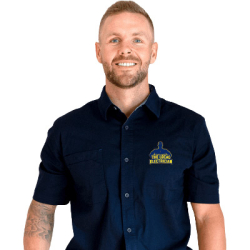 Latest posts by Hamish Baker
(see all)