How Much Electricity Does It Take To Charge An Electric Vehicle From Home?
Posted on February 19, 2022
The amount of electricity it takes and the amount of money it costs to charge an EV vehicle from home has many factors. Electricity company's charge rates, the EV charger type and tariffs all influence the cost. Knowing how much electricity it takes to charge an Electric Vehicle is important to know how to reduce costs. Here at The Local Electrician, our Emergency Electrician team will perform electric vehicle charger repairs and installations for all locals of Sydney. 
The average cost to charge an ev vehicle at home is around $0.25 per kilowatt per hour (kWh). It takes around 18kWh of electricity to travel and drive 100km in an electric vehicle. This means that the cost of electricity to charge an EV vehicle at home is on average for most people $4.5/100km.
What Does it Cost to Charge an Electric Vehicle?
It costs on average $0.25 for every kWh of electricity to charge an Electrical Vehicle at home. The location of the home, the hours of using the charger and tariffs, how much the car needs to be charged and the type of EV charger all influence the price. A good formula on how to calculate the cost to charge the electric vehicle is Electricity Rate ($ per kWh) x EV Battery Size (kWh) which equals the Charging Cost ($).
Examples of how much it will take to fully charge some electric vehicles at home:
Tesla Model 3 Long Range RWD (520km/75kWh) – $15

Nissan Leak (385km/60kWh) – $12

Hyundai Kona Electric (450km/65kWh) – $13

Hyundai Ioniq Electric (290km/38.3kWh) – $7.66
When comparing how much it costs an electric car to fully charge to using and spending petrol the following can be used:
To travel 100km electric vehicles need 18kWh of electricity while the average cost of $0.25kWh to charge adds up to $4.5/100km

To travel 100km petrol cars need 11.1L of fuel while the average cost of fuel is $1.62 and so adds up to $13.99/100km
It costs less to charge electric vehicles than to fill up petrol cars. There are also further ways a person can reduce the costs of charging their electric car at home:
Installing solar panels for the electric vehicle charger will mean that to charge the car it costs much less, while depending on the type of solar panel and how many

Charging the car during off-peak times will help lower the overall cost to charge the ev
Purchasing a proper electric vehicle charging station instead of plugging the charger into a wall socket will assist
Additional Tips on How to Charge an EV Vehicle at Home
Below are further guides on how to charge an ev vehicle at home:
Times
| | |
| --- | --- |
| Charger/ Charging Method | Time |
| Power outlet/ wall socket | 24 hours + |
| Home wall box | 7 to 12 hours |
| AC charger | 4 to 7 hours |
| DC fast charger | 1 to 2 hours |
| DC ultra-fast charger | 20 to 60 minutes |
Types of Chargers
There are three levels when it comes to ev chargers at home:
| | | | | |
| --- | --- | --- | --- | --- |
| Chargers | What is it | How much does it cost | How much does installation cost | Charging times |
| Level 1 | These are mainly used in residential settings as they use a 120 volt circuit and are plugged into an outlet. | $400 to $800 | $0 to $2200 | Average 8 to 12 hours but can be over 24 hours |
| Level 2 | These are used in homes and commercial spaces with a 240 volt circuit and can be portable to connected through a direct wire. | $700 to $3000 | $1600 to $4000 | 4 to 6 hours for most chargers |
| Level 3 | These are mainly used in commercial settings as they are extremely fast but expensive and not available for homes. | $25,000 to $75,000 | $70,000 and up | 20 to 30 minutes for most models |
For more information about home ev vehicle chargers and installations, our blog is here to help!
Expert Electricians Installing Home EV Chargers
The Local Electrician is here with fully qualified electricians to install electric vehicle chargers at Sydney residents' homes. We are here to help install the systems and provide professional tips on how to effectively charge an EV vehicle at home. Our team are also here to repair any electric vehicle charger and resolve any concerns.
We offer our professional ev charging station services to all of Sydney, including Inner West and North Shore. Our Level 2 Electrician team is also here at all times to perform more advanced and expert work in properties as well.
For the best and most reliable electric car charger installers and repairs rely on The Local Electrician!
Lifetime Warranty on Workmanship and Labor
Our Services
Our skilled electricians are qualified to carry out any electrical repair or installation within Sydney. We strive to deliver absolute customer satisfaction by offering electrical services that are affordable, safe and long lasting.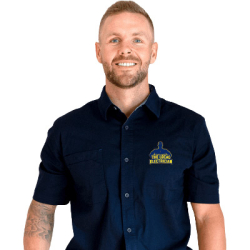 Latest posts by Hamish Baker
(see all)