How To Avoid Electrical Emergencies?
Posted on November 6, 2021
There are many ways to avoid electrical emergencies but knowing the common ones first is important. Understanding what the most common electrical emergency situations are will help with lowering the risk of electrical issues. To make sure people and electrical appliances stay safe, having electrical safety knowledge is important. Here at The Local Electrician our Emergency Electrician team is here to resolve electrical emergency situations at any time of the day.
The main ways to avoid electrical emergencies are:
Have power switches repaired and not fiddle with sensitive switches
Make sure power outlets are flushed to the wall, appliances are plugged in with little force and decrease extension cord usage
Inspect appliances that often trip the electrical system and see if they need to be replaced
If power points are warm install either a surge protector device or have an electrician inspect to see if there is a hidden electrical problem
Check to see if power bulbs are burnout to decide if they need repairing or replacing
What are Common Electrical Issues and How Do I Avoid Electrical Emergencies?
There are many different types of electrical issues that can occur around the home. With this, preventing them from occurring will make sure electrical fires and electrical shocks do not happen. It is a good idea to know about the common electrical problems to know how to avoid electrical emergencies.
Broken Power Outlets and Switches
Broken or handling power switches are a common electrical problem within many homes. This issue is most times caused by loose connections or when the wall fixture has been installed incorrectly and is faulty. The damaged power outlet may not seem like an issue itself but the other dangers it brings are short circuits and electrical fires. 
To ensure these electrical dangers are avoided the switch and outlet components should be correctly attached. When these parts are poorly installed and also if the wiring is not correct then the chances of the electrical issue will increase. To further avoid dangers with power switches and outlets make sure to not fiddle with them. 
Loose Power Outlets
When it comes to power outlets this is where appliances will be plugged in. This means that they are extremely important in the home and are frequently used. As a result, the wall mount and outlet will often wear and become loose. This is why applying minimal pressure when taking out the appliance from the powerpoint is important. Using too might force when removing the power plug can mean a power surge occurs due to the loose power connection.
To also help avoid this issue making sure the power plate is flush to the wall will help. If using an adaptor also not apply too much pressure when installing and removing it. When being forceful with adaptors, and also power plugs, the plastic shims can also become damaged inside the outlet. 
Short Circuits
Short circuits will occur when a large amount of power changes directions and can cause some major electrical dangers. When appliances use a large amount of power then they might cause a short circuit which can lead to electrical fires or shocks. These issues will mainly occur when electrical overloading occurs which is why not using too many extension cords is advised. Ensuring a well working circuit breaker is installed and also having an electrician test and inspect for any worn out internal wires will help. 
Light Bulb Burnouts
Lightbulbs will burn out as time progresses and the ones that are used more frequently will burn out quicker than the others. If the lights burn out quicker than they should then a problem with the wiring may be present. As a result, the lightbulbs may blow out which can be a dangerous situation. Looking for poor connections and if the lightbulb's wattage is suitable with the socket's wattage can help with repairing this issue. 
Warm To Touch Power Points
If the power outlets are warm to touch then an electrician should be contacted. This means that loose connections are present and the chance for a safety hazard will increase. Making sure a surge protection device is installed to help decrease the chance of power surges can help prevent this issue. An electrical safety inspection will also be helpful to ensure the wiring system is strong enough to handle the home's electrical needs.
What are Some Important Electrical Emergency Tips?
Some tips to follow in the case of an electrical emergency are:
Never use water to try and put out an electrical fire and only use fire extinguishers

Do not touch open or frayed wires as this can cause electrical shock

If an appliance, wire or electrical system is broken contact an electrical emergency service instead of trying to fix them yourself

In dangerous situations, such as

fallen power lines

or appliances tripping, make sure to leave the problem and immediately contact emergency electrical services
An important step to remember is that if a dangerous electrical situation occurs it is important to contact a 24 hour electrician to ensure the problem is fixed by a professional and safely.
Trusted and Licensed Emergency Electricians
The Local Electrician is here with fully qualified Emergency Electrician workers to help with fixing electrical emergencies. We make sure the problems are safely repaired and will carry out numerous tests to guarantee everything is repaired correctly. We will also perform tasks and provide advice on how to avoid electrical emergencies as well.
Our Level 2 Electrician team is here to resolve other electrical emergencies that involve more advanced electrical work. We offer our emergency electricians to Sydney locals, including all areas and suburbs, from the Northern Beaches to South Sydney.
When needing reliable electricians to resolve electrical emergencies at any time and any day of the week – trust The Local Electrician!
Lifetime Warranty on Workmanship and Labor
Our Services
Our skilled electricians are qualified to carry out any electrical repair or installation within Sydney. We strive to deliver absolute customer satisfaction by offering electrical services that are affordable, safe and long lasting.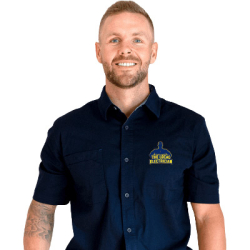 Latest posts by Hamish Baker
(see all)