How To Check Quality Of Electrical Cables In Your House?
Posted on December 3, 2021
Checking the home's electrical cable quality is important in ensuring they function safely and correctly. There are specific tests that an untrained electrician can perform to inspect the wires and cables. A qualified electrician should also be contacted to perform regular electrical safety inspections to make certain that the electrical wires of the home function properly. Here at The Local Electrician, our Level 2 Electrician team will inspect all cables of the home, including general and advanced electrical systems. 
To check the electrical cable quality follow these steps:
Perform visual inspections looking for frayed, exposed and damaged wires
Use a multimeter to check if the cables work correctly
Hire a professional electrician to perform more advanced electrical cable quality testing
How Can I Check Electrical Cable Quality?
There are two main ways in which a non trained electrician can inspect the electrical cable quality.
Visual Inspections
When visually inspecting the wires and cables to see their quality it is important to know what to look for. In older homes the chance that the wiring has remained in place is likely. This means that older homes should have the wiring replaced or at least inspected to ensure the system functions safely. Older cabling systems often cannot meet the electrical demand of today and the chance of short circuits or overloading increases. 
Visual inspections of the cables should include looking to see if there are visible damages and tears. Looking at the insulation to see if it has come off and exposed wiring is present is important to look out for. It is often clear when a cable is not in good condition due to the insulation and wires being damaged or frayed. 
Multimeter Tests
A multimeter can be used to test the voltage levels and ensure that they are correct. When the reading shows voltage levels that are not as they should then an electrician will need to perform electrical work to resolve the issue. It is strongly recommended to be careful with using a multimeter and encourage that an electrician performs the job.
Using a multimeter is simple but needs caution to ensure no one becomes hurt. Set the multimeter to the AC voltage setting and the 200 volts setting. Attach the probe into the multimeter and follow this up by placing the other parts on the holes of the outlet. Allow the multimeter to read the voltage level, the average should be 230 volts and if the number is not correct then an electrician will be needed to repair the hidden issue.
What Happens During a Professional Electrical Cable Quality Inspection?
When a professional electrician undergoes an electrical cable quality inspection there are certain tasks they will perform that untrained personnel cannot. Some of the tests carried out during the electrical cable quality inspection are:
Look over the cables to see if any parts are exposed or have material damaged. The cable's insulation and jacket will be looked over and ensuring all connection points are correct are done.

If there are any exposed wires or insulation damages then further tests will be done to determine the urgency and danger of the situation. 

Compressed-applied connections will be inspected ensuring the connector is rated correctly, and that the cables are installed correctly.

An insulation-resistance test is performed on all conductors making sure that they are connected to ground.

Ensuring that the wires align with standards and codes, such as are the correct

colour

,

types and sizes

.
There are different ways that cables and other systems will be tested: continuity test, insulation test, phasing test, earth resistance test and high voltage test. The different types of cables tested, and if the electrician has level 2 asp licensing, are appliances, electricity supply cables, power cables and communication cables.
Why Should I Inspect the Electrical Cable Quality?
The reasons why it is important to check the quality of the cabling system at home are safety and reliability. Cables should be working properly and when they are frayed, expose wires or old then the chance of sparking or overloading increases. These issues can cause people to receive an electrical shock and electrical fires may also occur. 
Inspecting the cables is also important to make sure that they are reliably supplying power to places. When the cables are not working correctly or effectively then appliances and systems will not receive adequate power. If the cables do not work then these systems will also not receive power at all sometimes which is not ideal.
Trusted Level 2 Electricians Inspecting and Repairing Cables
The Local Electrician is here to carry out electrical cable quality tests and inspections for the locals of Sydney. Our fully qualified level 2 electricians will operate on all cables around the home and inspect them carefully. We will ensure that they are functioning perfectly, and if not, repair them when needed.
Our team is here to inspect and work on electrical cables throughout all of Sydney, including South Sydney, North Shore and Inner West. We also offer expert Emergency Electrician workers where we will inspect cables and perform other high quality electrical services at any time.
For reliable electrical services and work with electrical cables – contact The Local Electrician!
Lifetime Warranty on Workmanship and Labor
Our Services
Our skilled electricians are qualified to carry out any electrical repair or installation within Sydney. We strive to deliver absolute customer satisfaction by offering electrical services that are affordable, safe and long lasting.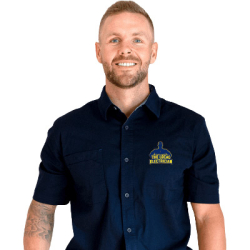 Latest posts by Hamish Baker
(see all)