How To Install A Smoke Alarm
Posted on May 1, 2020
Knowing how to perform basic smoke alarm maintenance and installation can save time and money greatly. Specifically, installing a smoke alarm will only take a short amount of time, resources and money to complete. Working with smoke alarms for over 25 years, The Local Electrician knows all about installation and maintenance with smoke alarms.
Installing a smoke alarm only needs basic equipment, such as a drill, tape measurer, pencil and the alarm itself. Marking the ceiling, understanding the measurements, drilling and installing are all involved in the process. Overall, smoke detector installation is relatively cheap and requires minimal time to complete. However, due to the importance of these devices within a household, it is always advisable to contact your local electrician.
Steps in Smoke Alarm Fitting
There are a number of different steps and tools involved within detect smoke alarm installations. Also, know that it is needed that the system has to be installed 300-500mm away from the wall.
Tools
The following tools needed for installing smoke alarms are either already available or are cheap to purchase:
Drill
Driver
Tape Measurer
Ladder
Pencil
Safety Glasses
Safety Precautions
Even though the steps are simple there can still be some dangers involved within the process. The main ones are dealing with the drill and the driver which safety glasses are needed. Be careful not to touch the moving part as this can cause major cuts and issues.
Moreover, when drilling into ceilings and alike, be careful that the debris coming out from the ceiling does not make contact with the eye. Lastly, if on a ladder, make certain that the area around it is clear of clutter and danger. For if the case that the ladder tips over, there would be nothing to harmfully fall on.
The Steps
While on the ladder, use a pencil to mark at least 300-500mm off the wall
Place the template/ base of the smoke alarm against the ceiling to then mark the fixing points on the ceiling for where the screws will be inserted
Use a 3mm drill bit to drill the holes into the ceiling
If drilling into plater rather than hardwood, use plasterboard anchor points screwed into the holes to keep it secure
Place the plate back onto the ceiling and place by hand the screws into the hole
Use the driver to have the screws drilled into the ceiling
Insert the battery into the actual smoke alarm
Slot/ slide the smoke alarm into the plate that has been properly and securely ben installed on the ceiling
Test to see if the smoke alarm works by pressing the "test" button, if flashing then it is working
Advised Locations for Smoke Alarms in Residential Buildings
The ideal smoke detector locations within a residential building include the following:
All Bedrooms
Living Area
Dining Area
Hallways
Ceiling at Head of Stairway (multi-level homes)
Where to avoid installing a smoke alarm to reduce the chance of a false alarm:
Near Air Conditioners
Close to Heaters
In the Vicinity of a Fan
Within Bathrooms (Steam)
In Kitchens (Steam)
Main Types of Smoke Detectors
There are overall three main types of smoke detectors with there also being some additional features that can be included.
Battery-Powered
Smoke detectors which use a battery work independently and not with the other smoke alarms. Being easily installable in any location, the battery-powered detectors come in two variations: 9V Battery and 10-year lithium-ion battery.
Hard-Wired
Being connected to the main electrical switchboard, they receive constant electricity. In the case of a power outage, a back-up battery is also included within the appliance. The difference is that a licensed electrician can only work with installing these types of smoke alarms, however.
Photoelectric Interconnected
Advised for larger/ multi-storey homes, these systems will beep the alarm sound across the whole building. They are connected to the mains power or the battery operator and overall are encouraged the most for being installed in a building.
Additional Features
Test buttons are advised when purchasing a smoke alarm because it can provide a clear indication that the smoke alarm works. These buttons can include a sensor, however, regularly ensuring they work is highly recommended. Here are some other small features that can come along with a smoke alarm:
Escape lights can flash when evacuations occur to be of assistance
Hush buttons allow for false smoke alarms to be silenced for a few minutes
Insect screens can prevent insects from creating a false alarm and setting it off
A light can be included that advises when replacing the battery inside is needed
General Maintenance that is Encouraged
Performing basic maintenance can help with knowing that the smoke alarm is working correctly and will function properly when needed. For smoke alarms, these steps can include:
Replacing the batteries in the system once a year
Pushing the "test" button once a month
Cleaning the grill area of the smoke alarm every few months. This is to remove dirt and dust from the system and can be done through using a simple vacuum
General lifespans for smoke detectors are ten years, therefore changing it per decade is recommended. If the age of the smoke alarm is unknown, replacing it or calling an electrician to inspect it is advised
Professional Maintenance and Installation of Smoke Alarms
The Local Electrician ensures that our experienced electricians are the best to contact when needing help with smoke detectors. This is because after 25 years of working with all kinds of smoke alarms we understand all there is with the appliance and work related to it.
Additionally, our Emergency Electrician services are available 24/7, which we can work on smoke alarms at any time anywhere. All Sydney suburbs, including within the Inner West and the Sutherland Shire, have access to our reliable smoke alarm service. We are also professional level 2 electricians! Call us on 0439 823 19 or email us at info@thelocalelectrician.com.au and you will have the peace of mind knowing that after we have worked on installing or performing maintenance on your smoke detector that it will be working perfectly.
Lifetime Warranty on Workmanship and Labor
Our Services
Our skilled electricians are qualified to carry out any electrical repair or installation within Sydney. We strive to deliver absolute customer satisfaction by offering electrical services that are affordable, safe and long lasting.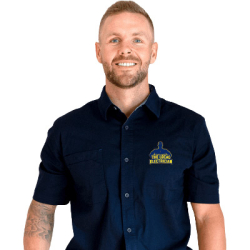 Latest posts by Hamish Baker
(see all)