How To Plan & Prepare For A Blackout?
Posted on November 28, 2020
How you prepare for a blackout is important in order to ensure during a blackout everyone is safe and knows what to do. Having a blackout plan is essential for every household. Being prepared for blackouts helps with keeping the situation calmer and preventing food and appliances from being impacted. Here at The Local Electrician, we are able to provide people with an Emergency Electrician to help with blackout issues. 
To prepare for a blackout it is about making sure every person in the home understands what to do. Preparing for a blackout should mean that an emergency blackout preparedness kit is made. This includes first aid, batteries, cash and a flashlight. Also, a charged cell phone should be kept, ice for water and food should be stored and having a working car is important to plan ahead.
What Do I Plan Before a Blackout?
Ensure to create an emergency kit which is designed to use during the blackout period. This will mostly include a fully charged flashlight, proper batteries, spare cash and also a first aid kit.

Plan out different charging methods for phones and other devices if a blackout would occur. This might also mean using a solar powered mobile phone, radio or flashlight if needed.

Make sure to know how to open an electronically controlled garage door in case of an emergency during the blackout.

If a blackout is expected, keep the phone charged and purchase enough batteries.

Preparation for power outages also includes purchasing ice to help store water and other frozen foods during the blackout. 

Ensure the car is full of petrol as petrol stations are electrically powered and will be unavailable when a power outage occurs. If the car will be used to power battery powered devices, ensure the car will not run indoors as this is dangerous.

Understand and now of emergency plans within the local community to know what to do when a large scaled blackout occurs.
What Should I Do During a Blackout?
Try to only use the flashlights or any battery operated lighting sources when needed to save battery. Also try to not use candles or kerosene lanterns to prevent the chance of a fire emergency. 

Switch one light on so when the power is restored it will turn on and indicate the power is working. 

It is important to keep the fridge and freezer closed during the blackout. This is to keep the food cold for longer and prevent the old from escaping. Fridges will keep food cold for 4 hours before the cold is lost, only if the door was kept closed. If the freezer door is kept close then the food inside will be cool for 48 hours. 

If the day is hot it is important to stay cool as the power often stays off longer when it is warmer. To keep cool go into places where there is adequate cooling, such as movie theatres or shopping centres. If remaining at home keep the windows closed and stay at the lowest part of the home. Ensure to wear light clothing and drink plenty of water before the power is back on. 

If the temperature is cold keep warm by placing warm clothing on. It is crucial to not burn charcoal if it is used for heating or cooking purposes. The oven should also not be used as a source of heat as this can be dangerous. If the power will be out for a prolonged period of time, make sure to plan for other warm places. 

In case the chance of a power surge occurs, make sure to turn off or disconnect all appliances and devices. Installing

surge protectors

if they are not already installed is recommended for blackout and general situations. 

If generators are going to be used make sure they are used far away from the home. It is important to not run generators inside the home or to connect it with the electrical system. 

Try to not travel as much if it is a community blackout as the traffic lights will be out. Losing power on the car can occur which is not good for those relying on the car for some power. 

It is extremely important that if the power lines are down that no one goes near and especially touches them. Ensure every person, especially children and pets, are far away from the down power lines.
What is Needed After a Blackout?
Throw away any food which was spoiled, ruined or have an odour due to the blackout. If foods in the freezer still have bits of ice on them then they should be fine.

If any medication is suspected to be spoiled then contact the doctor to ensure they are alright. 

Make sure to restock the emergency blackout kit, such as placing fresh batteries and food.
Who Do I Call During a Blackout?
When a blackout occurs there are different people to contact to help resolve the emergency. Ausgrid or the electrical provider should be contacted if there are multiple people or a community involved. They will handle the issue and make sure the power is restored as soon as possible. 
An emergency electrician can also be called out to help restore power to a property if it is with the electrical system. A Level 2 Electrician can also work on power poles if they have caused the blackout. Level 2 ASP certified electricians are also qualified to provide temporary power to a property if needed.
Professional Electricians Helping with Blackouts
The Local Electrician is here to help people create an effective blackout prepare plan and also help deal with current blackouts. Our team are all licensed electricians capable of working on any electrical system in any property. We will work effectively to resolve the blackout error if possible and restore power to the place as soon as we can. Each electrician can also be called out to help people create a plan and prepare for a blackout. 
Contact The Local Electrician now on 0439 823 190 for our electricians to help with blackout situations.
Lifetime Warranty on Workmanship and Labor
Our Services
Our skilled electricians are qualified to carry out any electrical repair or installation within Sydney. We strive to deliver absolute customer satisfaction by offering electrical services that are affordable, safe and long lasting.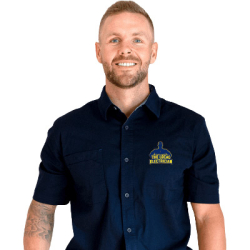 Latest posts by Hamish Baker
(see all)