How To Test & Replace A RCD Switch?
Posted on January 23, 2021
To test RCD switches and replace RCD switches will help with electrical safety staying effective. Residual current devices are used in buildings to help prevent surges in electricity from tripping electrical appliances and shocking people. These safety switches are important and should be tested frequently to make sure they are working correctly. Here at The Local Electrician, our Emergency Electrician team will be able to perform safety switch testing and also replacements. 
Only an electrician can replace RCD switches which are defected but any person can test RCD switches. To test the RCD safety switch follow these testing procedures:
Find the RCD switches in the electrical switchboard. 
Switch off all lights and appliances in the building by the powerpoint.
Quickly press the RCD switch test button and it should make a clicking sound and move to the off position. 
Inspect the lights and appliances to see if they are off and are not working while the RCD is switched off.
Turn the RCD switches back on and contact an electrician if the appliances still work when the RCD was in the off position.
How Do I Test RCD Switches?
Any person can easily test their RCD switches and should be a regular practice. The best ways to test to see if the RCD switches are working is to follow these steps:
Locate the RCD switches which are most likely located where the circuit breakers are located in the

electrical switchboard

. Most buildings will have two RCD switches built into them which will protect lighting, power points and other electrical systems. 

Turn off all electrical equipment, appliances and systems around the home through the power points. These can include televisions to the dishwasher to make sure the power supply is not connected. 

The push button test on the RCD switch is often noticeable and is built in when safety switches are installed. Push the button quickly and the RCD switch should switch to the off position. A sound should be heard when the test button is pressed on the RCD switch. The electricity supply to the circuits which are protected by the RCD switch should be disconnected when the RCD switch is in the off position.  

Inspect the lights around the home to make sure they do not turn on while the RCD switch is off. Appliances and other electronics should also be tested to see if they work with the safety switch off. 

Once every appliance and system has been tested, switch the RCD switches back on. They should be easily flicked from the off position to the one position and the power points and lights should work again correctly. 
How Often Should I Test My RCD Switches?
It is highly recommended that RCD switches are tested every three months to guarantee that they are working properly. At the start of each season is a good reminder to ensure that the RCD switches are tested. The process is quick and is important in preventing people from receiving electric shock or appliances tripping. 
How Do I Know if My RCD Switches are Not Working Correctly?
The main signs to look for is the RCD switches are not working properly are:
When testing the RCD switch the switch does not automatically switch to the off position or make a clicking sound. 

When seeing if appliances and the lights are off while the RCD switches are off and they still work then the RCD has defected. 

Electrical surges are common or there is an abnormal amount of heat generated by the switch.
When the RCD switch is not working then a qualified electrician will need to replace the switch with working ones.
How Do I Replace My RCD Switch?
If the RCD switch needs to be replaced then only a qualified electrician is able to perform the service. As RCD switches are compulsory in homes and workspaces a licensed electrician who can work on the system safely is needed. The four main types of RCD switches which can be installed and replace the old one are:
Meter Box Mounted RCD Switch – these run along the circuit breakers and are situated in the electrical switchboard. These need to be installed in property's power circuits and at least two of them need to be installed. 

RCD Switches and Circuit Breakers – these work together in the meter box to prevent electrical hazards from electrical overloads. 

Portable RCD Switches – these are mainly used for power tools which cannot easily be plugged into a powerpoint protected by RCD switches. They come in the form of a box where the power tool can be connected and be protected from electrical overloads. 

Power Point RCD Switches – RCD switches can be fitted onto power points with its separate test button. They are mainly used in bathrooms or workshops and are important in keeping areas safe. 
Who Can Replace My RCD Switches?
A licensed electrician has the skills to know exactly how an RCD switch can be installed safely. They work to connect all systems to the RCD switch and ensure that they will have the power disconnected to them when an electrical fault is present. Tests and inspections are always involved in the service to further make certain the switches function correctly.
Professional RCD Switch Services
The Local Electrician is here to install, replace and test RCD switches in any residential or commercial property. Each of our electricians is qualified to operate with the safety switches and will know how to professionally work on them. Each electrician will perform RCD services in any place or suburb, from the Northern Beaches to Greater Western Sydney.
We also offer reliable Level 2 Electrician services for us to carry out more advanced and complicated tasks safely.
For trusted RCD services contact The Local Electrician now on 0439 823 190!
Lifetime Warranty on Workmanship and Labor
Our Services
Our skilled electricians are qualified to carry out any electrical repair or installation within Sydney. We strive to deliver absolute customer satisfaction by offering electrical services that are affordable, safe and long lasting.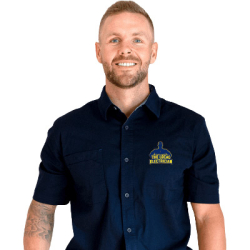 Latest posts by Hamish Baker
(see all)