Installing USB Powerpoint – What You Need To Know
Posted on December 10, 2021
A USB powerpoint installation involves a licensed electrician installing the USB port power sockets in homes, offices and buildings. USB outlets work as standard outlets but have the inclusion of USB ports. This means USB charging and other uses of the USB port can be possible with the inclusion of the USB wall socket. Here at The Local Electrician, our Emergency Electrician team will perform professional USB powerpoint installation for Sydney locals. 
The average cost of a USB powerpoint installation is around $70-$130 for labour and $10-$45 per power outlet. A qualified electrician is the only person legal to perform the electrical work of performing USB power point installations. When USB sockets are installed the benefits include it chargers devices faster, minimises reliance on double adapters and frees space.
How Do I Install a USB Power Outlet?
When it comes to USB powerpoint installation only a licensed electrician will be able to install the system. This is because installing any type of powerpoint is a highly dangerous job and requires skill. When an untrained electrician attempts to install the USB power socket the chance of installing it poorly increases. This then leads to the increased risk of an electrical fire or electrocution as the USB power outlet was incorrectly wired. 
Once the USB power socket has been installed then any person can change the wall plate, the electricity should be turned off still. To know what electrical work you can legally do, we recommend checking out our blog to know the electrical jobs untrained electricians can perform.
Who Can Perform USB Powerpoint Installation Work?
Only a fully qualified electrician will be able to undergo the USB powerpoint installation job. This is to ensure that each part of the process is safely completed and the powerpoint has power connected to it correctly. All the steps of the job will also be done so they meet the Australian Standards and that the USB powerpoint installation is legally completed. Whether it be for new homes or places that are undergoing electrical renovations, a licensed electrician will be needed to install the USB sockets.
Why Should I Install USB Powerpoints?
There are many benefits with installing USB power outlets into the home:
They charge devices quicker than usual power sockets and chargers. The USB power sockets have three times more power and will overall charge drive much faster.

The need to rely on

double adapters

and powerboards decreases which is good for safety reasons. When more appliances are plugged into double adapters and electrical power boards then the chance of

electrical overloading

increases. USB power outlets will decrease this reliance and help with keeping the place safer.

Powerpoints will be freer with the USB socket included with the power outlet.
What are the Different Types of USB Powerpoints?
There are many different USB powerpoints to choose from but there are two main types. One is a power socket that has only USB ports and the other is a traditional outlet with three-print electrical points and USB sockets with it. choosing which one is going to be installed can be decided on the place of installation. Examples could be in a study where traditional mixed with USB sockets will be favoured due to many appliances needing a power outlet. While within a living room where people charge their phones or devices then the USB only socket may be favoured.
How Much Does a USB Powerpoint Installation Cost?
There are two main costs within a USB powerpoint installation job, being the labour and material costs. Other factors will also influence the overall cost of the installation job, such as the difficulty of the task and the number of outlets being installed.
Material Costs
| | |
| --- | --- |
| USB Powerpoint Type | Average Costs |
| Dual powerpoint with dual USB charger | $10 |
| Dual USB charger and no powerpoint | $25 |
| Single powerpoint with a dual USB charger | $30 |
| Dual powerpoint and a dual USB charger | $40 |
| Quad USB charger but with no further powerpoints | $45 |
Labour Costs
Each electrician will charge differently to install the USB power outlet. An initial hour fee or a call out fee will be included which can cost from $70 to $130. A flat or hourly rate will be added to the costs, often $70 to $95, depending on the complexity, the location and the time spent doing the job.
Trusted USB Powerpoint Installation Services
The Local Electrician will carry out USB powerpoint installation jobs for any person living in Sydney. Our experienced electricians will ensure that all the wiring and cabling is correctly installed with the outlet. We perform tests and utilise effective techniques to make certain the USB powerpoint works properly and safely.
When needing professional and fast USB powerpoint installation services – rely on The Local Electrician!
Lifetime Warranty on Workmanship and Labor
Our Services
Our skilled electricians are qualified to carry out any electrical repair or installation within Sydney. We strive to deliver absolute customer satisfaction by offering electrical services that are affordable, safe and long lasting.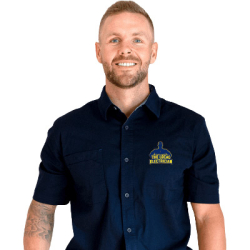 Latest posts by Hamish Baker
(see all)