Level 2 Electrician Areas Of Expertise
Posted on November 5, 2020
A level 2 electrician is a qualified electrical professional who performs more advanced electric work than regular electricians. This includes operating on more complex and dangerous systems to completing tasks which involve more labour and manpower than normal. Here at The Local Electrician, our level 2 electrical services are the most reliable within Sydney. Providing this authorised electrical service to every type of complex, our ASP certified electrician can work in all homes and businesses. 
The main areas of expertise that a level 2 electrician is trained in are:
Electrical Defect Notices
Consumer Mains
Private Power Pole Replacements
Point of Attachments
Overhead Power
Switchboard Upgrades
Safety Inspections
1. Electrical Defect Notices
2. Consumer Mains
3. Private Power Pole Replacements
4. Point of Attachment Brackets
5. Overhead Power Cables
6. Switchboard Upgrades - 3 Phase
7. Electrical Safety Inspections
Level 2 Electrician Services in Sydney
The Local Electrician is the most reliable level 2 accredited service within Sydney. All of our level 2 electricians are fully qualified who can work on all of these systems and perform these jobs. We promise that for Sydney, including the Northern Beaches and Inner West, our level 2 electricians are the most trusted.
We also offer Emergency Electrician services where we will work on any job regardless of the time or place. 
For professional and certified level 2 electricians within Sydney – contact The Local Electrician on 0439 823 190!
Lifetime Warranty on Workmanship and Labor
Our Level 2 Electrical Services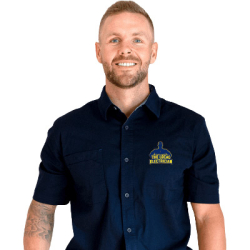 Latest posts by Hamish Baker
(see all)