Lighting Tower Repairs & Servicing
Posted on August 20, 2022
A lighting tower is used to illuminate a specific area and comes in different types and ranges. They can be mobile or stationary and often come with a lamp or light, a lifting system, a mast and a motor or battery. Common issues that come with these towers range from engine faults to the lights needing to be replaced. Here at The Local Electrician, our Emergency Electrician team is here to provide light services, including working with light towers.
A lighting tower is a type of light unit that is used to illuminate a wider or specific space. They are often used at night time on construction sites or poorly lit areas. The main types of repairs and services done on them include engine faults, light problems, fuel or electric issues, controller defects and issues with the frame and lifting system.
What are Some Considerations with Lighting Towers?
Below is a guide on the different considerations with using lighting towers:
Cost
The cost to purchase most lighting towers is from $22,000 to $33,000 where the features, build quality and other factors influence the type. It is also important to have a reliable servicer that will be able to repair and service the system, these repairs and services will also have their own costs.
Location
The main places lighting towers are used to illuminate an area include:
Construction sites

Mining and oil extracting

Civil works in poorly lit areas

Night time electrical or general work

Sports grounds, ovals and parks

In emergency service work

Hospitality venues and areas
There are many other places not limited to this list where the light towers are installed to ensure that an area is properly lit. 
Light Coverage and Brightness
It is important that the light tower will illuminate the area properly to ensure people can see clearly. The light coverage of the tower which is measured to square metres should reflect the amount of space that needs to be lit up. Most towers will have coverage ranges from 2000sqm to 8000sqm, ensuring to know how much is needed before choosing the right tower. The illumination level is also important, which is the lumen measurement of the light. Lighting towers have a range of 75,000 to 250,000 lumen capacities, lumens refer to how bright the light is with the more lumens meaning the brighter the light is. Lux is another light measurement which is how much light will fall onto a surface with the closer you are to the light the higher the lux measurement will be. Most lighting towers will have a range of 10 to 20lux which complies to standards and is suitable for most uses.
Fuel Efficiency
Knowing how the tower will run is important and knowing the energy efficiency of the system is important. When the system operates on an engine that uses fuel then the efficiency of the fuel should be considered, such as if the tower works for 200 hours then a 120L tank of diesel is needed. Other lighting towers are battery operated, solar powered or work by directly being connected to a reliable power source. Whether the light tower runs on fuel or electricity, choosing energy efficient options lowers running costs and the system often runs smoother.
Mobility
Lighting towers are often used in many places so understanding how the system can be transported is important for both mobile and stationary towers. Most can be safely transported using a car and a trailer but for longer distances a larger truck might be required for it to be more secure. A trailer with a protective canopy is encouraged to have the lighting tower transported around.
Build Quality
Light towers should be designed to resist outdoor conditions, including weather and rugged terrain. Make sure that the tower chosen to light up an area will withstand the conditions, safely operate in them and be able to last a long time without rusting or breaking down.
What are Common Issues with Lighting Towers?
Lighting towers will experience issues that require a professional to repair them, below are the more common issues that result in repairs and servicing:
Engine not starting – often due to no fuel or power or there being damaged or dirty mechanical parts, such as a dirty fuel filter or broken fuel pump

White smoke from the exhaust – the engine will not start as efficiently resulting in the white smoke, often caused by air cleaner elements being dirty, the injection pump is damaged or overheating part issues occurring

Voltage issues – this often is due to an electrical fault or overload, there is a power source related concern, the engine speed being irregular or the alternator is defective

Stops working – this can be due to there being low oil pressure, high water temperatures, the battery needs to charge, there is an internal fault and many other problems

Other issues – come other issues include the fuel level gauge not moving, the engine running hour meter not functioning and there being issues with the lights and mast
Expert Electricians Here to Help with Lighting Towers
The Local Electrician is here with fully qualified electricians to work on the electrical components of the lighting tower. We are able to perform any needed repairs on the light tower than involve the electrical wiring and systems. Our electricians arrive fast, operate skillfully and ensure the tower will correctly light up the area.
For trusted lighting tower services – rely on The Local Electrician!
Lifetime Warranty on Workmanship and Labor
Our Services
Our skilled electricians are qualified to carry out any electrical repair or installation within Sydney. We strive to deliver absolute customer satisfaction by offering electrical services that are affordable, safe and long lasting.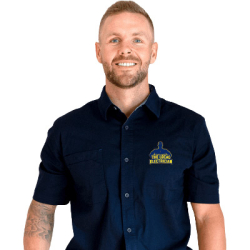 Latest posts by Hamish Baker
(see all)