Lighting Trends in 2021
Posted on July 9, 2021
Knowing the lighting trends is important especially when renovating the inside of the house. Modern lighting comes in various types and works for different interior designs. It is important to know what type of lighting needs to be installed to enhance the look of the interior of a home. Here at The Local Electrician, our Emergency Electrician team will perform trusted light installation work with any light fixtures. 
The top lighting trends of 2021 are:
Art deco
Federation
French provincial
Industrial
Scandinavian
Traditional
Hamptons
Modern/ contemporary
Tiffany
What are the Lighting Trends of 2021?
Art Deco
Art deco is inspired by the 1920s where the lighting is glamorous and still resembles modern aesthetics. It allows a high point of style to be included with the lighting due to the geometric shapes and sharp lines. A classic and modern style develops from art deco where lighting often features gold, silver, copper and brass colours. Art deco lights can include table lamps with fancy glass bases or hanging circle lights within a shaped frame.
Federation
Federation lighting is a reference to 20th century Australia where the designs draw influence from this time. English and Australian designs are mixed with federation lighting, often seen in wall lights. Antique, cast iron, curves and black are often associated with federation lighting. An example of federation lighting design can be chandeliers with elegant curves and pendants and also wall lights with classic cases.
French Provincial
The French provincial style is inspired by 17th and 18th century French design and often the lighting is more lavish and elegant. Often the designs are elegant and appear as expensive pieces of lighting. Some examples include crystal, bright and large hanging chandeliers to lamps with frills and soft pattern designs. 
Industrial
Lighting influences with an industrial style means that the lighting is often minimalist in its design. Neutral colours and unadorned metal are relevant to industrial design and offer a simple yet aesthetic look. Interiors that aim for a modern and streamlined look should consider industrial lighting with its sleek designs. Black, timber and chrome are popular along with straight lines and simple shapes.
Scandinavian
Scandinavian lighting draws influence from Nordic designs and offers an alternative to modern design. This is because this type of lighting design uses angular shapes and lines with simple colours yet is more risky and adventurous with these factors. Fun colours and striking shapes are included and this design style is great for aesthetics aiming for dramatic geometric lighting features. 
Traditional
Traditional lighting is where the lighting designs are focused on small details and are often not too grand in their design. From lamps, pendant lights to wall lights, traditional lighting will always be able to complement an interior without making it the focal point.
Hamptons
Hamptons lighting is where the designs are often glamorous yet there is also a mixture of various styles. The designs are affordable yet allow a space to appear more grand or stylistic. There are many designs within the Hampton lighting design and are often subtle but still striking. 
Modern/ Contemporary
Modern and contemporary lighting is where the designs are not like older lighting designs and usually cleaner and similar. The shapes, lines and overall colours scheme is simple and minimal allowing the lights to blend in with modern decor. 
Tiffany
Tiffany lights are inspired by the late 1800s and are stunning, striking and allow the light to stand out in a room. The shapes are often organic and colour is often included in the lights to help further brighten the room, such as with ceiling mounted lights. A timeless elegance is brought when Tiffany lights are installed in a place and will always stand out.
What are Some Ways I Can Incorporate Lighting Designs?
Focal Point
Lights can be used as a focal point or stand out feature of the interior of a space. This means that lights can be used to highlight a specific part of a room or point around the house. Such as external lighting where lights shine in the garden or in bathrooms to highlight a mirror. The lights add to the aesthetic of the place while allowing other areas to shine.
Table and Floor Lamps
Lamps either on the table or floor are a great way to strengthen the overall look and style of a room. It will also help spotlight a chair, desk or other area on top of making the room look more aesthetically pleasing. The different styles of lamps will act as an artwork while also help with being a light source.
Sof Finished
Lights can have soft finishes, such as gold, to allow a bit of colour to enter the room's aesthetic. The soft addition of colour will help keep the designs minimalistic but also add to the elegance and aesthetics of the room. Wall lights to pendant lights, soft finishes on lights will help include and strengthen colours of a space.
Professional Lighting Electrical Services
Here at The Local Electrician, we understand how to correctly work with any type of light and perform trusted light installation and repair work. We hope you enjoyed our blog on the latest lighting trends for the interior and exterior of homes in Sydney. Our fully qualified electricians are able to install any type of light and ensure that the electrical work is completed on time. When there is an electrical problem with lights our licensed electricians will ensure to fix the problem and maintain electrical safety. 
Our highly recommended electricians will operate with lighting around all of Sydney, including Eastern Suburbs and Sutherland Shire. We are also professional Level 2 Electrician contractors where we will send a trusted and certified electrician to perform level 2 asp jobs.
For the best electricians to work with any light – contact The Local Electrician!
Lifetime Warranty on Workmanship and Labor
Our Services
Our skilled electricians are qualified to carry out any electrical repair or installation within Sydney. We strive to deliver absolute customer satisfaction by offering electrical services that are affordable, safe and long lasting.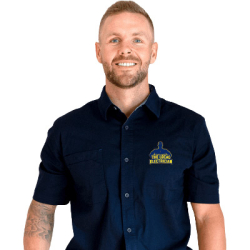 Latest posts by Hamish Baker
(see all)