Meter Box Replacement & Repair Costs
Posted on September 3, 2021
A meter box replacement and meter box repair are jobs that are performed by a licensed electrician. The meter box of homes and businesses is what contains specific electrical systems, such as the electricity meter, circuit breakers, RCD switches and fuse boxes. Electrical work with electricity metering often involves installing new boxes, relocating or replacing the current one or performing repairs. Here at The Local Electrician, our Level 2 Electrician team is here to perform any services with the meter box in Sydney. 
When it comes to an electric meter box replacement and repair service a qualified electrician will perform the electrical services. Property owners will need to hire a certified electrician when the meter box on their property needs repairs or replacing. If a meter box is going to be relocated to another place, only a licensed level 2 asp electrician will be able to perform the service.
What are Common Repairs with the Electrical Meter Box?
The meter box is located outside the home so it is prone to receiving damage. From the weather to being hit directly by a vehicle, there are specific issues with the electrical meter box that will require repairs. This can include rain causing corrosion, items hitting the box to old age making parts break. 
It is important that an electrician undergoes the repairs even if there is no electrical wiring involved. This is because the box is connected to electrical supply networks, safety switches and other electricity network systems. To decrease the chance of electrical shock only a trained electrician should perform the repairs. 
The most common repairs that  occur with an electrical meter box are:
Hinges – if the hinges of the meter box are damaged then often replacing the broken hinges is all that is needed. The existing hinges will be removed and the new hinges installed correctly in the meter box.

Meter Box Door – the door of the meter is important to close to ensure parts are not exposed to the weather or people. A broken door will be replaced with a new correctly sized meter box and installed to protect the systems inside.
Latch – a damaged latch needs to be replaced to ensure the door can open and shut correctly. Installing a new latch and handle will make certain the meter box is securely shut, adding a latch with a lock can occur as well. 
It is important to note that property owners are responsible for ensuring that a licensed electrician is contacted to repair the meter box. When it is an apartment or commercial space then the person in charge of the building or property maintenance will need to organise the repair.
Where can the Meter Box be Relocated?
There are specific factors involved in the relocation of the meter box to make sure it is in the correct and safe location. Below is a guide on the main considerations before a meter box relocation occurs:
The meter box needs to be in a location that is easily accessible and not going through neighbours properties

If there is a lock on the meter box door – make sure a key is easily accessible for the electrician

There must be a clearance of at least two metres around the box

Obstructions that are permanent, such as vegetation or walls should not sit in front of the meter box
What is Inside a Meter Box?
The meter box is where a large range of electrical systems will be located to ensure they are together and in a safe place. The main systems that are commonly inside of a meter box are:
Electricity meter

– the electricity meter is what records the electricity usage of a property for the electricity supply network to know how much to charge. 

Main switch

– the main switch or

electrical switchboard

is what governs the different electrical systems of the building. These are installed so different systems can be isolated and power disconnected when needed. 
Fuse and Circuit Breaker – the fuses, safety switches, RCD switches and/or circuit breakers are installed in the meter box. Depending on the building and how many electrical systems there are will determine how many of these safety systems and what types are installed. They are all located in the meter box and will often have their own sub-board. 
For tasks, such as a switchboard upgrade, the meter box will need to either replaced or upgraded to fit the new systems. At times the current meter box is the correct size and shape for the new systems and often maintenance work, such as cleaning, will be needed.
Trusted Level 2 Electrical Contractor for Sydney
The Local Electrician is here to perform meter box replacement and meter box repair services for the locals of Sydney. Our fully qualified electricians are able to perform level 2 electrical work and operate with meter boxes and other systems. Including replacing, repairing and installing meter boxes, we make sure that every job is performed safely and professionally.
As an accredited service for level 2 electricians, we are also able to work with other systems, including private power poles, overhead service lines and point of attachments. We offer our meter box and level 2 electrician services to all of Sydney, including Inner West and Northern Beaches. We also offer trusted Emergency Electrician services for our team to resolve any issues at any time, such as repairing a short circuit.
For the best meter box replacement and repair services – contact The Local Electrician today!
Lifetime Warranty on Workmanship and Labor
Our Services
Our skilled electricians are qualified to carry out any electrical repair or installation within Sydney. We strive to deliver absolute customer satisfaction by offering electrical services that are affordable, safe and long lasting.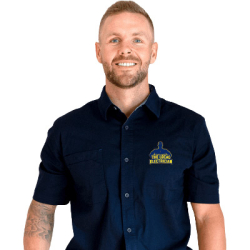 Latest posts by Hamish Baker
(see all)