Outdoor Power Point Installation
Posted on August 5, 2022
An outdoor power point installation is performed by a qualified electrician and involves many steps and considerations. The main reason why power outlets are installed outside is to provide a reliable source of electricity for that area. This includes outdoor cooking spaces, sheds, appliances and lighting systems. Here at The Local Electrician, our Sydney electricians are the most trusted electricians to install power outlets outside for any Sydney local. 
Outdoor power points help with adding more safe options to access electricity in the frontyard, backyard and garden. An outdoor power point installation needs to be carried out by a licensed electrician. The average price to install a power point outside is $150 with other factors, such as how many or the location, influencing the final cost.
What are Some Considerations with Outdoor Power Point Installation?
Outdoor power point installations will have specific factors to consider, here are some of the important ones:
Placement – it is important that the power outlets are installed in the correct locations for convenience and also safety. Some of the more common places people install power points outside are on the deck, porch or outdoor sitting area, around the fire pit or place, within the outdoor kitchen or barbeque areas, places where lights will be installed, within the pool area, in the garden and within the shed or similar area.

Waterproof – all outdoor power points need to be waterproof to prevent electrical danger and shocks. Water can be from rain, gardening, irrigation systems, the pool and other systems which is why the outlets need to be waterproofed. 

Protection – the outlets will need to be protected while any cables used with them will need to be covered or easily visible to prevent people from damaging them, such as when mowing the grass.

Number – when installing the power points outside it is important to consider how many are needed and in what places.
Hire an Electrician
It is extremely important that an electrician is the only person who installs the outdoor power outlets. It is a legal requirement that a certified electrician works on the installation but it is also important for safety reasons. Outdoor power outlets have certain wiring requirements, safety checks and additional safety measures. When an untrained electrician installs the outside power outlets there is a higher chance that the installation is done incorrectly. Always make sure to hire a licensed and good electrician to install the outdoor power outlets.
Why Do I Need Outdoor Power Points?
There are many reasons why installing additional power points outside will be beneficial, including
If the home is newly built and the backyard and garden will be frequently used with electrical equipment

If the home is older and there are no power points present or if the current ones are older and need replacing

Moving into a new home and there are no power points outside or there are not enough for your electrical needs

When there will be new equipment or areas renovated, installed or built outside, such as a new kitchen, garden or lights, that need a power point

If extension cords will be used frequently outside, extension cords are not recommended to be used when possible and it is safer to install an outdoor power point instead

When outdoor lighting is going to be installed and needs power, such as spot lights in the garden or a specific lighting feature

If lighting needs to be added outside, such as on the fireplace, retaining walls, boundary walls and other surfaces, structures and places

If any of the current power points are outdated, damaged or making strange noises and need to be replaced
How Much Does an Outdoor Power Point Installation Cost?
The average price to install power points is around $150 while it can go to $180 to $300 spending on different factors. The electricians working rates will influence the overall cost while the time taken to install each power point will combine with this, most power outlets take 20 minutes to an hour to install each. The type of power point and how difficult the job is will also impact how much it will cost to install the power points. 
Expert Outdoor Power Point Installation Services
The Local Electrician offers Sydney locals professional outdoor power point installation services. Our fully qualified electricians arrive on time, operate skilfully and complete the installation using expert tools and techniques. No matter where we operate, from Greater Western Sydney to South Sydney, we will install each outlet outside using the most professional methods.
We also offer Sydney locals with expert Level 2 Electrician services where we will be able to perform more advanced work within properties. Our Emergency Electrician workers are here as well at all hours of the day to help with all kinds of electrical emergencies and troubles. 
For trusted outdoor power point installation services – rely on The Local Electrician!
Lifetime Warranty on Workmanship and Labor
Our Services
Our skilled electricians are qualified to carry out any electrical repair or installation within Sydney. We strive to deliver absolute customer satisfaction by offering electrical services that are affordable, safe and long lasting.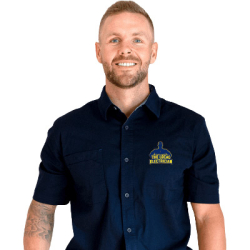 Latest posts by Hamish Baker
(see all)